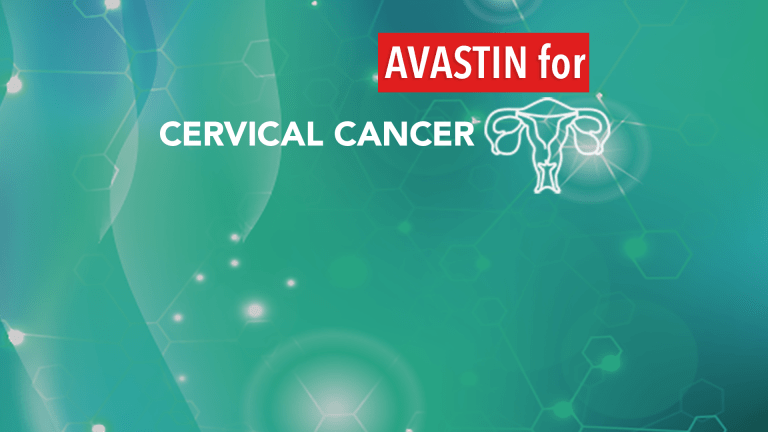 Avastin® Shows Promise in Treatment of Cervical Cancer
Avastin® Shows Promise in Treatment of Cervical Cancer
According to the results of a Phase II clinical trial, the targeted therapy Avastin® (bevacizumab) warrants further investigation in the treatment of persistent or recurrent squamous cell carcinoma of the cervix. These results were published in the Journal of Clinical Oncology.
Rates of cervical cancer have declined in the United States as a result of effective screening programs, and are expected to decline further as a result of vaccination against the virus that causes cervical cancer. Nevertheless, an estimated 11,000 women will be diagnosed with cervical cancer in the United States this year.
Based on the type of cell that becomes cancerous, cervical cancers are classified as squamous cell carcinomas (the most common type) or adenocarcinomas. Treatment varies by the extent of the cancer, and may involve surgery, radiation therapy, and/or chemotherapy. Recurrent cervical cancer can be challenging to treat, and new approaches to treatment are being evaluated in clinical trials.
Avastin is a targeted anticancer drug that slows or prevents the growth of new blood vessels by inhibiting a protein known as VEGF; this deprives the cancer of oxygen and nutrients. Through its effects on blood vessels, Avastin may also improve the delivery of chemotherapy to cancer. Avastin has been shown to improve treatment outcomes in selected patients with advanced colorectal, breast, and non–small cell lung cancer, and is also being evaluated in other types of cancer.
To evaluate Avastin in the treatment of recurrent squamous cell carcinoma of the cervix, researchers conducted a Phase II clinical trial among 46 women. Study participants received intravenous Avastin every three weeks until cancer progression or the development of severe side effects.
24% of patients survived without cancer progression for at least six months.
11% of patients experienced a partial reduction in detectable cancer.
Median overall survival was 7.3 months.
There was one infection-related death that was possibly due to treatment.
The researchers concluded that Avastin was generally well tolerated and appeared to have anticancer activity in women with previously treated, recurrent cervical cancer. They note that the role of Avastin in this population merits further study in Phase III clinical trials.
Reference: Monk BJ, Sill MW, Burger RA et al. Phase II trial of bevacizumab in the treatment of persistent or recurrent squamous cell carcinoma of the cervix: a Gynecologic Oncology Group Study. Journal of Clinical Oncology. 2009;27:1069-1074.