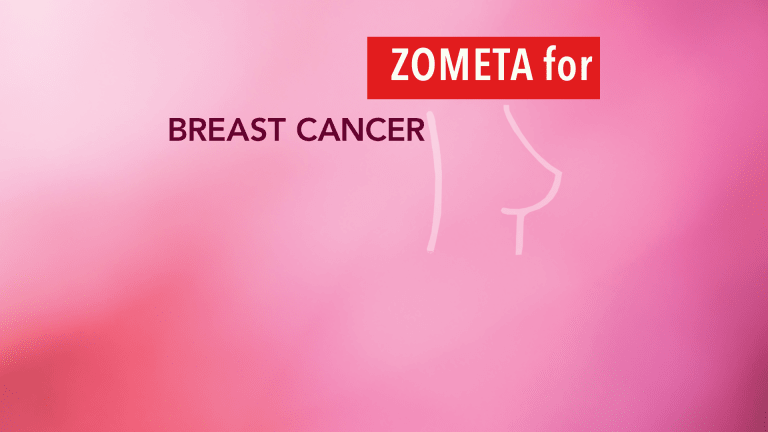 Zometa® Promise Preventing Bone Lose Among Women Using Femara® for Breast Cancer
Zometa® Shows Promise in Preventing Bone Lose Among Women Using Femara® for Breast Cancer
A recent study found that Zometa® (zoledronic acid) may prevent bone loss in women treated with Femara® (letrozole) for breast cancer. These findings were published in the journal Cancer.
The majority of breast cancers are hormone receptor-positive. These cancers are stimulated to grow by the circulating female hormones estrogen and/or progesterone. Women with hormone receptor-positive breast cancer are often treated with hormonal therapy.
Femara, a form of hormonal therapy, is an estrogen-blocking drug that is commonly prescribed to postmenopausal women diagnosed with breast cancer. Unfortunately, a side effect associated with hormonal therapy is a loss in bone density. This may lead to increased risk of bone fractures. Medications such as Zometa are frequently given to women receiving Femara to strengthen bones and prevent bone loss.
The current multicenter study examined the strategies of treating women with Zometa as soon as they begin treatment with Femara or delaying use of Zometa until the patient had experienced a loss of bone density or a fracture. The study included 1,065 patients. Participants received either immediate or delayed treatment with Zometa twice a year for five years. Researchers evaluated changes in bone mass by analyzing bone mineral density scores.
Women receiving immediate treatment had an increase in their bone density compared with women who received delayed treatment; the latter group had a loss in bone density.
After 12 months of follow-up, women who had received immediate treatment had a 5.7% advantage in bone density compared with women who received delayed treatment.
Both treatment strategies were well tolerated with few serious side effects. Bone pain, the most frequent side effect, was more common among patients receiving immediate treatment.
After 12 months immediate treatment with Zometa® was found to prevent bone loss in postmenopausal breast cancer patients receiving Femara®.
Reference: Bundred, N., Campbell, I., Davidson, N., et al. Effective inhibition of aromatase inhibitor associated bone loss by zoledronic acid in post menopausal women with early breast cancer receiving adjuvant letrozole. Cancer. 2008; 112(5):1001-1010.