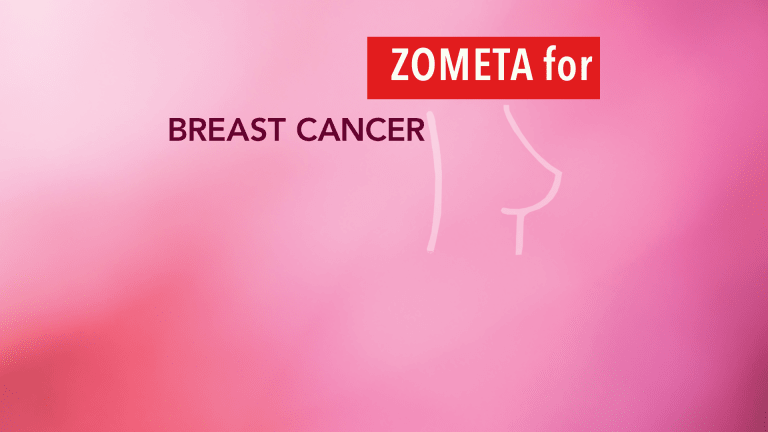 Zometa® Helps Prevent Bone Loss in Early Breast Cancer
Zometa® Helps Prevent Bone Loss in Early Breast Cancer
Including Zometa® (zoledronic acid) in a treatment regimen for early breast cancer reduces bone loss associated with endocrine therapy among premenopausal women. These results were recently published in the Lancet Oncology.
Early breast cancer refers to cancer that has not spread to distant sites of the body. With standard therapeutic approaches, cure rates for early breast cancer remain high. The majority of breast cancers are referred to as hormone-positive, or estrogen receptor-positive (ER-positive), cancers. This means that the cancer cells are stimulated to grow from exposure to the female hormones estrogen and/or progesterone.
Treatment for hormone-positive breast cancers includes hormone therapy, also referred to as endocrine therapy, which either suppresses the formation of female hormones and/or prevents their interaction with breast cells. This ultimately removes the cancer cells' source of growth. However, some types of endocrine therapy, such as aromatase inhibitors (Arimidex® [anastrozole], Femara® [letrozole]) are associated with a loss of bone density, resulting in an increased risk of osteoporosis and bone fractures.
Zometa is an agent historically used in breast cancer to help reduce complications associated with bone metastases (cancer spread to the bone). However, researchers have been evaluating its use in earlier breast cancer in an attempt to help prevent the development of bone metastases altogether.
Researchers affiliated with the Austrian Breast and Colorectal Cancer Study Group trial-12 (ABCSG-12) conducted a substudy to evaluate the effect of Zometa on bone density among patients with early breast cancer treated with endocrine therapy. The trial included 404 patients who were treated with one of the following therapies: tamoxifen (Nolvadex®) plus Zoladex® (goserelin) (both of which are hormone therapies) or Arimidex plus goserelin; both therapies were delivered with or without Zometa.
After three years of therapy, patients who did not receive Zometa in their treatment regimen experienced significant loss of bone density at measurements of the spine and hip.
Among patients who received hormone therapy only, those treated with Arimidex had a greater loss of bone density than those treated with Nolvadex.
Two years following completion of therapy, patients who had not received Zometa had recovered some bone loss, but still had reduced bone density compared with before initiation of therapy.
Among patients who received Zometa, bone density remained stable at three years of treatment and had actually increased at five years.
The researchers concluded: "Concomitant zoledronic acid [Zometa] prevented bone loss during therapy and improved [bone mineral density] at five years." Premenopausal women with early breast cancer who are to undergo endocrine therapy may wish to speak with their physician regarding their individual risks and benefits participation in a clinical trial further evaluating treatment with Zometa or other novel therapeutic options. Sources of information about ongoing clinical trials include www.clincaltrials.gov.
Reference: Gnant M, Mlineritsch B, Luschin-Ebengreuth G, et al. Adjuvant endocrine therapy plus zoledronic acid in premenopausal women with early-stage breast cancer: 5-year follow-up of the ABCSG-12 bone-mineral density substudy. The Lancet Oncology. 2008; 9:840-849.