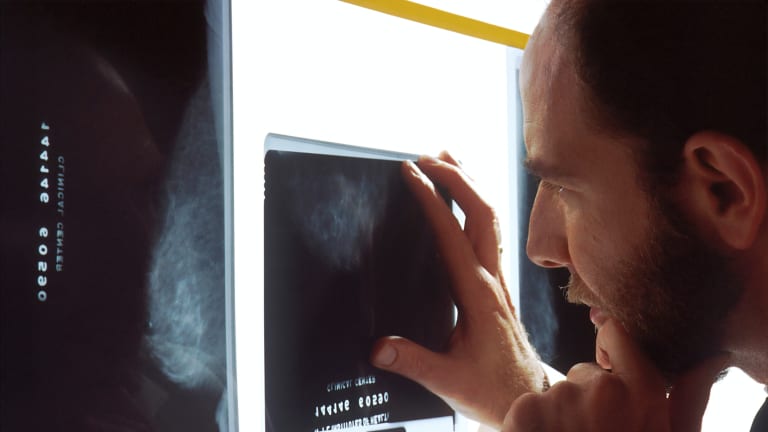 Why Your Breast Density Matters
JoAnn Pushkin of Dense Breast-info.org explains breast density and the implications of screening and early detection.
By JoAnn Pushkin, Executive Director, DenseBreast-info.org
I detected a lump during a self-exam but wasn't particularly worried. My recent mammogram was "normal," and I was diligent about self-exams, scheduling my annual mammogram, exercising and eating healthy. I called my doctor to be certain it was nothing. I was sent for a diagnostic mammogram and sonogram (ultrasound). It was not nothing.
On the very day my tumor was so large that I could feel it, it did not show up on the mammogram my doctor sent me for. When I asked why, I was told that I had dense breasts and that made cancer detection "a hard find" by mammography. Based on tumor characteristics, it was estimated to have been growing for up to five years - undetected every one of those years by mammography as it was hidden behind dense tissue. I learned I had breast cancer, I learned I had dense breast tissue, and I learned I should have known more about both, all in the same day.
What is breast density?
Breast density refers to the tissue composition of a breast. All breasts contain a mixture of fatty and glandular (dense) tissue. The more glandular tissue present, the "denser" the breast is considered. When a woman has her mammogram, her breast density is assessed to be one of four categories.
The last two categories, heterogeneously and extremely dense, are considered "dense" breasts. As the images show, as the amount of dense breast tissue increases, breast tissue appears increasingly white or light grey on a mammogram.
Why does density matter?
Dense breast tissue displays as white or grey on a mammogram – unfortunately, so does breast cancer. Trying to find a cancer in a dense breast has been compared to trying to find a snowball in a blizzard.
A cancer in a fatty breast is easier to detect as the fatty tissue displays darker on a mammogram providing good contrast to the whiter tumor. In a dense breast, little or no contrast may be present. Thus, as breast density increases, a mammogram's ability to show cancer decreases.
Beyond hiding cancers, women need to be aware that breast density has another important implication: it also increases the risk of developing breast cancer. Women with dense breasts are both more likely to get breast cancer and to have that cancer be missed by mammography. (1,2)
Some fast facts about dense tissue:
Dense breasts are normal. About 40% of women of mammography age have dense breasts.
Although normal, dense breast tissue is a risk factor for developing breast cancer and the denser the breast, the greater the risk.
In women with dense breasts, a "normal," "negative" or "benign" mammogram report may not reliably exclude that cancer is growing undetected.
Though mammography remains the standard screening test for breast cancer and is proven to reduce deaths due to breast cancer, in dense breasts, cancers may be hidden on mammography and may go undetected until they are larger and more likely to have spread.
Other screening tests, such as ultrasound or MRI, when added to mammography, substantially increase detection of early stage breast cancer in dense breasts.
This is information I was not aware of before I was diagnosed with breast cancer. After my diagnosis I checked the reports that were sent from my radiologist to my referring physician, and I discovered that "dense tissue" was a term I should have been very familiar with. It was mentioned every single year in the report sent from my radiologist to my referring physician. Everyone involved with my breast surveillance knew I had dense breasts, except me.

Unaware of this information, I did not know that a discussion with my health provider, about the implications of dense breast tissue, was in order. My advocacy and story became the inspiration for New York State's breast density inform law. In 2013, New York became the first state to require that women be provided clear, unambiguous notification of their breast density in the letter they receive after their mammograms. Thirty-five states, encompassing about 88% of American women, now require some level of breast density reporting to a patient after a mammogram. Click here to view an interactive map of state-by-state density inform laws and insurance coverage.
​
What can you do?
It is important for women to be informed and proactive about their breast health. Some of the actions you can take to guard your breast health include:
· ASK: If you do not know if you have dense breasts, ask your breast imager or your referring health provider for this information.
· LEARN: Get educated about breast density so that you can have an informed discussion with your health provider.
· DISCUSS: If you learn that you have dense breasts, talk with your health provider to decide which additional screening tools may be best for you.
To address the unmet educational needs of women and medical providers on the topic of dense breast tissue, I co-developed the medically-sourced, educational website DenseBreast-info.org. The site is the collaborative effort of experts in breast imaging and medical reviewers and was recently recognized as the most comprehensive on the topic. It features content for both patients and medical providers, and among other components includes Technology Tab content which details benefits and considerations of common screening tools (e.g. mammography, 3D mammography/tomosynthesis, ultrasound, MRI).
Call out box content: For more information about the implications of dense breasts and screening considerations, please visit resource DenseBreast-info.org.
References:
Barlow WE, White E, Ballard-Barbash R et al. Prospective Breast Cancer Risk Prediction Model for Women Undergoing Screening Mammography. Journal of the National Cancer Institute. 2006;98:1204-14.
Chen J, Pee D, Ayyagari R et al. Projecting Absolute Invasive Breast Cancer Risk in White Women with a Model that Includes Mammographic Density. Journal of the National Cancer Institute. 2006;98:1215-26.
​
© JoAnn Pushkin and DenseBreast-info, Inc.
JoAnn Pushkin is executive director of DenseBreast-info, Inc., a 501(c)(3) public charity that supports DenseBreast-info.org, a medically-sourced website which provides breast density education to both patients and health care professionals.