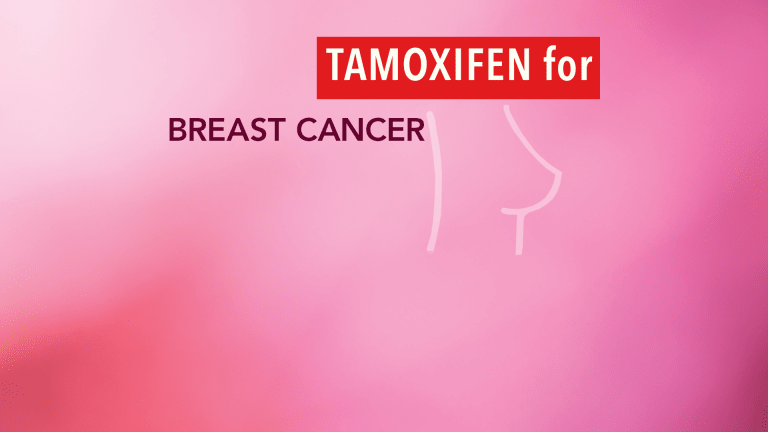 Tamoxifen Prevents ER-positive Breast Cancer Years Following CompletionofTherpy
Tamoxifen Prevents ER-positive Breast Cancer Years Following Completion of Therapy
According to an article recently published in the Journal of the National Cancer Institute, treatment with tamoxifen (Nolvadex®) can significantly reduce the risk of hormone-positive breast cancer, even years following completion of therapy.
Hormone-positive breast cancer, also referred to as estrogen-receptor positive (ER-positive) breast cancer, is the most common type of breast cancer. Hormone-positive breast cancer is stimulated to grow from exposure to the circulating female hormones estrogen and/or progesterone. Treatment for hormone-positive breast cancer often includes the use of hormone therapy, which reduces the growth stimulus of breast cancer cells by reducing their exposure to estrogen.
Tamoxifen is an anti-estrogen agent used in the treatment of hormone-positive breast cancer. Studies that have evaluated tamoxifen's ability to prevent breast cancer include the International Breast Cancer Intervention Study (IBIB-I). This study included over 7,000 women aged 35–70 years at a high risk for developing breast cancer who were given either tamoxifen or placebo for five years. Initial results from the IBIS-I study indicated that tamoxifen reduced the risk of hormone-positive cancers by 31%. However, the majority of these initial results were compiled while women were still being actively treated. Researchers have now reported results at a median follow-up of 96 months.
Hormone-positive breast cancer risk was reduced by 34%.
At ten years following initiation of the trial, there was no reduction in the benefit of use of tamoxifen.
Side effects of tamoxifen included blood clots and uterine cancer; however, most of the side effects associated with tamoxifen disappeared after therapy was stopped.
The researchers concluded that the use of tamoxifen may prevent 34% of hormone-positive breast cancers for at least 10 years, with side effects associated with the agent disappearing after the five years of treatment. However, because tamoxifen is associated with side effects, patients at a high risk of developing breast cancer should speak with their physician regarding their individual risks and benefits of using tamoxifen to prevent breast cancer.
Reference: Cuzick J, Forbes J, Sestak I, et al. Long-term results of tamoxifen prophylaxis for breast cancer-96-month follow-up of the randomized IBIS-I trial. Annals of Oncology. 2007; 99:272-282.