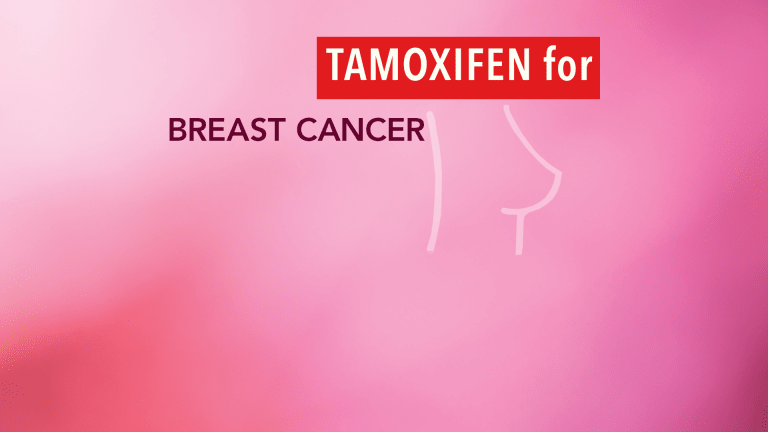 Tamoxifen Prevents Development of Breast Cancer in Women who Carry BRCA2
Tamoxifen Prevents Development of Breast Cancer in Women who Carry BRCA2 Mutations
Tamoxifen reduces the risk of breast cancer in women with BRCA2 mutations, but has no effect in women with BRCA1 mutations, according to preliminary results presented at the 37th Annual Meeting of the American Society for Clinical Oncology.
Breast cancer is the second leading cause of cancer death in women in the United States, with approximately 200,000 cases diagnosed each year. Breast cancers are classified as estrogen receptor-positive or estrogen receptor-negative. Estrogen receptor-positive breast cancer is characterized by the overabundance of estrogen receptors to which estrogen binds, facilitating cellular replicaton and growth. Anti-estrogens are drugs that block these estrogen receptors, thereby preventing the estrogen-stimulated growth of the breast cancer cells.
Tamoxifen is a chemopreventive drug that blocks estrogen from entering the cells. Tamoxifen and other anti-estrogens are commonly used in the treatment of breast cancer, but have also proven successful in the prevention of cancer in women at high risk. Historically, tamoxifen has been effective against estrogen receptor-positive breast cancer, but not estrogen receptor-negative breast cancer. Now, research indicates that tamoxifen may benefit women who carry the BRCA2 mutation, but not women who carry the BRCA1 mutation.
Recently, researchers from the University of Washington worked in collaboration with the National Cancer Institute and the National Surgical Adjuvant Breast and Bowel Project (NSABP) to perform genomic resequencing of DNA from blood samples from the Breast Cancer Prevention Trial (BCPT) that was conducted during the 1990s. The study focused on 288 of 315 women who developed invasive breast cancer during the original trial. The results indicated that about 7% of these women had a BRCA1 or BRCA2 mutation. Of the eight women with BRCA1 mutations, five received tamoxifen and three received placebo during the trial. Of the 11 women with BRCA2 mutations, three received tamoxifen and eight received placebo.

With this data, the researchers were able to calculate risk ratios for women who received tamoxifen versus those for women who received placebo. The results indicated that tamoxifen reduced the risk of breast cancer by 62% in women with BRCA2 mutations, but had no effect for women with BRCA1 mutations. The researchers acknowledged that this reduced risk was similar to the reduced risk offered by tamoxifen for estrogen receptor-positive tumors.
The researchers expressed concern that this data may actually be understated as a result of the low number of women in the study with BRCA1 and BRCA2 mutations. More research is needed to further define the role of tamoxifen in preventing breast cancer in women who carry BRCA2 mutations. (Proceedings from the 37thAnnual Meeting of the American Society of Clinical Oncology, San Francisco, CA, May, 2001).