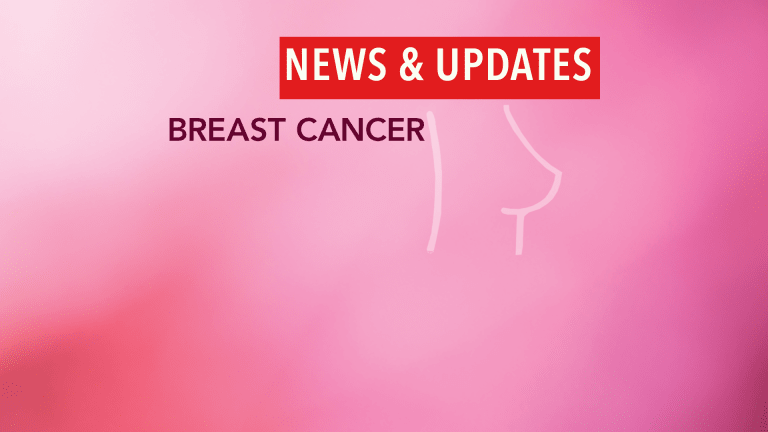 Study Evaluates Accuracy of Sentinel Lymph Node Biopsy for Breast Cancer
Study Evaluates Accuracy of Sentinel Lymph Node Biopsy for Breast Cancer
Study Evaluates Accuracy of Sentinel Lymph Node Biopsy for Breast Cancer
According to the results of a Phase III clinical trial published in Lancet Oncology, the overall accuracy of sentinel lymph node biopsy for breast cancer is 97% and the false-negative rate (the frequency with which sentinel lymph node biopsy misses existing lymph node metastases) is 9.8%.
For over 30 years, the standard for early breast cancer staging included the removal of approximately 10 to 25 axillary (under the arm) lymph nodes to help determine whether the cancer had spread. This procedure, called an axillary lymph node dissection (ALND), can be associated with chronic side effects, including pain, limited shoulder motion, numbness, and swelling.
A more recent approach for evaluating whether cancer has spread to the lymph nodes is sentinel lymph node (SLN) biopsy. This procedure's advantage is that only a small number of sentinel nodes (or even a single node) are removed. Sentinel nodes are the first lymph nodes to which cancer is likely to spread.
Sentinel lymph node biopsy is becoming more widely adopted in the clinical setting for determining whether cancer has spread to the lymph nodes in women with breast cancer. There is some evidence that the procedure improves quality of life compared to ALND.
A study that will eventually provide important information about outcomes such as survival, cancer control, and quality of life is the NSABP B-32 trial. This Phase III trial enrolled more than 5,000 women with operable breast cancer and no initial evidence of lymph node involvement.
Study participants were assigned to one of two groups. Women in the first group received a SLN biopsy followed immediately by ALND. Women in the second group also received a SLN biopsy, but proceeded to ALND only if the SLN biopsy was positive (i.e. indicated cancer).
The results of this study will provide additional information about whether SLN biopsy-with ALND reserved for women with positive sentinel nodes-is as effective as performing ALND on all women. The study will also assess quality of life outcomes. Survival and quality of life results are not yet available, but will be presented in the future.
The current analysis focuses on the accuracy of SLN biopsy (the ability of SLN biopsy to correctly classify women with and without involved lymph nodes).
The overall accuracy of SLN biopsy was 97.1%.
The false-negative rate of SLN biopsy was 9.8%. This means that SLN biopsy failed to detect cancer in 9.8% of the women with involved lymph nodes (as determined by ALND).
False-negative results on SLN biopsy were less common among women who had more than one sentinel node removed.
False-negative results on SLN biopsy were more common among women who had undergone an excisional biopsy before their breast cancer surgery. An excisional biopsy refers to removal of an entire lump or area of abnormal tissue (as opposed to removal of only a sample by core or fine-needle biopsy).
The researchers conclude that removal of more than one sentinel lymph node and avoidance of excisional biopsy may reduce the false-negative rate of sentinel lymph node biopsy.
Reference: Krag DN, Anderson SJ, Julian TB et al. Technical outcomes of sentinel-lymph-node resection and conventional axillary-lymph-node dissection in patients with clinically node-negative breast cancer: results from the NSABP B-32 randomised Phase III trial. Lancet Oncology. 2007;8:881-88.