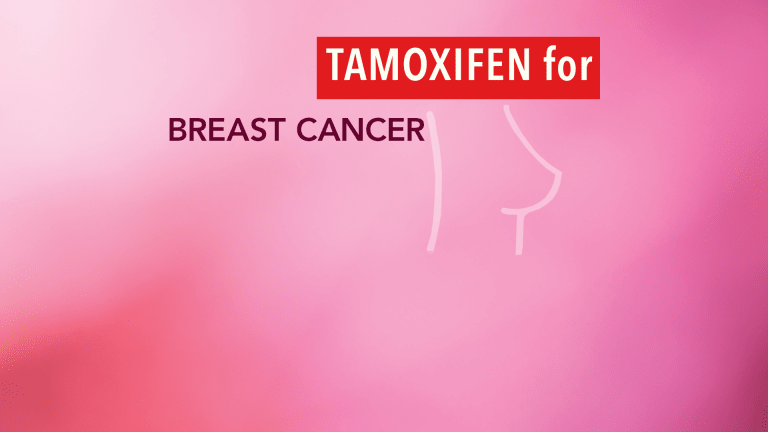 Specific Gene Mutations May Affect Response to Tamoxifen in Breast Cancer
Specific Gene Mutations May Affect Response to Tamoxifen in Breast Cancer
Mutations within the CYP2D6 gene may affect the way in which a patient with hormone-positive breast cancer responds to tamoxifen (Nolvadex®). These results were recently published in the Journal of the National Cancer Institute.
The majority of breast cancers are hormone-positive breast cancers, which are stimulated to grow as cancer cells are exposed to the circulating hormones estrogen and/or progesterone. Patients with hormone-positive breast cancer are treated with hormone (endocrine) therapy; different types of hormone therapy include aromatase agents, which reduce or prevent the formation of estrogen in the body, and tamoxifen, which inhibits the ability of estrogen to bind to the cancer cell. Through these different mechanisms, hormone therapy reduces the growth stimulus for hormone-positive breast cancer.
Historically, tamoxifen was the most widely used hormone agent for the treatment of hormone-positive breast cancer. Newer agents, however, referred to as aromatase agents (Femara® [letrozole], Arimidex® [anastrozole], and Aromasin® [exemestane]), are now commonly used for treatment of this disease. Large trials have demonstrated that treatment with aromatase inhibitors in postmenopausal women with early-stage hormone-positive breast cancer improves progression-free survival compared with tamoxifen in this setting.
Researchers from the Dana-Farber Cancer Institute, Brigham and Women's Hospital, and Harvard Medical School recently conducted a clinical study to explore a potential relationship between mutations within the CYP2D6 gene (a gene involved in the metabolic breakdown of tamoxifen) and how it may affect a breast cancer patient's response to different hormone therapies. The researchers gathered data from a previous large clinical trial, referred to as the BIG 1-98 trial, in which women with early-stage hormone-positive breast cancer were treated either with tamoxifen or an aromatase agent and were directly compared. In this recent study, researchers gathered information from the BIG 1-98 trial regarding the CYP2D6 gene and patient outcomes with both agents.
At five years it was estimated that approximately 84% of patients with a normal CYP2D6 gene had cancer-free survival, which is the same survival rate as patients treated with aromatase agents in the BIG 1-98 trial.
The researchers concluded: "Modeling suggests that among patients who [have normal] CYP2D6, 5-year disease-free survival outcomes are similar toor perhaps even superior with tamoxifen than with aromataseinhibitors. Endocrine therapy tailored to CYP2D6 [gene] couldbe considered for women who are newly diagnosed with breastcancer, particularly those who have concerns about eitherthe relative toxicity or the increased cost of aromatase inhibitors."
Although further evaluation of these findings is necessary, these results provide additional evidence that individualized treatment approaches likely offer the best chance of optimal outcomes. Patients diagnosed with breast cancer may wish to speak with their physician about the risks and benefits of participation in a clinical trial further evaluating genetics and its role in treatment choices. Sources of information regarding ongoing clinical trials include the National Cancer Institute (www.cancer.gov).
Reference: Punglia R, Burstein H, Winer E, Weeks J. Pharmacogenomic variation of CYP2D6 and the choice of optimal adjuvant endocrine therapy for postmenopausal breast cancer: a modeling analysis. Journal of the National Cancer Institute [early on-line publication]. April 28, 2008. DOI: 10.1093/jnci/djn100.