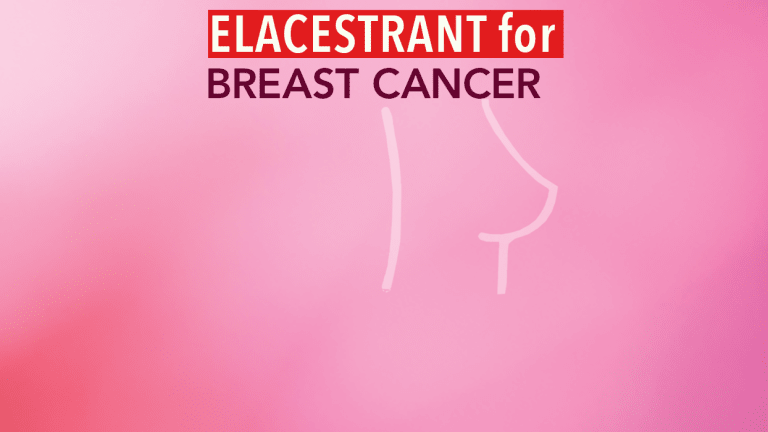 Elacestrant Hormone Therapy for Advanced Breast Cancer
Oral selective estrogen receptor degraders on the horizon for treatment of estrogen-receptor positive metastatic breast cancer.
by Dr. C.H. Weaver M.D. updated 11/2022
Elacestrant is an oral selective estrogen receptor degrader on the horizon for treatment of estrogen-receptor positive metastatic breast cancer.
Metastatic breast cancer (MBC) remains the second leading cause of cancer death in women in the United States.1 The majority of breast cancers are estrogen receptor positive (ER+).2 The mainstay of treatment of ER+ breast cancers is endocrine therapy, which currently includes selective estrogen receptor modulators (SERMs), aromatase inhibitors (AIs), and the selective estrogen receptor degrader (SERD) Faslodex (fulvestrant). Endocrine therapy is recommended over chemotherapy for first-line treatment of ER+ MBC in most cases except in the rare setting of visceral crisis.
The initial or "first-line" treatment of metastatic ER+/HER2- breast cancer typically includes endocrine therapy combined with a CDK 4/6 inhibitor. Data from clinical trials suggests that Faslodex has more activity than AIs in breast cancers with ESR1 mutations, which are significantly more common in patients treated with AIs previously.3 Faslodex is currently the only FDA-approved SERD for the treatment of ER+/HER2- metastatic breast cancer with disease progression following endocrine therapy. It binds and alters the estrogen receptor leading to degradation of the receptor.4 Faslodex is thought to have incomplete ER blockade, suboptimal pharmacokinetic features and must be administered via intramuscular injection.5,6
Elacestrant is an oral selective estrogen receptor degrader being developed for treatment of estrogen-receptor positive metastatic breast cancer. In a phase 1 clinical trial published in the Journal of Clinical Oncology, Elacestrant demonstrated single-agent activity, with an objective response rate of 19% and an acceptable safety profile, leading to the phase 3 EMERALD study.6 Several additional oral SERDs are also being developed.7
The EMERALD phase 3 trial
The results from the international Phase III EMERALD clinical trial were released at the 2021 San Antonio Breast Cancer Symposium by Dr. Aditya Bardia and colleagues.8 The trial included participants with ER+/HER2- MBC who had experienced progression on 1 or 2 prior lines of endocrine therapy for metastatic disease. All patients had received a prior CDK 4/6 inhibitor with endocrine therapy. Only 22% had received prior chemotherapy (up to one line). Patients were treated with Elecestrant 400mg daily or standard of care (SOC; investigator's choice of endocrine therapy, including Faslodex or an aromatase inhibitor) and directly compared

Elacestrant demonstrated a 30% improvement in survival duration without cancer progression and a 45% improvement in patients with mESR1 mutations. Overall, 22% of Elacestrant treated patients survived beyond 12 months after starting treatment compared to 9% of those treated with SOC. This was further improved in patients with the mESR1 mutation. Elacestrant was fairly well-tolerated with only 6% of patients discontinuing due to side effects. Gastrointestinal side effects including nausea, vomiting, decreased appetite, and constipation with the main concerns.
Camizestrant
Camizestrant is another next-generation oral selective estrogen receptor degrader (ngSERD) and pure ERα antagonist.  In the SERENA-1 Phase I clinical trial camizestrant was well tolerated and demonstrated promising anti-tumour activity when administered alone or in combination with palbociclib, a CDK4/6 inhibitor.
According to the developer results from the SERENA-2 Phase clinical II trial show that camizestrant met the primary endpoint of demonstrating a statistically significant and clinically meaningful progression-free survival benefit. SERENA-2 is evaluating camizestrant at several dose levels compared to Faslodex in advanced ER-positive, HER2-negative breast cancer. 
Oral SERDs represent a new class of endocrine therapies which could improve care for patients with metastatic ER+/HER2- breast cancer although gastrointestinal side effects and costs may be problematic. Clinical studies will evaluate whether earlier use is beneficial and whether Elacestrant is superior to Faslodex.
References:
American Cancer Society Cancer Facts & Figures 2022. 2022. https://www.cancer.org/content/dam/cancer-org/research/cancer-facts-and-statistics/annual-cancer-facts-and-figures/2022/2022-cancer-facts-and-figures.pdf
Allison KH, Hammond MEH, Dowsett M, et al. Estrogen and Progesterone Receptor Testing in Breast Cancer: ASCO/CAP Guideline Update. J Clin Oncol. Apr 20 2020;38(12):1346-1366. doi:10.1200/jco.19.02309
Turner NC, Swift C, Kilburn L, et al. <em>ESR1</em> Mutations and Overall Survival on Faslodex versus Exemestane in Advanced Hormone Receptor–Positive Breast Cancer: A Combined Analysis of the Phase III SoFEA and EFECT Trials. Clinical Cancer Research. 2020;26(19):5172-5177. doi:10.1158/1078-0432.Ccr-20-0224
Buzdar AU, Robertson JF. Faslodex: Pharmacologic Profile Versus Existing Endocrine Agents for the Treatment of Breast Cancer. Annals of Pharmacotherapy. 2006;40(9):1572-1583. doi:10.1345/aph.1G401
Purohit P, Brahmkshatriya P, Goswami V. Development of orally bioavailable prodrugs of Faslodex for the treatment of metastatic/advanced breast cancer. Journal of Clinical Oncology. 2021;39(15_suppl):e13027-e13027. doi:10.1200/JCO.2021.39.15_suppl.e13027
Bardia A, Kaklamani V, Wilks S, et al. Phase I Study of Elacestrant (RAD1901), a Novel Selective Estrogen Receptor Degrader, in ER-Positive, HER2-Negative Advanced Breast Cancer. J Clin Oncol. Apr 20 2021;39(12):1360-1370. doi:10.1200/jco.20.02272
Hamilton E, Vahdat L, Han HS, et al. First-in-human safety and activity of ARV-471, a novel PROTAC® estrogen receptor degrader, in ER+/HER2- locally advanced or metastatic breast cancer. Accessed Feburary 11, 2022. https://www.abstractsonline.com/pp8/#!/10462/presentation/596
Bardia A, Neven P, Streich G, et al. Elacestrant, an oral selective estrogen receptor degrader (SERD), vs investigator's choice of endocrine monotherapy for ER+/HER2- advanced/metastatic breast cancer (mBC) following progression on prior endocrine and CDK4/6 inhibitor therapy: Results of EMERALD phase 3 trial 2021: