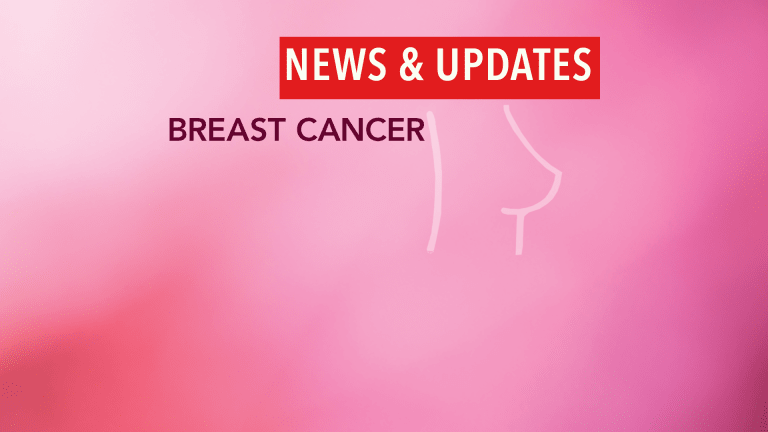 Results of PD-1 Checkpoint Inhibitors Evaluated in Triple-Negative Breast Cancer
Keytruda has anti-cancer activity in this hard-to-treat group with advanced triple-negative breast cancer
by C.H. Weaver M.D.
The initial results from a phase 1 trial evaluating the checkpoint inhibitor Keytruda® (pembrolizumab) in patients with heavily pretreated triple-negative breast cancer were recently reported at the San Antonio Breast Cancer Symposium (SABCS)
The cancer immunotherapy strategy known as programmed cell death 1 (PD-1) has generated great excitement for its ability to help the immune system recognize and attack cancer. PD-1 is a protein that inhibits certain types of immune responses. Drugs that block PD-1 are called checkpoint inhibitors and may enhance the ability of the immune system to fight cancer. Keytruda is a fully humanized monoclonal antibody that binds with high-affinity to the PD-1 receptor.
Clinical evidence to date in other cancers is impressive and suggests that Keytruda® and other checkpoint inhibitors such nivolumab, and Yervoy® (ipilimumab) are very effective in melanoma, lymphoma and lung cancer.1-4
Breast cancers display different characteristics that require different types of treatment. The majority of breast cancers are hormone receptor-positive, meaning that the cancer cells are stimulated to grow from exposure to the female hormones estrogen and/or progesterone. Other breast cancers are referred to as HER2-positive, which means that they overexpress the human epidermal growth factor receptor 2, a biologic pathway that is involved in replication and growth of a cell. HER2-positive breast cancers account for approximately 25% of breast cancers and are treated with agents that target the receptor to slow growth and replication.
Breast cancers that are not stimulated to grow from exposure to estrogen or progesterone and are HER2-negative are called triple-negative breast cancers. Triple-negative breast cancers tend to be more aggressive than other breast cancers, have fewer treatment options, and were the focus of the current clinical trial.
Learn more about breast cancer
In this study, 32 patients with recurrent or metastatic triple-negative breast cancer positive for PD-1 were administered Keytruda every 2 weeks until they had either a complete response, partial or stable response, or confirmed disease progression.
Overall, 18.5% of patients responded to treatment with Keytruda. There was one complete response, four partial responses, and seven cases of stable disease.
This clinical trial demonstrates that Keytruda has anti-cancer activity in this hard-to-treat group with advanced triple-negative breast cancer. Investigators are moving forward with phase 2 trials and expect to begin enrollment of patients early in 2015, in the hope that they can improve on the early results.
References:
[1] Robert C, Long GV, Brady B, et al. Nivolumab in Previously Untreated Melanoma without BRAF Mutation. New England Journal of Medicine [early online publication]. November 16, 2014.
[2] Topalian SL, Sznol M, McDermott DF, et al. Survival, Durable Tumor Remission, and Long-Term Safety in Patients With Advanced Melanoma Receiving Nivolumab. Journal of Clinical Oncology [early online publication]. March 3, 2014. doi: 10.1200/JCO.2013.53.0105.
[3] Study Comparing Opdivo (nivolumab) to Chemotherapy in Treatment Naïve Advanced Melanoma Patients Marks First PD-1 Immune Checkpoint Inhibitor to Demonstrate a Survival Benefit in a Phase 3 Trial [press release]. Bristol-Myers Squibb website. Available here.
Ansell S, Lesokhin A, Borrello I, et al. PD-1 Blockade with Nivolumab in Relapsed or Refractory Hodgkin's Lymphoma. The New England Journal of Medicine. December 6, 2014DOI: 10.1056/NEJMoa1411087
Nanda R, Chow LQ, Dees EC, et al. A phase Ib study of pembrolizumab (MK-3475) in patients with advanced triple-negative breast cancer. Presented at the 2014 San Antonio Breast Cancer Symposium, December 9-13, 2014. San Antonio, Texas. Abstract S1-09.