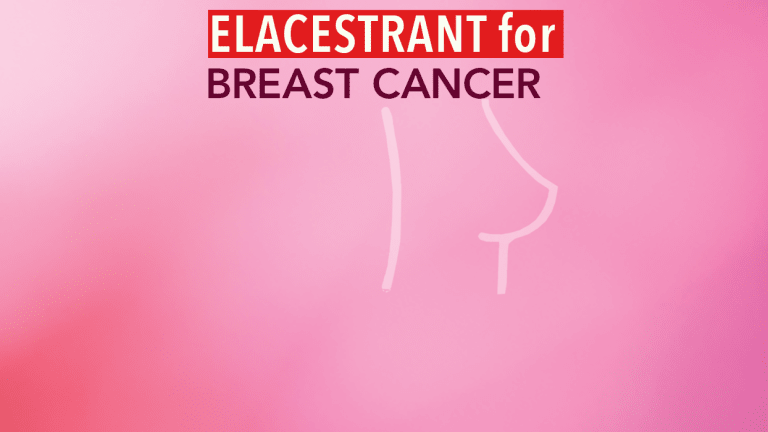 Elacestrant
Elacestrant improves outcomes in advanced recurrent breast cancer
Elacestrant is an investigational oral selective estrogen receptor down-regulator/degrader (SERD) treatment for women with ER+ and HER2- advanced or metastatic breast cancer. Endocrine therapy plus a CDK4/6 inhibitor is the standard treatment for the management of ER+/HER2- metastatic breast cancer as first-line therapy. However, most patients will eventually experience disease progression, including development of ESR1 mutations.
About Elacestrant (RAD1901)
Elacestrant is an oral selective estrogen receptor degrader that blocks the estrogen receptor (ER) in a dose-dependent manner and has demonstrated an improvement in progression-free survival compared with standard of care endocrine therapy in postmenopausal women with estrogen receptor-positive (ER+)/ HER2-negative (HER2-) metastatic breast after treatment with a CDK4/6 inhibitor.
In the EMERALD clinical trial 477 patients were treated with either elacestrant or their doctor's choice of standard endocrine therapy. Elacestrant reduced the risk of cancer progression or breast cancer mortality by 30%. In patients with mutant ESR1, elacestrant was associated with a 45% reduction in the risk of progression or death. Survival without cancer progression at 12 months with elacestrant was 22.3% compared with 9.4% for standard of care.
Reference
Bardia A, Neven P, Streich G, et al. Elacestrant, an oral selective estrogen receptor degrader (SERD), vs investigator's choice of endocrine monotherapy for ER+/HER2- advanced/metastatic breast cancer (mBC) following progression on prior endocrine and CDK4/6 inhibitor therapy: results of the EMERALD phase 3 trial. Presented at SABCS 2021; December 7-10, 2021; San Antonio, TX. Abstract GS2-02.