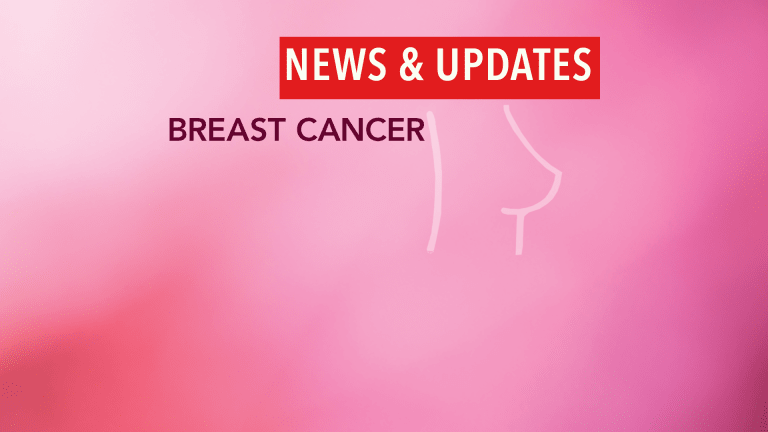 Metastatic Breast Cancer (MBC): Progress and Hope
Understand the current and future treatment of metastatic breast cancer - Resources for individuals with MBC.
Medically reviewed by Dr. C.H. Weaver M.D. 1/2020
As cancer treatment enters a new era of personalized medi­cine, progress and hope have become a new mantra for those diagnosed with metastatic breast cancer (MBC). For many patients living with MBC, their focus is on living each day with quality, coupled with the under­standing that novel treatments are now providing long-term survival for many.1
Metastatic breast cancer refers to cancer that originates in the breast but has spread to one or more other locations in the body, such as the lungs, liver, or bones. The majority of patients with MBC have experi­enced a recurrence following a prior diagnosis of earlier-stage disease; however, patients can also be diag­nosed initially with this advanced form of breast cancer.
Although the majority of patients diagnosed with MBC have not his­torically been considered to have curable disease, more-advanced precision treatment options that are tailored to an individual can­cer's characteristics continue to be developed and are improving long-term survival rates and quality of life. Importantly, extensive research is currently under way, with the promise of even greater individual­ized treatment options in the future for patients with MBC.2
Progress
Historically, a diagnosis of MBC had a poor prognosis, and its treat­ment—most often chemotherapy and radiation—was associated with severe side effects and a poor qual­ity of life. Although chemotherapy and radiation are still important treatment components for many women with MBC, these therapies have been refined, and supportive care measures have improved sig­nificantly to limit side effects associ­ated with these types of treatment.
The development of newer ther­apies, however, is what has led to the most significant improvement in survival and quality of life for individuals with MBC. In particu­lar, new-generation hormonal ther­apies, targeted therapies, testing of a patient's cancer cells to determine if they will respond to certain ther­apies, and the ability of patients to tolerate several sequential thera­pies—all have brought about sig­nificant improvements in the way MBC is treated.3
Currently, more than one-quar­ter of patients diagnosed with MBC can expect to survive at least five years, and some live more than 10 years. Moreover, the rapid emer­gence of novel therapies contin­ues to increase survival rates and improve quality of life.
Hope
Georgi Delgadillo, a 57-year-old middle-school science teacher, was diagnosed with MBC in 2013, fol­lowing an initial diagnosis of Stage I breast cancer in 2011. After under­going extensive therapy for MBC, Georgi received the devastating news that the cancer had stopped responding to the last medication for which she was eligible. She was at the end of the road in terms of available treatment options for that type of cancer.
Fortunately, within a week of her receiving this crushing news, Ibrance® (palbociclib), a novel tar­geted agent, was approved by the US Food and Drug Administration for the treatment of the particular type of cancer Georgi had. She immediately began treatment with Ibrance, and the drug has been effective: during Georgi's most recent appointment, her oncolo­gist told her that the cancer was in remission.
Because several new drugs and treatment approaches for MBC are progressing through late-stage development, Georgi remains "very hopeful" that if the cancer stops responding to Ibrance, there is a good chance that another treatment will become available.
Heather Nichols, MD, clinical faculty at Family Residency of Idaho, agrees. "I think that treat­ment for cancer will continue to become extremely individualized, based on a cancer's genetic profile and molecular markers, marking a new era of treatment options for this disease," she says. "The med­ical students in residency whom I work with now will most likely be dealing with very different treat­ment approaches for cancer a few years into their own practices."
MBC: A Unique Type of Breast Cancer
Treatment for early-stage breast cancer is aimed at a cure. In fact, patients in the earliest stages of breast cancer have cure rates reach­ing more than 95 percent. After Georgi finished treatment for early breast cancer, her medical team told her that they wouldn't be seeing her again—they all thought the cancer was gone.
"At that point I thought I was done with breast cancer," Georgi says. "When I was first diagnosed with early-stage breast cancer, I was willing to do anything in terms of treatment. My thought was Throw it all at me because the aim was to get rid of all the cancer and then get on with life."
A diagnosis of MBC, however, brings a different and unique per­spective compared with a diagno­sis of earlier stages of the disease. Unlike early-stage breast cancer, "you don't just get through a period of difficult treatment to get rid of cancer and move on with your life," Georgi says. "With metastatic breast cancer, it's different."
The goal of treatment for MBC is typically not curative but rather aims to improve the duration of survival while maintaining a good quality of life. Often early-stage breast cancer is referred to as a sprint whereas MBC is referred to as a marathon.
Treatment for MBC is most commonly delivered in a sequential manner. Initial treatment for MBC is referred to as first-line therapy. If the cancer responds to first-line therapy and patients tolerate it well, they typically remain on that specific treatment regimen until the cancer progresses. Upon progres­sion, patients are then switched to a different treatment, referred to as second-line therapy. Again, patients remain on second-line therapy until the cancer progresses, and so forth. It is not uncommon for patients with MBC to receive several lines of therapy, and, depending on how the cancer responds and how well the treatment is tolerated, patients may remain on one type of treatment for months or even years before proceeding to the next treatment option.
Knowing that treatment will con­tinue indefinitely, the adjustment to a diagnosis of MBC involves a transition into an entirely different way of prioritizing life, establish­ing goals, and deciding on treat­ment. As Georgi explains, "With the understanding that treatment for MBC probably won't end in a cure, I have chosen quality over quantity. I don't think I'd be willing to go back to the beginning and undergo treatment with chemother­apy and harsh side effects as I did for early-stage breast cancer. It's a completely different way of think­ing compared with when I had ear­ly-stage cancer."
Dr. Nichols notes that "patients with MBC should take a bit of time to identify what is most important to them and their loved ones, and, from there, determine their goals of treatment. These goals are very personal and should be discussed with healthcare providers so that therapies align closely with these goals whenever possible." And, she adds, patients and providers will need to adopt a flexible approach to accommodate changes that arise along the way: "Treatment goals can change, too, through the course of the disease. It's different for every­body, but it remains important to communicate updated goals and any other concerns or wishes with your healthcare provider so that adjust­ments can be made accordingly."
Personalized Therapy
Treatment for MBC is very indi­vidualized, and decisions are often based on the following patient vari­ables: prior treatments received, the presence of other health conditions, goals of therapy, menopausal status, sites in the body to which the cancer has spread, symptoms caused by cancer, and characteristics of cancer cells.
Testing cancer cells before treat­ment is very important, as it guides optimal treatment decisions. Breast cancer samples should, at the very least, be tested for hormone-recep­tor status (also referred to as estro­gen-receptor status), and human epidermal growth factor 2 (HER2) status.
The majority of breast cancer is hormone receptor–positive, mean­ing the cancer is stimulated to grow from exposure to the female hor­mone estrogen. Several agents are available that decrease the cancer cell's exposure to estrogen through different mechanisms. This type of therapy significantly improves survival in HR-positive cancer and can be used alone or in combination with other agents.
Approximately 20 to 30 percent of breast cancer is HER2-positive, meaning the cancer cells have too many HER2 proteins, which results in uncontrolled growth of the cancer. Several agents are available that significantly improve survival in patients with HER-positive cancers by blocking the growth-stimulating effects of too many HER2 proteins.
Cancer that is negative for both HR and HER2 status is referred to as triple-negative breast cancer.
Approved Therapies for MBC
Chemotherapy Chemotherapy remains an important treatment com­ponent for many patients with MBC, particularly those with triple-negative breast cancer. Chemotherapy agents can be used as single agents or in combination with other chemother­apy agents, hormonal therapies, or targeted therapies.
Radiation therapy Radiation therapy can be targeted to specific sites to reduce the size of the cancer. Radiation is often helpful with pain management at these sites and can be used in combination with most other types of therapies.
Hormonal therapy Hormonal therapy refers to treatment that reduces exposure of cancer cells to estrogen and is used for HR-positive breast cancers. There are different types of hormonal therapy that have different mechanisms of action to produce their effects. Premenopausal and postmenopausal women are eligi­ble for different types of hormonal agents. Premenopausal women may also undergo surgery to remove the ovaries, as they produce estrogen.
Targeted agents Targeted agents have been designed to reduce or block very specific pathways that are implicated in the growth of cancer. Currently, there are tar­geted agents that block the HER2 pathway for patients who have HER2-positive MBC.
The term precision therapy does not yet have an official definition and at present may be used in dif­ferent ways. In general, precision therapy refers to treatment that is individualized based on patient and cancer characteristics and continues to be an area of extensive research.
Clinical Trials Patients with MBC are often eligible to partic­ipate in a clinical trial when they have exhausted available treatment options or when available treat­ments might not provide the quality of life they seek.
"Patients may decide against treatment with approved options due to their side effects, or they may not have any other treatment options available to them," Dr. Nichols says. "These patients may be good candi­dates for participation in a clinical trial and should speak with their physician about the possible trials available at their treatment center. If they're being treated at a center where there are no trials, patients should ask for a referral or for other resources to further pursue trial par­ticipation if that's something they're interested in."
Dr. Nichols says that patients should be aware that there are ongo­ing trials for MBC at cancer centers across the country that are focused on individualized therapy, stimu­lating the immune system to attack the cancer, and understanding the genetics of this disease. "Finding the appropriate trial may take a bit of time, but these treatments may become a viable option for some patients," she says.
Many patients share their experiences about clinical trial participation in social communities designed specifically for cancer patients, such as the community at CancerConnect.com.
Patients Speak
A decade long global survey given to patients with MBC identified several issues of importance and concern to this specific patient pop­ulation. Along with a diagnosis of MBC and the understanding that treatment is not curative comes an overwhelming sense of loss of control. Patients surveyed stated that they never know if and when the cancer may start progressing or if treatment options will be avail­able. This loss of control infiltrates most aspects of their lives, leaving questions regarding the ability to maintain a career, financial stabil­ity, caring for other family mem­bers, performing activities of daily living, and being unable to plan for the future.6
The survey results also revealed that patients are extremely interested in understanding the disease and knowing their treatment options, as this provides a sense of control and significantly reduces anxiety.
Patients also reported emotional comfort through social interaction with others diagnosed with MBC, not only in reducing social isola­tion that is common among those diagnosed with MBC but also in gathering important information about new treatments and how to find clinical trials, tips on reducing certain side effects, understanding that their thoughts and feelings are shared by others, gaining inspiration and hope, and also getting advice regarding specialists who have helped other patients. Often hospitals have person-to-person support groups that meet on a regular basis. Internet support groups have also proven to be an extremely powerful tool as a social networking system for these patients.
Many recent initiatives have been set forth to raise awareness of the unique issues inherent in a diagnosis of MBC, which has driven the creation of many easily accessible resources for patients. These resources range from patient education regarding available treatment options, online social-net­working portals, short and easy forms to be filled out by patients regarding their treatment goals, financial assistance, management systems for medications and side effects, listings of available clinical trials, and access to counseling. These resources can help fill some needs of patients with MBC, enabling a sense of control again over some aspects of their lives (Resources for MBC Patients").
The Future
Georgi is headed to France with her husband for a couple of weeks. Last year the destination was Hawaii with her daughters. What's next for Georgi? She would love to get back to teaching, but until she does she says that one of the most important lessons she has learned from living with MBC is that, for each of us, "the way in which we live each moment is a personal choice. We choose how we respond to situations, how we spend our days, how we react to others, and the way we live our lives in every moment. Not to say that I don't have my pity parties every once in a while, but overall I choose to laugh, have hope for the future, and live every day with quality."
As the momentum of cancer treat­ment continues its upward trajectory in improving outcomes for MBC, Georgi's hope for the future and liv­ing every day with quality seems like a good choice.
Resources for MBC Patients
Metastatic breast cancer work­sheet for patients to bring to their doctor visit
cancersupportcommunity.org/sites/default/wp-content/uploads/fields/resource/ file/2016-04/metastatic_bc_work­sheet.pdf
Metastatic Breast Cancer Project: Patients driving research for genetic understanding of metastatic breast cancer
mbcproject.org
Cancer Legal Resource Center
disabilityrightslegalcenter.org/ cancer-legal-resource-center
Connections to advocacy groups
advocacyconnector.com/search
Approved treatment guidelines for metastatic breast cancer
nccn.org/patients/guidelines/ stage_iv_breast/index.html
Free downloadable app for organizing and keeping track of appointments, meds, side effects, and more
icancerhealth.com
Survivorship care plans
cancer.net/survivorship/follow-care-after-cancer-treatment/ asco-cancer-treatment-and-survivorship-care-plans
Insurance and financial assistance
patientadvocate.org
Social network portal
cancerconnect.com
Employment rights
canceradvocacy.org
Clinical trials
clinicaltrials.gov
References
SEER Cancer Statistics Fact Sheets: Female Breast Cancer. National Cancer Institute website. Available here. Accessed July 24, 2016.
Changing patterns in survival for US women with invasive breast cancer. National Cancer Institute website. July 20, 2015. Available here. Accessed July 24, 2016.
Hematology/Oncology (Cancer) Approvals & Safety Notifications. US Food and Drug Administra­tion website. Available here. Accessed July 24, 2016.
NCCN Quick Guide Stage IV Breast Cancer. National Comprehensive Cancer Network website. Available here. Accessed July 24, 2016.
NCCN Guidelines for Patients: Stage IV Breast Cancer. National Comprehensive Cancer Network website. Available here. Accessed July 24, 2016.
Breast Cancer Vision. Pfizer.Available at: www.breastcancervision.com Accessed July 24, 2016.