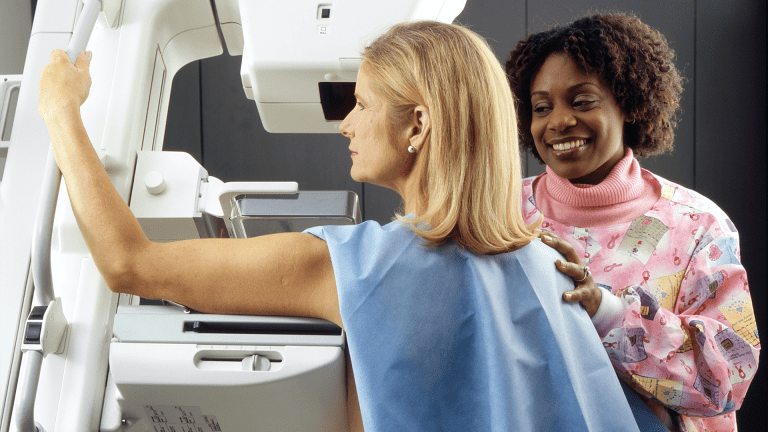 Mammography Benefits Breast Cancer Survivors
How often should breast cancer survivors undergo mammography surveillance? Guidelines developed for older women.
by Dr. C.H. Weaver M.D. updated 3/2021
Surveillance mammography after treatment of early-stage breast cancer appears to improve survival. Research suggests that mammography use declines over time among breast cancer survivors that may benefit and many older individuals unnecessarily undergo annual mammograms. It's time to individualize mammogram surveillance for breast cancer survivors. (1-5)
Women who undergo breast-conservation therapy for breast cancer have an increased risk of developing breast cancer in their other breast during a 20-year period. Thus, women who have been diagnosed with breast cancer are encouraged to maintain a frequent screening schedule for breast cancer. Researchers from the University of Pennsylvania conducted a clinical study to evaluate the incidence of breast cancer in the contralateral breast among patients with early breast cancer who underwent breast-conserving therapy. This study included 1,801 women with early breast cancer treated with breast-conserving therapy between 1977 and 2000. (3)
15.4% of patients were diagnosed with breast cancer in the contralateral breast.
The median time to developing contralateral breast cancer was 8.2 years.
The risk of developing contralateral breast cancer was similar among women whose initial diagnosis was ductal carcinoma in situ (DCIS) and women with more advanced breast cancer.
The risk of contralateral breast cancer persisted for at least 20 years.
Women who have undergone treatment for breast cancer are generally encouraged to receive regular surveillance mammograms in order to detect an early breast cancer recurrence or a new breast cancer. Few studies, however, have evaluated the effectiveness of surveillance mammography in reducing breast cancer mortality.
Mammography screening guidelines issued for older survivors of breast cancer.
The standard recommendation for mammography in breast cancer survivors of all ages has been annual screening. Evaluation of surveillance mammography in women age 65 or older previously treated for stage I or II breast cancer suggests that each additional surveillance mammogram reduces the risk of breast cancer death by 31%. This "protective" effect of surveillance mammography appeared to be greatest for the oldest women. Surveillance mammography is also linked with a reduced risk of death from causes other than breast cancer.
There has been little guidance however on how to tailor screening for older survivors and research also suggests mammography offers little to modest benefit for many older women. The main downsides of mammography are false-positives leading to unnecessary biopsies and anxiety associated with diagnostic testing, and over treatment.
A nationwide panel of experts published the first mammography guidelines for older survivors of breast cancer in March 2021, providing a framework for discussions between survivors and their physicians on the pros and cons of screening in survivors' later years. The panel recommended the following guidelines after reviewing the research.
Continue surveillance mammography for all individuals whose life expectancy is greater than 10 years.
Consider stopping screening mammography for individuals with a 5-10-year life expectancy.
Discontinue routine mammograms for survivors with a life expectancy under five years.
These recommendations are considered to be guidelines for physicians to discuss the role of mammogram surveillance with their patients in order to tailor a more individualized approach to breast cancer early detection.
References:
Lash TL, Fox MP, Buist DSM et al. Mammography surveillance and mortality in older breast cancer survivors. Journal of Clinical Oncology. 2007;25:3001-3006.
Doubeni CA, Field TS, Ulcickas Yood M et al. Patterns and Predictors of Mammography Utilization Among Breast Cancer Survivors. Cancer. Early Online Publication April 24, 2006.
Hill-Kayser CE, Harris EER, et al. Twenty-year incidence and patterns of contralateral breast cancer after breast conservation treatment with radiation. *International Journal of radiation Oncology*BiologyPhysics. 2006;66:1313-1319.
Houssami N, Abraham LA, Miglioretti DL. Accuracy and outcomes of screening mammography in women with a personal history of early-stage breast cancer. JAMA. 305:790-799.