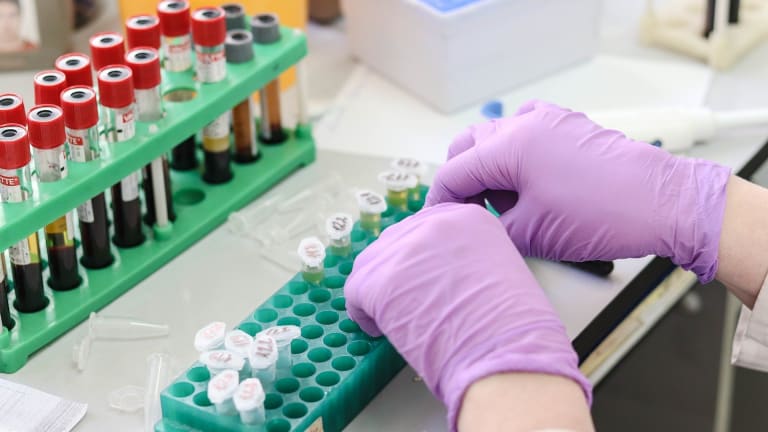 Ki 67 Biomarker and Breast Cancer
KI-67 Biomarker Helps Determine Breast Cancer Treatment
We are living in a new era-it's the era of "precision cancer medicine." There are no longer one size fits all treatment strategies for a growing number of cancer patients. Treatment is tailored to the individual and this "personalized" care is based on the identification of unique biomarkers on the cancer and the identification of individual cancer causing mutations identified with "next generation sequencing" or NGS testing of the actual cancer cell DNA.1-9 
What is Ki67?
Uncontrolled growth is a hallmark of cancer cells,6 but not all tumors grow at the same rate. The ability to determine the proliferation or growth rate can provide important information about a patient's prognosis and even guide therapeutic decisions. Ki-67 assessment is one way to assess the cancer cell growth rate.2
How Do Doctors Use Ki67?
Clinicians have made wide use of Ki-67 staining with immunohistochemistry (IHC) as a prognostic biomarker in breast cancer for years.1 The International Ki-67 in Breast Cancer Working Group is a panel of breast cancer experts that has confirmed the evidence for Ki-67's clinical value as a prognostic biomarker and clinical studies support Ki-67 measurement to help guide treatment decisions.2-5
How is Ki-67 Measured?
A monoclonal antibody is used for immunohistochemical staining of Ki-67 in cancer cells to determine the percentage of Ki-67–positive cells among the total population of cancer cells obtained from a biopsy sample. This measurement is called the Ki-67 index.2,8,9 Cancers are classified as having a high or low Ki-67 index based on a specified cutoff determined by clinical trials. Tumors with a high Ki-67 index have a larger number of proliferating cells and are therefore likely to grow more quickly.
Prognostic Marker
Numerous clinical studies have demonstrated the prognostic value of measuring Ki-67 in breast cancer.10
The monarchE clinical trial evaluated Ki-67 as a biomarker in a phase 3 trial of cyclin-dependent kinase inhibitors in the management of early-stage breast cancer and found that that a high Ki-67 level in conjunction with high-risk features could be used to select patients who would benefit from the addition of Verzenio (abemaciclib) to endocrine therapy in the adjuvant treatment of ER-positive, HER2- negative stage I or II breast cancer. The US Food and Drug Administration approved the use of Ki67 for determining Verzenio use in these patients in late 2021.5,6
The ADAPT trial (NCT01779206), featured in several presentations at the 2020 San Antonio Breast Cancer Symposium (SABCS 2020), bolstered evidence that, after a short course of neoadjuvant endocrine therapy (NET), an on-treatment Ki-67 index can identify patients who can be spared intensive chemotherapy in the adjuvant setting.3,4
References
Inwald EC, Klinkhammer-Schalke M, Hofstädter F, et al. Ki-67 is a prognostic parameter in breast cancer patients: results of a large population-based cohort of a cancer registry. Breast Cancer Res Treat. 2013;139(2):539-552. doi:10.1007/s10549-013-2560-8
Nielsen TO, Leung SCY, Rimm DL, et al. Assessment of Ki67 in breast cancer: updated recommendations from the International Ki67 in Breast Cancer Working Group. J Nat Cancer Inst. Published online December 28, 2020. doi:10.1093/jnci/djaa201
Kuemmel S, Gluz O, Nitz U, et al; West German Study Group. Neoadjuvant nab-paclitaxel weekly versus dose-dense paclitaxel followed by dose-dense EC in high risk HR+/HER2- early BC by: results from the neoadjuvant part of ADAPT HR+/HER2- trial. Cancer Res. 2021;81(suppl 4):GS4-03. doi:10.1158/1538-7445.SABCS20-GS4-03
Harbeck N, Gluz O, Kuemmel S, et al; West German Study Group. Endocrine therapy alone in patients with intermediate or high-risk luminal early breast cancer (0-3 lymph nodes), recurrence score <26 and Ki67 response after preoperative endocrine therapy: primary outcome results from the WSG-ADAPT HR+/HER2- trial. Presented at: 2020 San Antonio Breast Cancer Symposium. December 8-12, 2020; Virtual. Abstract GS4-04.
Harbeck N, Johnston S, Fasching P, et al. High Ki-67 as a biomarker for identifying patients with high risk early breast cancer treated in monarchE. Cancer Res. 2021;81(suppl 4):PD2-01. doi:10.1158/1538-7445.SABCS20-PD2-
https://www.accessdata.fda.gov/drugsatfda_docs/label/2021/208716s006s007s008lbl.pdf https://investor.lilly.com/news-releases/news-release-details/fda-approves-verzenior-abemaciclib-first-and-only-cdk46
Hanahan D, Weinberg RA. The hallmarks of cancer. Cell. 2000;100(1):57-70. doi:10.1016/s0092-8674(00)81683-9
Menon SS, Guruvayoorappan C, Sakthivel KM, Rasmi RR. Ki-67 protein as a tumour proliferation marker. Clin Chim Acta. 2019;491:39-45. doi:10.1016/j.cca.2019.01.011
Penault-Llorca F, Radosevic-Robin N. Ki67 assessment in breast cancer: an update. Pathology. 2017;49(2):166-171. doi:10.1016/j.pathol.2016.11.006
Yerushalmi R, Woods R, Ravdin PM, Hayes MM, Gelmon KA. Ki67 in breast cancer: prognostic and predictive potential. Lancet Oncol. 2010;11(2):174-183. doi:10.1016/S1470-2045(09)70262-1