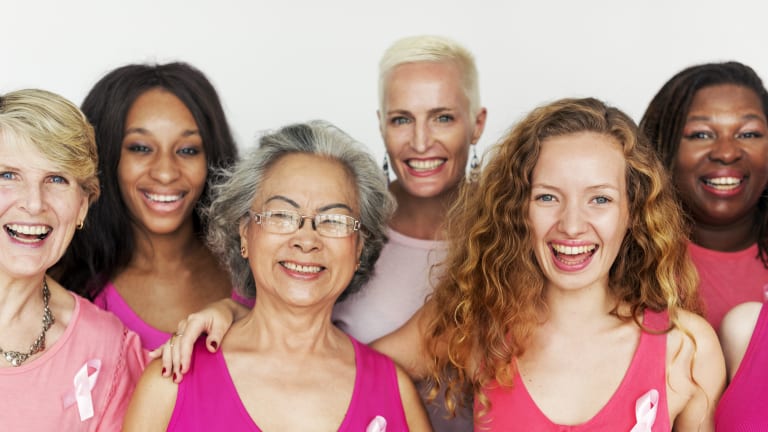 How to Help When a Girlfriend Gets Breast Cancer
Facing a Breast Cancer diagnosis is difficult enough, don't go through it alone.
by CancerConnect, Medically Reviewed by Dr. C.H. Weaver M.D.
How to Help When a Girlfriend Gets Breast Cancer
It was an honor to be asked to write a foreword for Denise Hazen's book, Treat Her Like a Princess: The Girlfriend's Guide to Breast Cancer Support. Her personal experience and her keen insight offer a fresh and unique perspective on breast cancer care and compassion and assistance for families and friends of women fighting the disease. Denise brings this perspective to a very complex and challenging facet of the fight for surviving breast cancer.  Unlike many of the authors on the subject of breast cancer, Denise successfully reaches out to and educates the cancer patient's support structure and ensures they are made aware of the importance of their role in their "girlfriend's" fight with cancer. 
 Denise offers wise guidance from the perspective of one who has lived through the experience. For women fighting cancer, she provides a witty mixture of concrete advice and subtle insights about attitude and feeling. It's as though a ballet instructor could instruct you on movement and stance as well as how to think, feel and imagine yourself so that the practical advice blossoms into a prima ballerina. Denise's advice offers that level of sound guidance. 
This book is particularly eloquent and helpful about the universal experience of 
women's difficulty and struggle during the often toxic treatments for fighting breast 
cancer. I particularly admire Denise's remarkable humor, wit and wisdom when dealing with the subject. She presents it in a way that leads you to know there is hope, and that the patient is not alone. Many other women have traveled this road, and they are often more than willing to accept new members to this very unique sorority with open arms and open hearts. Whether you are a woman with breast cancer, her girlfriends or her neighbor, after reading this book you will be better prepared to ensure the maximum results from treatment and care. 
As in life, Denise has a strong presence on the page. She wins your heart, your mind and your confidence that her advice is on target. Her approach is all about real life solutions to problems often beyond our control. Denise grabs your attention then gains your trust and your admiration as she realistically walks you through the many facets of the fight with breast cancer. Her book is about three specific areas that inevitably intertwine during the diagnosis and treatment of breast cancer: optimizing the mind and environment for the fight, educating the patient and her support structure and preparing the patient for what she will confront during the care and treatment of the disease and using that information to ensure a successful fight.
One of the most telling aspects of Denise's character and personality is conveyed by what is absent from the book. What is not in the book is an in-depth discussion and analysis of Why Me? You will not find it in this book, because Denise is not a person who would dwell on or overanalyze why she was diagnosed with breast cancer. Sure, like in life, she spends a brief amount of time dealing with the topic, but she quickly moves on to devoting her full attention and effort to the fight ahead. She knows, and conveys to the reader, that the fight is what is most important after the diagnosis. 
I invite you to sit back, open your minds and hearts, and prepare to be educated in a very warm and affirming manner. Let Denise walk with you as you navigate the mine fields of breast cancer and prepare you for the fight ahead. When a woman is diagnosed with cancer, she will need all the support you can muster. 
Use this book to its fullest extent as a resource, as a guide and as advice from a friend who has been through it. After you walk this journey with Denise through her book you will most likely see her as a friend. More importantly, you will know her as a sister in the strong sorority of fighters and survivors of breast cancer. 
Edgardo Rivera, M.D.
M.D., Chief
Breast Medical Oncology Section
The Methodist Hospital
PROLOGUE
If you are reading this book either you or one of your girlfriends has been initiated into the sorority that no one wants to join — Crappa Crappa Cancer. Once the "C" word is out there you might find yourself overwhelmed. What do you do first? Go ahead and get the crying out of your system. You deserve a good cry. Then put the tissues away and get going!  You have your work cut out for you, either as the patient or as the support system. Treat Her Like a Princess outlines in simple terms how to help the patient and her loved ones deal with the realities of breast cancer as they maneuver through life's daily demands. This guide is intended not only for women facing this challenge, but especially for the women who will stand behind them and lift them up…The Girlfriends.
Chapter 2

GETTING ORGANIZED
Believe me, I have always treasured my girlfriends. However, it was not until I was diagnosed with cancer that I found out just how unique the female species is. Within one hour of my diagnosis, phones were ringing off the hook, carpools were being arranged, and food banks set up. My girlfriends were doing what women do best — they were taking charge.
So what do you do when you hear that one of your girlfriends is diagnosed with breast cancer? First and foremost, you let her know that you are willing to help in any way. Then you start making plans.
What does The Princess Need?

Depending on the woman (who will hence be referred to as The Princess) and her situation, the help she will need will differ. Get together with the other girlfriends and decide who will be in charge of which area. That way all calls concerning The Princess will be directed to the right person. The Princess is not in any position to delegate.

You must take charge. The "call me when you need me" are nice words, but what she needs right now is action.
FOOD

Regardless if the woman is single or married, with or without children, she will need to eat. Think about setting up a grocery delivery service and a dinner schedule. This is where consulting with The Princess is important. Find out if she or her family members has any dietary issues. Does she have any cravings, allergies or aversions? Remember this may change throughout her treatment, so check with

The Princess periodically.
Groceries

If a grocery delivery service is available in The Princess' kingdom, it is a great help. She can log on to the internet and order what she needs and with the click of a mouse, her groceries are delivered to her castle. If such a service is not available in her area, set up your own version of it. Have The Princess call or email you a grocery list and then have the girlfriends take turns doing the shopping for her. Make sure to deliver it and help put it away. Even though The Princess may be able to go to the grocery on her own, if she is going through chemotherapy, she has no business being there. It is a germ haven.*** 
It is also helpful to set up a Target shopping run. Although it is hard to imagine 24 weeks of not seeing the latest fashions from Massimo and Isaac, it's not worth it

for her to be exposed to all that humanity just to buy toilet paper and detergent. If The Princess has internet access introduce her to the joys of online shopping. Encourage her to dream big! Plan ahead for that well deserved spa vacation, order birthday gifts or just search for a fabulous new pair of shoes!
Meals

How to avoid 50 versions of Chicken Casserole

Before you organize her meals, ask The Princess to create a dining diary, which includes favorite meals (along with recipes if possible), favorite restaurants, and most importantly, flavors to be avoided!
If you're computer savvy, set up a community calendar on the internet. Check out www.lotsofhelpinghands.com or www.carecalendar.org. These services ensure that The Princess' dining needs are met in a timely and varied manner.
Contact The Princess and see what it is that she will need. Does she want someone to do the cooking for her? Does her favorite neighborhood restaurant deliver? Depending on her treatment, she may have issues with smell, taste, and nausea.***
Find out her favorite recipes and have a girlfriend post them to the online calendar. (If the girlfriends are not online, have copies of the recipes available to hand out.)
When someone calls offering to help, they will have the opportunity to donate to the grocery account or to help with the meals. Make sure girlfriends check to see  what else has been served that week so all the food groups are well represented. The girlfriends in charge should call The Princess once a week to see what it is that she will need, and they should plan accordingly. Some weeks, she may crave comfort food and home cooked meals. Other weeks she may be desperate for Moo Shu Pork or Spanakopita. Girlfriends can then take turns picking up food from her favorite haunts.
Chemo may also cause mouth sores, so keep The Princess' freezer full of sugar free popsicles. Make sure she has plenty of water and straws so that she can stay well hydrated. Think green and buy The Princess a water filtration system (like Brita) to provide her with chemical free fresh water while saving the environment. She will need to keep a carafe by her bed too!
Chapter 2 sidebars:
Bring all food in disposable containers that can be thrown away.
***

Germ Warfare
The Princess must wash her hands often and frequently (this also applies to her subjects).

The Princess must carry an unscented hand sanitizer at all times.

The Princess must bring her own pens with her wherever she goes (who knows what germs lurk at the check out counters).

The Princess needs to don her "white gloves" (or whatever color she desires) when going out to public places.

The Princess does not have to go into hiding but remind her to avoid public places, especially when her counts are low or a flu epidemic is rampant.
A practical and efficient tip for the gourmet girlfriends is to make double recipes of their family meal and deliver the other half to The Princess. Soup is a great meal to share because The Princess can freeze it and then pull it out as needed. You will find that sometimes what the family wants to eat isn't what sounds appealing to The Princess. This is another good reason to keep the freezer stocked with quick, favorite, single serving meals.
***

Chemotherapy often changes the palate and the nose. What used to be a favorite of The Princess' might send her running for the porcelain throne.
Chapter 4

Super Freak
One thing we as women do not do well is put ourselves first. The Princess must realize that in order for her to be able to do all that she had once done, she needs to make herself and her health her first priority. This where the girlfriends' power is really important. The girlfriends must sit The Princess down and tell her how they are going to manage all the other areas for her. The Princess may be reluctant to give over control, but be persistent.  Now is not the time to be Super Woman!
Here are some ways you can help:
Thank you notes

Personal thank you notes reflect good training, but remind The Princess that now is not the time to worry about pleasing her mother or Miss Manners.
An easy solution to the thank you note dilemma is to have notes preprinted with a "thank you for thinking of me during this time" inscription and The Princess' name. A girlfriend can then keep up a list of supporters and well wishers and address and mail the notes. Every Princess deserves a personal secretary at least once in her life!
Scheduling

Doctors Appointments

Make sure someone is always with The Princess for her doctors appointments. If a family member cannot go with her, make other arrangements. Have all questions for the doctor written down prior to the appointment. Whoever takes her will need to take notes on all that the doctor reports. Buy a notebook for The Princess that she can take to all her doctors appointments. Often, doctors will allow you to record the appointments. Ask if that is a possibility. Don't forget to get copies of any lab reports. Any notes taken, lab reports, or questions she has for the doctor can be neatly organized in her notebook and will be easily accessible.
Chemo buddies

You will find this to be one of the girlfriends' favorite duties. It is a chance for you to have several hours of uninterrupted time together with The Princess (with the exception of the nurses.) There will be no phones ringing or kids screaming, just a chance to really visit or sit there and chill together. Make sure The Princess knows that you are there to keep her company not the other way around. If she needs to sleep, let her.
Kids

If The Princess has children, one of the biggest challenges she will face is how to deal with them without completely turning their lives upside down. Being honest with the children about the changes her body will go through, starting with the loss of hair through the lack of energy, will most likely make cancer seem less frightening. Often the fear of not knowing is worse than the facts. Talk to

The Princess and see how she wants to handle this and respect her decision.
Lunches

If The Princess' children have a hot lunch program at their school, now would be a great time to enroll them. If they do not, get together with the other girlfriends and find out what the children like to eat and take turns fixing the lunches. For example, PB and J sandwiches can be made in bulk and frozen. All The Princess has to do is pull them out as needed. You can also make single serving meals like soup and pasta that can be frozen and used as needed.
Carpooling

Find out The Princess' children's schedules and coordinate with one another. If you find that there are some areas that do not have drivers, call your local university or community college and see about posting an advertisement for a college student who could be a driver.
A calendar of events and drivers will help keep this organized.
Homework

Homework is a scary endeavor even on our best days! Imagine dealing with it when you are feeling less than stellar. Offer to help The Princess. Depending on the children's ages, suggest forming a study group at school or at someone's home.

The children can get their homework finished together and quiz each other for upcoming tests. You will find this to be beneficial for your children as well as The Princess'. Plus, the children will learn how to help others while getting their work completed too!
Activities

It is very important for the children to continue with their activities if possible.

Finding drivers may seem like a daunting task, but you will be surprised at how many people are willing to help. Just ask! For example, when the owner of the gym where my children took gymnastics found out that I was undergoing treatment, she offered to take and bring my children home. That was a huge blessing because my children were able to keep doing something that they loved.
Candy Chemo Countdown

Here is a suggestion to help kids understand the length of treatment. Explain how many weeks of chemo or radiation mom will have. Buy them each a jar and fill it with their favorite candy or treat, one piece for every day of mom's treatment. Each day they will be allowed to take one piece of candy or treat. When the jar is empty, mom's treatment is finished!
The Beloved Spouse!

Sometimes known as The Forgotten One.

Many times, Prince Charming is often overlooked.

For most men, it is very difficult to see their Princess suffer. Not being able to "fix it" will be a challenge. We, as girlfriends, have to make sure that they, The Guy Friends, get Prince Charming out of the house. Have the guys take him out for dinner or drinks every few weeks. Organize a golf or tennis match. Find out what Prince Charming's interests are and help coordinate outings.

The spouse needs to be able to escape from the world of cancer for a while too.
Pets

Don't forget Fido or Fifi! If The Princess owns a pet offer to take it to the vet or groomers. Take turns with other pet-loving girlfriends and make sure the pet is getting exercise.
Castle Control

Scrubbing sinks and bathtubs may tarnish The Princess' tiara. If the Princess does not have a house keeper, get together with the other girlfriends and collect money for a cleaning service. Assess what The Princess' needs are and plan accordingly.
Insurance Claims

Trying to maneuver through the insurance system can cause much strife. If there is a girlfriend who is familiar with dealing with the ins — and outs —  of insurance nuances, have her help The Princess.
Chapter 4 sidebars
It is important if you are the chemo buddy that you come prepared.

Make sure that you bring bottled water, crackers (peanut butter, cheese, wheat thins etc.) and lots of reading material: preferably ones that are just good eye candy-like People, InStyle, US etc. Also check to see if the hospital or clinic has DVD players in the infusion rooms. There is nothing like a great chick flick to help pass the infusion time. Just make sure to preview for content. Make certain it is uplifting and doesn't have a cancer theme.
***

Before you pick up The Princess for her treatment, encourage her to get gussied up! Her attitude toward treatment will be more positive if she looks like a super model!
Girlfriends can also take turns making weeks worth of lunches. All non-perishables can be put in individually labeled bags. Then all The Princess has to do is put each item into lunch boxes each morning.
Check at the child's school to see if there is someone who would be willing to stay after and help. Again, check with the local universities to see if there are any students interested in tutoring.
The Princess and The Prince need time to reconnect outside the doctors' offices and hospitals. If one of the girlfriends has a vacation home, offer it to The Prince and The Princess for an overnight escape. If they have children, hire a babysitter or offer to take the kids for a few hours so they can go out to dinner, if possible, or a movie.
Check out www.cleaningforareason.org and see if they are available in The Princess' area. They provide cleaning services for patients.

Encourage The Princess and her staff to use chemical free products such as Green House by Clorox. Although it hasn't been proven, many believe the chemicals we use in our everyday products may contribute to the rise in cancer.
about the author

Sassy, determined and unstoppably positive, Denise Dameris Hazen met Stage 3 cancer with the kind of vigor and fortitude that could put a combat marine to shame. Throughout her treatment, Denise allowed herself to be filmed by a CNN film crew for the documentary Taming the Beast. As she faced seventeen rounds of chemotherapy, a double mastectomy and six weeks of daily radiation, Denise sent a clear message to other women: Not only is it is possible to endure breast cancer treatment, but, you can emerge on the other side even stronger than before.  Now, in Treat Her Like a Princess she details the thoughtful and loving ways that her friends supported her through her battle.
Denise lives in Houston, Texas with her husband, Charles and their children Catherine and Nicholas. She continues to offer personal support, insight and love to women diagnosed with breast cancer as well volunteering with Pink Ribbons Project, in motion against breast cancer.