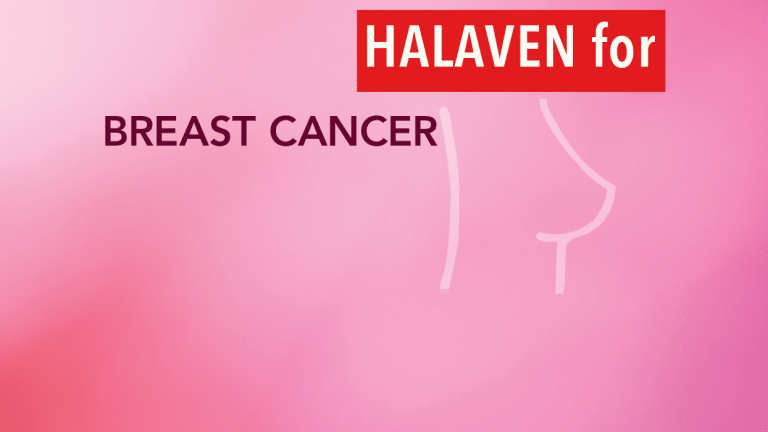 Halaven Improves Survival with Metastatic Breast Cancer
Halaven Improves Survival with Metastatic Breast Cancer
Among women with previously treated, locally recurrent or metastatic breast cancer, treatment with the chemotherapy drug Halaven™ (eribulin mesylate) improved overall survival by 2.5 months. The results of this Phase III clinical trial were published in The Lancet.
Metastatic breast cancer refers to cancer that has spread to distant sites in the body. Treatment of metastatic breast cancer often includes chemotherapy, but options can become limited when the cancer stops responding to conventional chemotherapy regimens.
Halaven—which was derived from a marine sponge—is a chemotherapy drug that affects cell division. It was approved by the U.S. Food and Drug Administration (FDA) in November, 2010.
The EMBRACE study is a Phase III clinical trial that contributed to approval of Halaven. The study enrolled 762 patients with locally recurrent or metastatic breast cancer. All of the women had received between two and five previous chemotherapy regimens. These previous regimens must have included an anthracycline and a taxane.
Study participants were assigned to receive either Halaven or "treatment of physician's choice." Because there is no single standard treatment regimen for women at this stage of breast cancer, treatment of women in the comparison group was left up to the patient's physician.
Median overall survival was 13.1 months among women treated with Halaven, compared with 10.6 months among women treated with physician's choice.
Progression-free survival and response rates also favored Halaven.
Halaven was generally well tolerated.
The results of this study suggest that Halaven improves outcomes among women with advanced, heavily pretreated breast cancer.
Reference: Cortes J, O'Shaughnessy J, Loesch et al. Eribulin monotherapy versus treatment of physician's choice in patients with metastatic breast cancer (EMBRACE): a phase 3 open-label randomised study. The Lancet. Early online publication March 3, 2011.