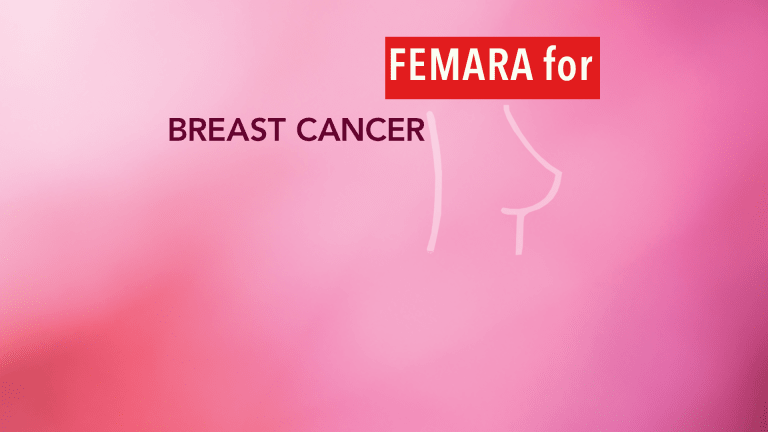 Femara® Treatment for Breast Cancer
Femara is an aromatase inhibitor drug used for the prevention and treatment of early stage and advanced breast cancer.
by Dr. C.H. Weaver M.D. updated 10/2020
A large portion of women diagnosed with breast cancer will have hormone receptor-positive (HR+) breast cancers that are stimulated to grow by the circulating female hormones estrogen and/or progesterone. Hormone therapy is used to treat HR+ breast cancer utilizing medications that reduce or prevent the ability of estrogen to stimulate the growth of cancer cells.
In all women, estrogen is initially produced by the ovaries and adrenal glands in an inactive form. Through a series of biochemical conversions, the inactive form is ultimately converted to the final form of estrogen, which is the growth stimulant for HR+ cancers. The initial conversion step of estrogen is facilitated by a protein called aromatase. The anti-aromatase drugs, often referred to collectively as aromatase inhibitors (AI) have been developed to prevent this conversion resulting in decreased levels of estrogen.
Femara (letrozole) is one AI and works by inhibiting the protein aromatase, which ultimately blocks the entire conversion process that is responsible for creating the active form of estrogen. This reduces levels of the active form of estrogen in the body so cancer cells are depleted of necessary growth stimulation. Femara is superior to tamoxifen for the treatment of breast cancer and the combination of Femara with newer CDK inhibitors is superior to Femara alone. (1-8)
Femara verses Tamoxifen in Early Stage Breast Cancer
According to the results of a phase III clinical trial published in the Journal of Clinical Oncology, adjuvant (post-surgery) treatment of HR+ early breast cancer with the aromatase inhibitor Femara® (letrozole) results in better cancer-free survival than treatment with tamoxifen. (4,5) In order to compare the aromatase inhibitor Femara to tamoxifen as adjuvant therapy in women with early breast cancer, researchers conducted the BIG 1-98 phase III clinical trial among 8,010 postmenopausal women with operable, HR+ breast cancer. Women were randomly assigned to one of the following four treatment regimens:
Five years of Tamoxifen
Five years of Femara
Two years of Tamoxifen followed by three years of Femara
Two years of Femara followed by three years of Tamoxifen
The 4,922 women treated with five years of tamoxifen or five years of Femara were directly compared.
The estimated probability of surviving for at least five years without a cancer recurrence or a new cancer was 84% among women treated with Femara and 81% among women treated with tamoxifen.
There was no difference between study groups in overall survival.
Women treated with tamoxifen were more likely than women treated with Femara to experience blood clots, changes to the uterine lining, hot flashes, night sweats, and vaginal bleeding. Women treated with Femara were more likely to experience bone fractures, joint pain, high cholesterol levels, and certain cardiovascular problems.
Researchers concluded that use of AI drugs like Femara as adjuvant therapy of postmenopausal women with HR+ early stage breast cancer represented a better treatment alternative than Tamoxifen.
Femara Following 5 Years Tamoxifen
The United States Food and Drug Administration (FDA) also approved the AI Femara® for use in patients with postmenopausal HR+ early breast cancer who have finished 5 years of treatment with Tamoxifen.(1,2,6)
The MA.17 clinical trial was designed to assess extended hormonal therapy among postmenopausal women with HR+ early-stage breast cancer. Women who had very recently completed five years of tamoxifen were assigned to receive an additional five years of treatment with Femara or a placebo.
Early results from the study showed that extended therapy with Femara reduced the risk of cancer recurrence, and women in the placebo group were offered Femara. The women have now been followed for a median of just over eight years.
At eight years, the percentage of women alive and free of cancer was 73.8% among women assigned to five years of Femara and 70.4% among women assigned to five years of tamoxifen.
Overall survival was 83.4% among women assigned to five years of Femara and 81.2% among women assigned to five years of tamoxifen.
Sequential treatment with Femara and tamoxifen did not appear to be more effective than Femara alone.
For postmenopausal women with HR+ early stage breast cancer these results continue to suggest that five years of Femara is more effective against breast cancer recurrence than five years of tamoxifen. Sequential treatment with the two drugs did not result in better outcomes than Femara alone, but may be a useful strategy for some women.
Similar results were reported by researchers with the National Cancer Institute of Canada Clinical Trials Group. (3) They enrolled 5187 postmenopausal women with HR+ early breast cancer who had completed five years of tamoxifen to receive either five years of Femara or a placebo. The study was stopped early (after 30 months) due to results strongly favoring Femara. At the time the study was stopped, patients treated with Femara had a 47% reduced risk of breast cancer recurrence compared to patients treated with placebo. After the trial was stopped, 1,655 women who had been assigned to the placebo arm decided to begin treatment with Femara. Compared to women who decided to receive no further treatment, women who switched to Femara tended to be younger and to have more advanced disease. They were also more likely to have received adjuvant chemotherapy and to report worse functioning. Despite these differences, which tended to put them at a higher risk of recurrence, the women who switched to Femara had improved outcomes. Treatment with Femara resulted in the following:
Improved cancer-free survival
Improved overall survival
Fewer breast cancers in the opposite breast
A greater risk of osteoporosis
Femara after a prolonged duration of no treatment resulted in significantly improved outcomes among HR+ women with early breast cancer. Treatment with Femara, however, increased the risk of osteoporosis and women should discuss how best to manage this complication of AI therapy. Learn more about osteoporosis and breast cancer.
​Femara in Advanced Breast Cancer
The results of a large international clinical trial have demonstrated that Femara produces superior results compared to tamoxifen in women with advanced HR+ breast cancer. In a multi-center clinical trial, 907 women with advanced breast cancer were randomly assigned to receive either Femara or tamoxifen. All patients in the trial had estrogen and/or progesterone receptor- positive cancer, or receptors of unknown status and had received no more than one prior chemotherapy regimen for advanced disease.
Treatment with Femara reduced the risk of cancer progression by 30%. The time to progression of cancer was 41 weeks for women receiving Femara compared to 26 weeks for women receiving tamoxifen. (7)
Summary results of clinical trials indicate that Femara is superior to tamoxifen for the treatment of post-menopausal HR+ breast cancers. Post-menopausal women with HR+ breast cancers may wish to talk to their doctor about the risks and benefits of receiving Femara or other FDA approved AI alone of combined with CDK inhibitor medications for the management of their cancer.
References:
Novartis. Femara® gains U.S. FDA approval as only post-tamoxifen treatment for early breast cancer. Available here. Accessed October 2004.
Jin H, Tu D, Zhao N, Shepherd LE, Goss PE. Longer-term outcomes of letrozole versus placebo after 5 years of tamoxifen in the NCIC CTG MA.17 Trial: analyses adjusting for treatment cross-over. Journal of Clinical Oncology. Early online publication October 31, 2011.
Goss P, Ingle J, Palmer J, et al. Updated Analysis of NCIC CTG MA.17 (letrozole vs. placebo to letrozole vs placebo) Post Unblinding. Proceedings from the 28th annual San Antonio Breast Cancer Symposium. December 2005. Abstract #16.
Coates AS, Keshaviah A, Thürlimann B et al. Five Years of Letrozole Compared with Tamoxifen as Initial Adjuvant Therapy for Postmenopausal Women with Endocrine-responsive Early Breast Cancer: Update of Study BIG 1-98. Journal of Clinical Oncology [early online publication]. January 2, 2007.
The Breast International Group (BIG) 1-98 Collaborative Group. A Comparison of Letrozole and Tamoxifen in Postmenopausal Women with Early Breast Cancer. New England Journal of Medicine . 2005;353:2747-57.
Regan MM, Neven P, Giobbie-Hurder A et al. Assessment of letrozole and tamoxifen alone and in sequence for postmenopausal women with steroid hormone receptor-positive breast cancer: the BIG 1-98 randomised clinical trial at 8.1 years median follow-up. Lancet Oncology. 2011;12:1101-1108.
Journal of Clinical Oncology, Vol 19, No 10, pp 2596-2606, 2001.