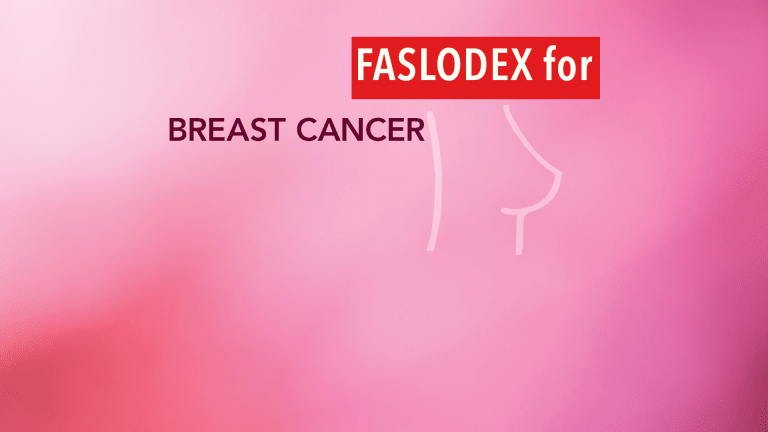 Faslodex® Treatment for Women with Breast Cancer
Faslodex® Provides Clinical Benefit for Women with Breast Cancer Who Have Received Extensive Prior Hormone Therapy
by Dr. C.H. Weaver M.D. updated 10/2020​
Estrogen is a female hormone produced by the ovaries and adrenal glands. It is found circulating in the blood. Hormone receptor (HR+) breast cancer, referrs to as estrogen receptor and/or progesterone receptor-positive cancers which are stimulated to grow by naturally occurring female hormones called estrogen and/or progesterone.
HR+ breast cancers have an overabundance of specific proteins called estrogen receptors on their cell surface and circulating estrogen binds to these receptors and stimulates the cancer to grow.
In addition, the binding of estrogen to estrogen receptors stimulates the production of progesterone receptors inside the cell. For patients with progesterone receptor-positive (PR-positive) breast cancer, progesterone that binds to the progesterone receptors also facilitates cellular replication. Currently, many women with hormone-positive breast cancer are treated with drugs that either inhibit estrogen synthesis in the body or block estrogen from binding to estrogen receptors.
Historically, the most common hormonal treatment for ER-positive breast cancer was an anti-estrogen called Nolvadex® (tamoxifen). Nolvadex blocks estrogen receptors and prevents the estrogen-stimulated growth of breast cancer cells. More recently, a newer class of hormonal agents called anti-aromatase agents has emerged for the treatment of hormone-positive breast cancer.
Aromatase is an enzyme (protein) that is involved in converting hormones to estrogen. Anti-aromatase agents work by inhibiting aromatase; in doing so, the conversion process that creates the active form of estrogen is blocked. Thus, levels of the active form of estrogen are reduced and cancer cells are deprived of necessary growth stimulation. Tamoxifen, in contrast, blocks estrogen from entering a cell by directly binding to estrogen receptors.
Faslodex is an anti-estrogen agent that produces anticancer effects through two mechanisms: First, when Faslodex binds to the estrogen receptors, estrogen is crowded out and no longer able to bind to these receptors. Second, Faslodex degrades the estrogen receptors to which it is bound. Both of these mechanisms prevent cancer cells from accessing enough estrogen for cellular growth and replication. Faslodex is approved for treatment of HR+ advanced breast cancer that has stopped responding to previous hormone therapy in postmenopausal women.
​
Faslodex for Advanced HR+ Breast Cancer
Faslodex is an effective treatment for women with advanced HR+ breast cancer and can be even more effective when combined with Ibrance. (1-5)
In order to assess the effects of a high dose Faslodex, researchers first conducted a Phase III clinical trial known as CONFIRM (Comparison of Faslodex in Recurrent or Metastatic breast cancer). The study compared the 250 mg dose of Faslodex to a 500 mg dose. Faslodex 500mg was associated with a 19 percent reduction in risk of death and a 4.1-month improvement in median overall survival compared with Faslodex® 250mg. (1)
In the next clinical trial, Faslodex® 500 mg was compared with Arimidex® as initial treatment in 205 women with advanced or metastatic breast cancer. The initial clinical benefit rate at 6 months was 72.5% for Faslodex® and 67% for Arimidex® demonstrating that Faslodex® at the 500-mg dose was at least as effective as Arimidex®. Faslodex® however was found to have improved overall survival and delayed the time to cancer progression compared to Arimidex®. The median time to disease progression was 23.4 months with Faslodex® compared to 13 months for Arimidex®. (2)
Researchers from Austria recently conducted a clinical trial to evaluate treatment with Faslodex in women with advanced breast cancer; some participants had received up to three prior hormone agents as treatment for their disease. This trial included 126 postmenopausal women who were participants in a "fulvestrant Compassionate Use Programme". All patients had received prior treatment with at least one hormone agent for either earlier-stage breast cancer or advanced breast cancer. (3)
Patients were treated with Faslodex as either their first hormone agent for advanced breast cancer (7 patients), their second hormone agent for advanced breast cancer (51 patients), their third hormone agent for advanced breast cancer (50 patients), or their fourth hormone agent for advanced breast cancer (18 patients). Faslodex provided clinical benefit for these patients:
Regression of cancer occurred in 9.5% of patients.
Clinical benefit was achieved in 43.6% of patients (regression of cancer or disease stabilization for at least 6 months).
Clinical benefit rates were similar between the different groups of women; however, cancer regression rates decreased when Faslodex was used later in the hormone therapy sequence.
Only six patients experienced mild side effects from treatment with Faslodex.
The researchers concluded that Faslodex provides clinical benefit in a significant portion of patients with advanced breast cancer-even among those who have received extensive prior treatment with hormone agents. Patients with advanced breast cancer that has progressed following prior hormone therapy may wish to speak with their physician regarding their individual risks and benefits of treatment with Faslodex.
References:
Robertson JFR, Llombart-Cussac A, Felti D, et al: Fulvestrant 500 mg versus anastrozole as first-line treatment for advanced breast cancer: Overall survival from the phase II 'FIRST' study. 2014 San Antonio Breast Cancer Symposium.Abstract S6-04. Presented December 12, 2014.
Di Leo A, Jerusalem G, Petruzelka L, et al. Final overall survival: Fulvestrant 500mg vs 250mg in the randomized CONFIRM trial. Journal of the National Cancer Institute. Published early online December 7, 2013. doi: 10.1093/jnci/djt337.
Steger G, Bartsch R, Wenzel C, et al. Fulvestrant ('Faslodex') in pre-treated patients with advanced breast cancer: A single-centre experience. European Journal of Cancer. 2005; 41: 2655-2661.
Turner NC, Ro J, André F, et al. Palbociclib in Hormone-Receptor–Positive Advanced Breast Cancer. New England Journal of Medicine. June 1, 2015DOI: 10.1056/NEJMoa1505270.
Finn R, Crown J, Lang I, et al. The cyclin-dependent kinase 4/6 inhibitor palbociclib in combination with letrozole versus letrozole alone as first-line treatment of estrogen receptor-positive, HER2-negative, advanced breast cancer (PALOMA-1/TRIO-18): a randomised phase 2 study. The Lancet Oncology, Vol 16, No. 1, p25-35, January, 2015.