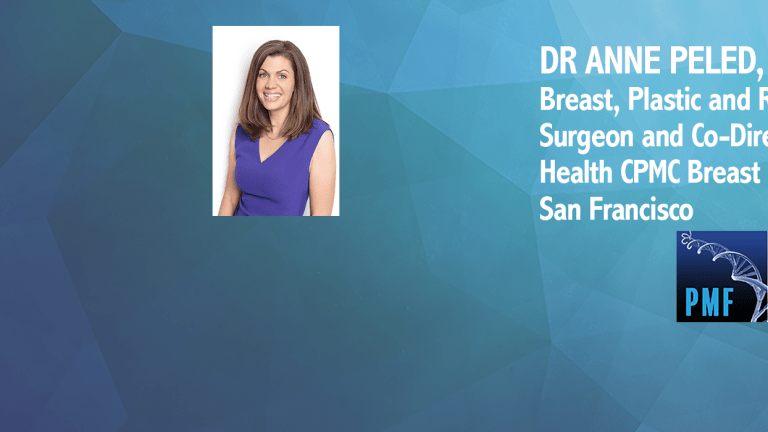 Driving advances in breast cancer surgery
Dr Anne Peled, MD, Breast, Plastic and Reconstructive Surgeon and Co-Director of the Sutter Health CPMC Breast Cancer Program, San Francisco, discusses the latest advances in her novel surgical technique which are improving outcomes for her patients.
If the past 18 months have shown us anything, it's that innovation today will help to build a healthier tomorrow. Innovation drives the evolution of healthcare, ultimately benefiting patients, and we have seen huge advances in treatment over the past decade. Of course, breast cancer treatment is no exception.
In the past, the only surgical option for patients with breast cancer was removal of all of the breast tissue, nipples, and breast skin via simple mastectomy, without any reconstruction choices. Fortunately, over time, surgical options have evolved and now we have a number of different options for patients, including breast conservation surgery - also known as a lumpectomy – and many reconstructive options post-surgery.
With lumpectomies, the goal is to take out the area of breast tissue that needs to be removed to treat the cancer, while conserving as much non-cancerous breast tissue as possible to help improve the breast appearance after surgery. Innovative tumor localization devices such as the Magseed marker have been pivotal in making this achievable.
The Magseed marker is a tiny seed designed to accurately mark the site of cancer and help with its removal during surgery. Before adopting this innovative technology, our patients had to have a wire placed into their breast on the day of surgery to locate the cancer for their lumpectomy surgeries. This older method of localization held many downsides for patients. First, while the Magseed marker can be placed any time before surgery, needing to have the wire inserted the day of surgery can be very anxiety-causing for patients at a time when they may already be anxious in anticipation of surgery. Guidewires can also potentially move from their target after placement, while the Magseed marker cannot be dislodged following insertion. This allows us to more consistently and accurately remove breast cancers, making lumpectomies less invasive and optimizing lumpectomy reconstruction outcomes.
Not only that, as guidewires may not target the cancers as accurately, cancerous tissue can unintentionally be left behind in as many as 20 - 50% of lumpectomy surgeries, resulting in the need for further surgical procedures for patients.[1] Marking and removing the tumor with a Magseed marker has been shown to reduce this risk significantly to between 6.5% and 10%[2],[3],[4], which means fewer patients have to return to the operating room for another surgery.
We love adopting newer technologies like Magseed that improve patient experience and outcomes into our practice. In addition to optimizing lumpectomy approaches, we are also really excited to offer our patients sensation-preserving mastectomies to make women feel better after mastectomy surgery as well. Traditional mastectomies tend to cut through nerves, which can lead to women experiencing numbness in their nipples and in the skin on their breasts, as well as potentially developing chronic pain due to scarring of the nerves. Unfortunately, the numbness may be permanent for many women, who will never regain sensation in their nipples or the rest of their breasts.

As a breast cancer and reconstructive surgeon focused on trying to help my patients feel like themselves again after their cancer treatment, the loss of sensation after mastectomy was always a major concern to me. However, it wasn't until I went through my own breast cancer journey at the age of 37 that I truly realized just how important it was. After my diagnosis, my husband Dr Ziv Peled, a peripheral nerve and plastic surgeon, and I discussed ways in which we could use our combined surgical skill sets to preserve and restore sensation after mastectomy. We developed a technique that allows for nerve preservation and reconstruction during mastectomy and immediate reconstruction and we are now one of the leading centers for sensation-preserving mastectomy procedures. Combining sensation preservation with the improved aesthetic outcomes that women are wonderfully now able to have, with nipple-sparing mastectomies and immediate reconstruction, is one of the most exciting and rewarding parts of our practice. It's been truly amazing to see how much this improves women's perceptions of themselves and their ability to get back to their lives after surgery.
As a breast cancer surgeon, I believe it's vital to keep the patient experience at the heart of everything that we do. With innovative technologies like Magseed and techniques like sensation-preserving mastectomies, we can improve the standard of breast cancer care for women across the US and the world. Continuing to foster innovation in breast cancer treatment is essential for ongoing improvement and elevation of the patient experience and outcomes. Patient-centered care is always central to our mission as breast cancer providers and we are so fortunate to have innovative techniques and technologies to support this.
Dr Anne Peled, MD, Breast, Plastic and Reconstructive Surgeon and Co-Director of the Sutter Health CPMC Breast Cancer Program, San Francisco, discusses the latest advances in her novel surgical technique which are improving outcomes for her patients.
References
Jeevan, R. et al (2012). Reoperation Rates After Breast Conserving Surgery for Breast Cancer Among Women in England: Retrospective Study of Hospital Episode Statistics. BMJ. [online] 345(Jul12 2), pp.e4505-e4505.
Singh (2019). Effectiveness and Safety of Magseed-localization for Excision of Breast Lesions. MD Anderson Cancer Center. SSO 2019, San Diego.
Miller (2019). Hospital system rollout and initial experience with stainless steel magnetized seeds for breast and lymph node localization. University Hospitals, Cleveland. ASBrS 2019, Dallas.
Alvarado (2019). Lesion localization and targeted axillary dissection with one platform. German Senology Congress 2019, Berlin.