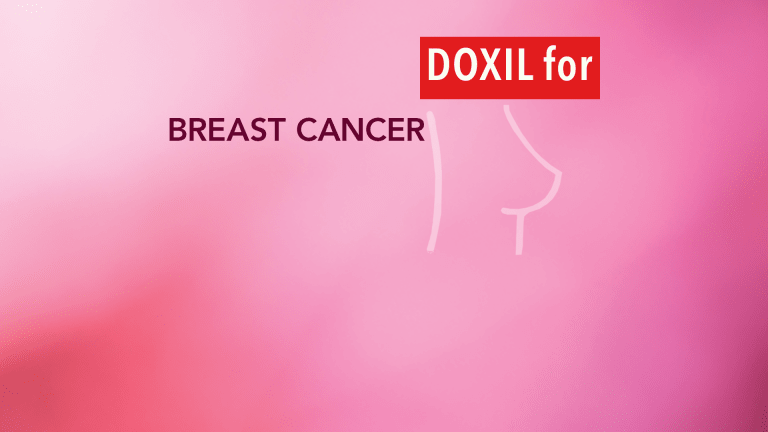 Doxil® Reduces Heart Complications Associated with Treatment in Breast Cancer
Doxil® Reduces Heart Complications Associated with Treatment in Breast Cancer
According to a recent article published inThe Annals of Oncology, the chemotherapy agent Doxil® (doxorubicin HCL liposome injection) reduces side effects to the heart that may be caused by the commonly used chemotherapy agent doxorubicin (Adriamycin®).
The group of chemotherapy agents referred to as the anthracyclines are among the most active agents for the treatment of breast cancer. Unfortunately, anthracyclines are also associated with causing damage to the heart, a side effect that may result in reductions of treatment doses. The side effects to the heart caused by anthracyclines may also become a chronic, life-threatening complication. Patients who are treated with anthracyclines often have their heart monitored prior to and during treatment to ensure prompt intervention should these side effects occur. Researchers have been evaluating ways in which to lessen the incidence or severity of heart complications caused by anthracyclines while maintaining their effectiveness in fighting cancer.
Doxil® is an anthracycline agent that is approved for the treatment of ovarian cancer and AIDS-related Kaposi's sarcoma. Doxil® is comprised of the anthracycline doxorubicin that has been encapsulated in a "fatty layer", as well as had the addition of molecules called methoxypolyethylene glycol. Overall, these modifications allow for a more continual and sustained release of the chemotherapy agent and reduce its ability to be detected by the immune system. Researchers speculated that through these modifications in Doxil®, side effects caused by doxorubicin could be reduced, as patients are not exposed to such high levels of the active agent to achieve optimal anti-cancer activity.
Recently, researchers conducted an international clinical trial to directly compare Doxil® to doxorubicin in the treatment of advanced breast cancer. This trial included 509 women with metastatic breast cancer who had not received prior therapy. Approximately half of the patients were treated with doxorubicin, and the other half were treated with Doxil® and were directly compared. The risk of heart complications caused by therapy was 3 times higher in the group of patients treated with doxorubicin, compared to those treated with Doxil®. However, patients treated with Doxil® had higher rates of mouth inflammation or mouth sores, pain, redness, tenderness and/or peeling of the palms of the hands or soles of the feet. There were no differences in anti-cancer response rates, time to cancer progression and survival between the two groups of patients.

Fyarro for Malignant Perivascular Epithelioid Cell Tumor (PEComa)
The U.S. Food and Drug Administration (FDA) has approved FYARRO™ (sirolimus protein-bound particles for injectable suspension) (albumin-bound) for intravenous use for the treatment of adult patients with locally advanced unresectable or metastatic malignant perivascular epithelioid cell tumor (PEComa).
The researchers concluded that Doxil® reduces the risk of heart complications caused by doxorubicin without compromising anti-cancer efficacy in the treatment of advanced breast cancer, and may be considered as an alternative chemotherapy agent in the treatment of breast cancer. Patients with breast cancer who are to be treated with doxorubicin may wish to speak with their physician about the risks and benefits of treatment with Doxil® or the participation in a clinical trial further evaluating Doxil® or other novel treatment approaches. Sources of information regarding ongoing clinical trials include the National Cancer Institute (cancer.gov).
Reference: O'Brien MER, Wigler N, Inbar M, et al. Reduced Cardiotoxicity and Comparable Efficacy in a Phase III Trial of Pegylated Liposomal Doxorubicin HLC: CAELYX/Doxil®) Versus Conventional Doxorubicin for First-Line Treatment of Metastatic Breast Cancer.
Annals of Oncology. 2004:15:440-449.