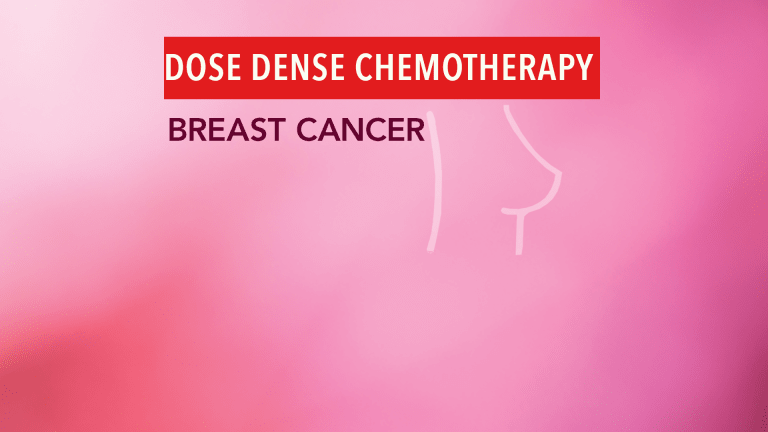 Dose Dense-Intensive Chemotherapy Improves Survival in Early Stage Breast Cancer
Multiple research studies demonstrate effectiveness of dose dense chemotherapy treatment for early stage breast cancer.
by Dr. C.H. Weaver M.D. updated 10/2020
Multiple studies and long term follow-up data confirm the benefit of dose dense therapy for treatment of early stage breast cancer (ESBC). Breast cancer is know to have a "dose response" effect meaning that higher doses of chemotherapy tend to destroy more breast cancer cells than lower doses.
Historically, adjuvant chemotherapy for ESBC included chemotherapy delivered every 3 weeks. One way to increase dose intensity is to use the same chemotherapy at the same doses but administer treatment every two weeks instead of every three weeks. The average weekly dose is therefore 50% higher with treatment every 2 weeks compared to every 3-weeks. The delivery of chemotherapy every 2 weeks to increase the "dose intensity" is referred to as "dose-dense therapy." Another way of increasing the dose intensity of chemotherapy was to give the drugs individually in sequence rather than administering all the drugs together at the same time.
Dose dense therapy however is associated with an increase in side effects: the main troublesome side effect is a low white blood count (neutropenia) which increases the risk of infection and hospitalization. Early treatment of women receiving dose dense therapy with white blood cell growth factors such as Neulasta® or Neupogen® however can prevent neutropenia and allows for the delivery of dose dense chemotherapy ensuring patients can received their planned dose of chemotherapy on time.
According to the National Cancer Institute the overall results of studies designed to compare dose dense therapy to every 3 week chemotherapy support the use of dose-dense chemotherapy for women with HER2-negative ESBC.(1)
In the United States "dose dense" chemotherapy is considered standard of care for the treatment of women with ESBC. Adoption of this approach has lagged in some parts of the US and elsewhere in the world.
What do the studies show?
Most recently British physicians from the Early Breast Cancer Trialists Collaborative Group have now published a report in the April 2019 Lancet medical evaluating the outcomes of 37,000 women who participated in 26 clinical trials evaluating dose dense and standard dose chemotherapy.
The researchers confirmed that women treated with dose dense chemotherapy every two weeks were 17% less likely to have disease recurrence and 15% less likely to die from breast cancer within 10 years, compared with those who received treatment every three weeks.
The reduction in recurrence with dose-intense chemotherapy across all trials was similar in estrogen receptor (ER) positive and in ER-negative disease and did not differ significantly by any other characteristics.
Previous research demonstrated that standard chemotherapy schedules reduce the risk of death from early-stage breast cancer by about a third. The analyses confirmed once again the value of dose-intense chemotherapy and highlights that the overall risk of dying of breast cancer can be reduced by at least 40% when compared to no chemotherapy.
It is well known that some doctors administer chemotherapy every three weeks instead of every two weeks because of their concerns about side effects and "perceived" uncertainty about additional benefit form dose intensive therapy. The results of this study further demonstrate the inferiority of every 3 week chemotherapy.(1)
Dose-Dense Chemotherapy Results of The Intergroup 9741
The Intergroup 9741 clinical trial was the initial pivotal study demonstrating that dose-dense chemotherapy was more effective than sequential chemotherapy for node positive ESBC.(2)
The 9741 clinical trial compared dose-dense chemotherapy to the conventional 3-week chemotherapy, and sequential with concurrent administration. Patients were first randomly assigned to receive concurrent Adriamycin® (doxorubicin), Taxol® (paclitaxel), and Cytoxan® (cyclophosphamide) or concurrent Adriamycin and Cytoxan followed by Taxol. Patients then underwent a second round of randomization in order to determine whether they would receive their chemotherapy on a conventional schedule (every three weeks) or a dose-dense schedule (every two weeks).
A total of 2005 women were included in this study; their average age was 50 and they had on average three involved lymph nodes, and 65% had estrogen receptor-positive tumors.
Results indicate that disease free survival (DFS) was significantly prolonged for the dose-dense regimen, compared to conventional 3-week schedule, as follows:
Dose-dense therapy reduced the risk of recurrence by 19% for ER-positive tumors and 32% for ER-negative tumors. There was no difference in overall survival between the concurrent and sequential schedules.
The improved outcomes with dose dense therapy were not accompanied by an increase in significant side effects. Severe neutropenia (low white blood cell count) was less frequent in patients who received the dose dense regimens due to the administration of Neupogen (filgrastim). There was still a low rate of hospitalization and no mortality during the chemotherapy regimens.
​The final report on this trial was issued after the patients had been followed for a median of 6.5 years.
Among women with hormone receptor-negative breast cancer, cancer-free survival was significantly better among those who received dose-dense chemotherapy. There was a suggestion of improvement in overall survival.
Among women with hormone receptor-positive breast cancer, survival was similar across treatment groups.
Risk of acute myeloid leukemia or myelodysplastic syndrome was similar (less than 1%) in each treatment group.
The dose-dense regimen did not appear to increase the risk of heart problems.
The researchers concluded that after long-term follow-up, dose-dense chemotherapy remains safe and effective as adjuvant therapy in breast cancer. The benefit, however, appears to be most substantial for patients with estrogen receptor-negative breast cancer.
German AGO Clinical Trial
To compare dose-dense chemotherapy to conventional chemotherapy in patients with high-risk ESBC, researchers in Germany conducted a Phase III clinical trial that enrolled 1,284 women under the age of 65 who had at least four axillary (underarm) lymph nodes involved with cancer. Patients were assigned to receive either dose-dense or conventional chemotherapy with epirubicin, cyclophosphamide, and paclitaxel.
At five years 70% of women treated with dose-dense therapy survived without cancer recurrence, compared with 62% of those treated with conventional-dose every 3 week chemotherapy.
At five years overall survival was 82% in the dose-dense arm and 77% in the conventional-dose arm.
Quality of life declined during dose-dense therapy, but was recovered three months following completion of therapy.
7% of patients in the dose-dense arm were hospitalized for febrile neutropenia, compared with just 2% in the conventional-dose arm.
The researchers concluded that longer follow-up continues to demonstrate a significant improvement in relapse-free survival for dose-dense chemotherapy compared to conventional-dose chemotherapy in high-risk early breast cancer patients.(3)
European MIGI and GIM2 Studies
Researchers from Europe also conducted a meta-analysis from two large phase III clinical trials comparing dose-dense chemotherapy to every 3 week chemotherapy in premenopausal women with ESBC.(6)
The two trials, referred to as the MIGI and GIM2 studies included 3,305 premenopausal women with ESBC that had spread to their lymph nodes, or who were otherwise at a high risk of developing a cancer recurrence. The average patient age was 44 years.
Overall survival was improved by nearly 30% among the women treated with dose-dense chemotherapy.
At 10 years, survival for women with hormone-negative breast cancer (cancer that is not stimulated to grow from exposure to female hormones) was improved by 35% among those treated with dose-dense chemotherapy, compared to those treated with standard-dose chemotherapy.
At 10 years, survival for women with hormone-positive breast cancer (cancer that is stimulated to grow from exposure to female hormones) had a 22% increase in survival if treated with dose-dense chemotherapy versus standard-dose chemotherapy.
Importantly, dose-dense chemotherapy was not associated with an increased risk of developing amenorrhea (early menopause) from treatment.
A single Neulasta® Injection Allows Optimal Delivery of Dose-Dense Chemotherapy in Breast Cancer
Dose-dense chemotherapy is associated with a higher risk of some side effects including neutropenia which can lead to life threatening infections and prevent the optimal delivery of the chemotherapy.
Neutropenia occurs when white blood cells (immune cells) are destroyed by chemotherapy, leaving the immune system unable to fight bacterial, viral and fungal infections.
Chemotherapy-induced neutropenia can become a serious condition for several reasons. First, many patients who develop neutropenia require a dose reduction in their treatment, which can compromise delivery of treatment and reduce survival rates. In order to achieve optimal outcomes, it is important that patients receive their planned doses of the chemotherapy drug(s) at the planned time. In addition, patients who develop neutropenia may require hospitalization and even minor infections can become life threatening.
Neupogen® and Neulasta® are referred to as growth factors and they stimulate the production of white blood cells. Clinical studies have indicated that early treatment with growth factors such as Neulasta® or Neupogen® prevents neutropenia, thereby allowing patients to receive their planned dose of chemotherapy on time. Neulasta® requires administration only once during a chemotherapy cycle, whereas Neupogen® requires daily injections. Clinical trials have indicated that Neulasta® is as effective as Neupogen® in reducing the incidence and/or severity of neutropenia in patients undergoing treatment for cancer and further trials are being conducted to determine the true clinical efficacy of treatment with Neulasta®. Many researchers believe that Neulasta® should replace Neupogen® for the prevention and/or treatment of neutropenia.
The results from a clinical trial that included 73 patients treated with dose-dense chemotherapy for breast cancer who received Neulasta® once per chemotherapy cycle prevented the development of febrile neutropenia (neutropenia accompanied by fever) and kept all patients out of the hospital for complications associated with neutropenia. Only 10% of patients developed severe neutropenia (Grades 3-4). When referencing these results to previous trials utilizing Neupogen® for the same treatment regimens, Neulasta® demonstrated just as effective prevention against neutropenia. Importantly for patients, Neulasta was administered with 1 injection compared to over 2 weeks of daily injections for Neupogen.
Neulasta® is as effective as Neupogen® in preventing neutropenia associated with dose-dense regimens for the treatment of breast cancer. Since chemotherapy-induced neutropenia is a common and serious side effect of most dose-dense chemotherapy regimens, Neulasta® may play an integral part in allowing patients to tolerate therapy and ultimately, providing patients with an optimal long-term outcomes. Patients with breast cancer who are to undergo dose-dense therapy may wish to speak with their physician regarding the addition of Neulasta® in their treatment regimen.
References:
Citron ML, Berry DA, Cirrincione C, Hudis C, et al. Randomized trial of dose-dense versus conventionally scheduled and sequential versus concurrent combination chemotherapy as postoperative adjuvant treatment of node-positive primary breast cancer: First report of intergroup trial C9741/Cancer and Leukemia Group B trial 9741.Journal of Clinical Oncology 2003; 21: 1-9.
Moebus V, Leuck H, Thomssen C, et al. Dose-dense sequential chemotherapy with epirubicin, paclitaxel and cyclophosphamide in comparison to conventional dosed chemotherapy in high-risk breast cancer patients ³4+LN), mature results of an AGO-trial. Proceedings from the 2006 San Antonio Breast Cancer Symposium. Oral presentation December 17 2006. Abstract# 53.
Hudis C, Citron M, Berry D, et al. Five year follow-up of INT C9741: dose-dense (DD) chemotherapy (CRx) is safe and effective. Proceedings from the 28th San Antonio Breast Cancer Symposium. December 2005. Abstract #41.
Venturini M, Del Mastro L, Aitini E et al. Dose-Dense Adjuvant Chemotherapy in Early Breast Cancer Patients: Results From a Randomized Trial. Journal of the National Cancer Institute. 2005;97:1724-33.
Lambertini M, et al. Dose-dense adjuvant chemotherapy, treatment-induced amenorrhea and overall survival in premenopausal breast cancer patients: a pooled analysis of the MIG1 and GIM2 phase III studies. Oral Abstract session at the 10th annual European Breast Cancer Conference. 2016; Abstract 5. Available here. Accessed March 15, 2016.
Kummel S, Krocker J, Kohls A et al. Randomised Trial: Survival Benefit and Safety of Adjuvant Dose-Dense Chemotherapy for Node-Positive Breast Cancer. British Journal of Cancer. April 11, 2006. Early Online Publication.