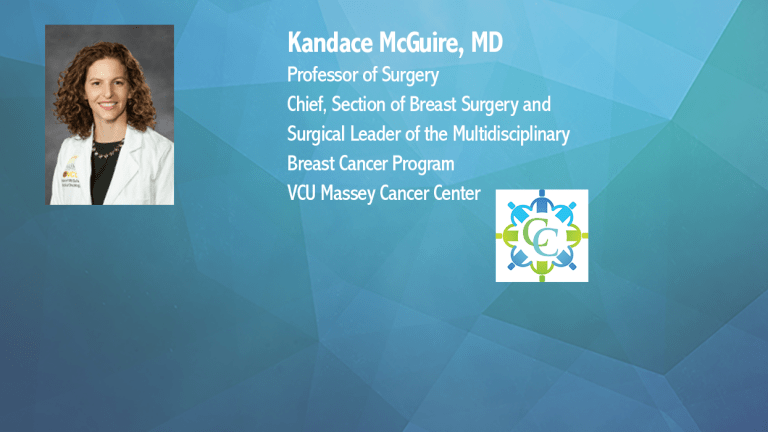 Axillary Lymph Node Management
It's time to minimize breast cancer intervention to maximize patient outcomes
Kandace McGuire, MD, Chief, Section of Breast Surgery and Surgical Leader of the Multidisciplinary Breast Cancer Program at VCU Massey Cancer Center
Breast cancer surgeons are a unique group. We're constantly researching and striving to put ourselves out of a job, by looking for ways to reduce the amount of surgery required for our patients. We focus on minimizing unnecessary intervention, as we believe that there are always better options to achieve the same positive cancer outcomes, while reducing the levels of morbidity associated with surgery.
One of the most effective ways we can reduce morbidity is through axillary management for early-stage breast cancer patients. It's an area where pioneering research in recent years has seen significant clinical advances. For example, up until the early 2000's, the standard of care for patients with a diagnosis of invasive cancer and high-risk DCIS was to undergo a full axillary lymph node dissection (ALND), removing all the lymph nodes in the underarm with the simultaneous removal of the suspicious area of DCIS, to reduce the risk of metastases.
This method proved effective at removing cancerous tissue but caused long-lasting damage in upwards of 30% of patients,1 with the highly-debilitating condition of lymphedema a common consequence. Side effects of lymphedema include reduced mobility, uncontrollable episodes of pain and swelling of the arm. For women who are overweight or lead a sedentary lifestyle in particular, this can drastically affect their quality of life.
This prompted oncologists to consider whether we could be more targeted with our surgical approach, initially removing only the two or three lymph nodes most likely to contain cancer for analysis, before deciding if the more invasive ALND is necessary. Thus, the sentinel lymph node biopsy (SLNB) was developed, quickly becoming the new standard of care for all patients undergoing mastectomy for high-risk DCIS.
For this commonly used procedure, typically a combination of radioactive tracer and blue dye is injected into the breast before surgery. The tracer liquids then migrate through the lymphatic system before settling in the sentinel (the first reaching) lymph nodes, where they provide a radioactive signal and color the node to offer visual confirmation during surgery.
The surgeon then removes both the breast containing DCIS and the sentinel lymph nodes at the same time to assess the extent of spread. The reason these are performed together is that surgical intervention to the breast can disrupt the lymphatic system, making it considerably more difficult to manage the axilla post-surgery. If the further analysis shows cancerous cells in the lymph nodes, then a more extensive procedure – such as ALND – may be required.
With this approach, the rate of lymphedema dropped to much lower rates, varying from as little as 3% to highs of 9%2 and for many years, we felt like this was a significant breakthrough.
That was until recent research from Sweden and across the US showed that using a magnetic tracer called Magtrace® could allow us to omit axillary surgery for most patients altogether. As a result, the rates of lymphedema would also be reduced even further, to practically zero. They called this new innovative approach the 'delayed' sentinel lymph node biopsy, with the sentinel lymph node biopsy now only performed on the patients who need it.3
Research shows that only 20% of women with high-risk DCIS are upgraded to a diagnosis of invasive cancer.4 That means that 4 in 5 women were receiving a surgical procedure to their axilla that they simply did not need after the removal of the DCIS.
Prior to having Magtrace® in the US, the only FDA-approved dyes available to surgeons were the radioactive tracers and blue dyes, both of which are made up of very small molecules that retain in the lymph nodes for no longer than a day. Therefore, there is no opportunity to remove the DCIS and establish the results from pathology in time to perform this technique. Whereas Magtrace® has been proven to retain in the lymph nodes for anywhere between three and six weeks.5,6 Now we can remove the DCIS and mark the sentinel nodes but only go back to remove them in patients where the pathology report confirms the cancer has become invasive.
Speaking from my own experience, I have now had 20 patients who've undergone a mastectomy where I've injected Magtrace® for DCIS, and so far, I've only had to take one patient back for a sentinel lymph node biopsy. These are comparable, if not better figures than those outlined in the research. For the one patient who did have to return, it was a very easy surgery, with a strong magnetic signal helping to guide the way to the two relevant lymph nodes in just 10 minutes.
Now that we have a technique that could potentially eliminate the need for lymph node surgery in women with pure DCIS undergoing a mastectomy, I think that this should become the standard of care. It is safe and it clearly works. I believe it is our responsibility to our patients to give them the opportunity to avoid that SLNB.
And patients love it too. Those I've performed this procedure on are probably my most satisfied and appreciative patients, especially when they find out that if they had gone to another center that didn't use this technology, they would've had lymph nodes removed. In fact, I've had patients come to VCU specifically because we offer this option.
The research is still at an early stage but we're seeing more and more papers emerge on this topic. A 2021 poster from University Hospitals Cleveland, presented at the American Society of Breast Surgeons Annual Meeting, declared the technique safe and feasible, and reported that 87% of their patients had avoided the sentinel lymph node biopsy that they would have otherwise received without the Magtrace®.7 A new multi-center study titled SentiNOT 2.0 is now recruiting for US hospitals to share their results, and I'll be watching this with a very keen interest.
One other recent breakthrough in reducing SLNB for those who do not need it, is the findings that women above the age of 70 with certain types of breast cancers, won't now require lymph node assessment if they're clinically node negative.8 The trauma of additional surgeries for elderly patients can have hugely detrimental effects to their short-term health, and so it's great that we can now avoid it in some cases.
As a breast surgery community, we're still at the early stages of implementing these changes into regular practice. Nevertheless, as a surgeon dedicated to improving patient outcomes and reducing intervention, I'm so excited to see adoption of these breakthrough approaches gathering pace. Education is essential to continuous advancement in patient care, and that applies to both physicians and patients.
That's why it's so important to encourage patients to be our partners. At VCU, we find that patients are happier when they understand your approach and feel like they are taking a more active role in their treatment. I'd always encourage patients to do their own research around the best options available to them using websites such as CancerConnect, Breast360 and Breastcancer.org for high quality, reliable information - and keep challenging us to deliver better, less invasive treatment wherever we can.
Authored by Kandace McGuire, MD, Chief, Section of Breast Surgery and Surgical Leader of the Multidisciplinary Breast Cancer Program at VCU Massey Cancer Center
Cook et al (2022) Immediate Lymphatic Reconstruction to Prevent Breast Cancer-Related Lymphedema: A Systematic Review. Adv Wound Care (New Rochelle). Feb 23
Kim et al (2021) Sentinel Lymph Node Biopsy in Breast Cancer Patients With Pathological Complete Response in the Axillary Lymph Node After Neoadjuvant Chemotherapy. J Breast Cancer. Dec 24
Karakatsanis et al (2019) Effect of preoperative injection of superparamagnetic iron oxide particles on rates of sentinel lymph node dissection in women undergoing surgery for ductal carcinoma in situ (SentiNot study). Br J Surg. 2019. Mar 6
Senkus et al (2015) ESMO Guidelines Committee. Primary breast cancer: ESMO clinical practice guidelines for diagnosis, treatment and follow-up. Ann Oncol 2015. Sep 26
Alvarado et al (2019. SentimagIC: A Non-inferiority Trial Comparing Superparamagnetic Iron Oxide Versus Technetium-99m and Blue Dye in the Detection of Axillary Sentinel Nodes in Patients with Early-Stage Breast Cancer. Ann Surg Oncol. Dec 27
Karakatsanis et al (2016) The Nordic SentiMag trial: a comparison of super paramagnetic iron oxide (SPIO) nanoparticles versus Tc(99) and patent blue in the detection of sentinel node (SN) in patients with breast cancer and a meta-analysis of earlier studies. Breast Cancer Res Treat. Apr 27
Miller et al (2021) SentiNot: Utilization of a Novel Tracer for Patients with Ductal Carcinoma In Situ to Avoid Unnecessary Sentinel Lymph Node Biopsy. https://app.oxfordabstracts.com/events/1705/submissions/217030/question/33949/programme-builder/download
Carleton et al (2021) Outcomes After Sentinel Lymph Node Biopsy and Radiotherapy in Older Women With Early-Stage, Estrogen Receptor–Positive Breast Cancer. JAMA Netw Open. Apr 15