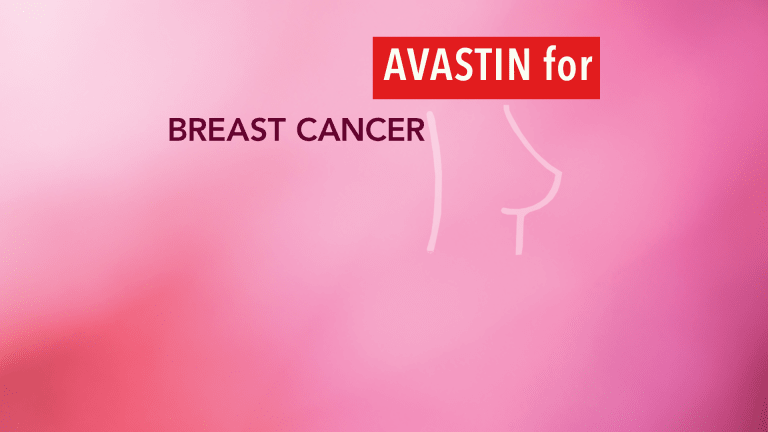 Avastin® plus Chemotherapy Improves Progression-free Survival in Advanced Breast
Avastin® plus Chemotherapy Improves Progression-free Survival in Advanced Breast Cancer
According to the results of a Phase III clinical trial among women with metastatic, HER2-negative breast cancer, treatment with a combination of Avastin® (bevacizumab) and chemotherapy results in a longer progression-free interval than treatment with chemotherapy alone.
Metastatic breast cancer refers to cancer that has spread to distant sites in the body. Chemotherapy is a cornerstone of therapy for metastatic breast cancer; however, novel therapeutic approaches are now providing more targeted methods of treatment.® Because breast cancer cannot be cured in the majority of patients, a major goal of therapy is to keep the cancer from progressing while maintaining quality of life.
Avastin is an anticancer drug that slows or prevents the growth of new blood vessels by inhibiting a protein known as VEGF; this deprives the cancer of oxygen and nutrients. Through its effects on blood vessels, Avastin may also improve the delivery of chemotherapy to the cancer.
Avastin has been shown to improve treatment outcomes in selected patients with advanced colorectal, breast, and non®small cell lung cancer. Avastin is also being evaluated among patients with earlier-stage cancer, and among patients with other types of cancer.
The current study®known as RIBBON 1®is not the first to suggest that the addition of Avastin to chemotherapy delays cancer progression among women with advanced, HER2-negative breast cancer, but it provides additional evidence in support of this benefit.
The RIBBON 1 study enrolled 1,237 women with locally recurrent or metastatic HER2-negative breast cancer who had not received prior chemotherapy for their metastatic disease. Study participants were assigned to receive chemotherapy alone or chemotherapy plus Avastin. The chemotherapy regimens that were used involved taxanes, anthracyclines, or Xeloda® (capecitabine).
Regardless of the chemotherapy regimen used, the addition of Avastin delayed cancer progression. Full results from this study are expected to be presented at a future medical meeting.
These results provide additional evidence that the addition of Avastin to chemotherapy delays the time until cancer progression. Women with metastatic, HER2-negative breast cancer may wish to discuss the risks and benefits of Avastin with their physician. Avastin has been linked with an increased risk of blood clots and other potentially serious side effects.
Reference: ®Genentech Press Release. Avastin Plus Commonly Used Chemotherapies Demonstrated Improved Progression-Free Survival In Advanced Breast Cancer. Available here (Accessed December 1, 2008).