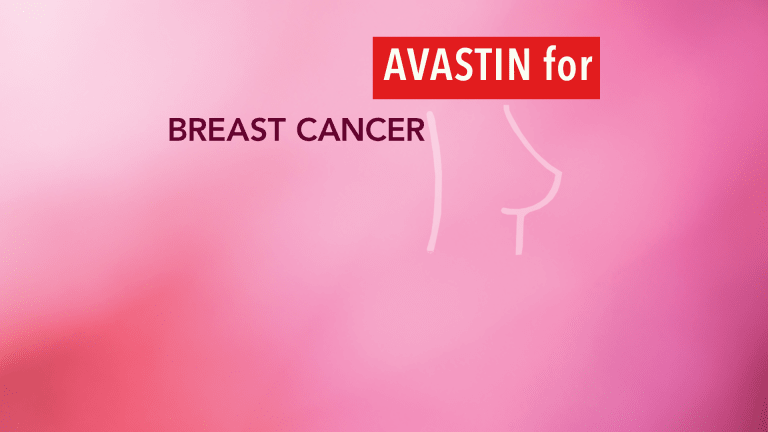 Avastin® Improves Outcomes in Advanced Breast Cancer
Avastin® Improves Outcomes in Advanced Breast Cancer
A recent presentation at the 2005 annual meeting of the American Society of Clinical Oncology indicates that the addition of Avastin (bevacizumab) to paclitaxel improves the progression-free interval and survival of patients with advanced breast cancer.
Breast cancer is a malignancy associated with the tissues of the breast. Advanced breast cancer indicates that the cancer has spread to areas outside of the breast or to other sites in the body. Current treatments of advanced breast cancer include surgery, radiation and chemotherapy. A new approach to treating many different types of cancers is known as targeted therapy, in which the drug used is directed specifically at the cancerous cell and its receptors. One such drug is Avastin, which is a monoclonal antibody that is targeted against the vascular endothelial growth factor (VEGF). Avastin is currently approved for the initial treatment of colorectal cancer in combination with other chemotherapy drugs. Avastin continues to be evaluated with different chemotherapy combinations for various types of cancer and is showing promising results.
This recent trial was designed to evaluate the addition of Avastin to chemotherapy in patients with advanced breast cancer. The trial included over 700 women with locally advanced or metastatic breast cancer who were in good physical condition and had no metastasis to the nervous system. Each patient was randomized to receive either paclitaxel plus Avastin or paclitaxel alone. None of the patients had received treatment for metastatic disease, 65% of the patients had received previous chemotherapy, 64% of the patients had hormone-positive disease, and the majority of study patients were HER2-negative.
Results of the study indicate that the response rate in the Avastin treated group was 28%, compared to 14% in the paclitaxel group. The average progression-free survival was 10.9 months for the patients treated with Avastin, compared to 6.11 months for those treated with paclitaxel only. Although it is too early to evaluate the results of overall survival, early indicators favor the Avastin treatment group. Side effects associated with the Avastin treatment group included blood clots and neuropathy. However, the neuropathy is being attributed to longer therapy with paclitaxel.
Researchers concluded that the addition of Avastin to paclitaxel improves progression-free survival and may improve the overall survival when compared to paclitaxel alone in advanced breast cancer. Additional studies are underway to further evaluate Avastin's role in the treatment of breast cancer.
Reference: Miller K, et al. E2100: a phase III trial of paclitaxel versus paclitaxel/bevacizumab for metastatic breast cancer. Proceedings from the 2005 annual meeting of the American Society of Clinical Oncology (ASCO). Presented May 16, 2005 at "late-breaking" session. May 2005.