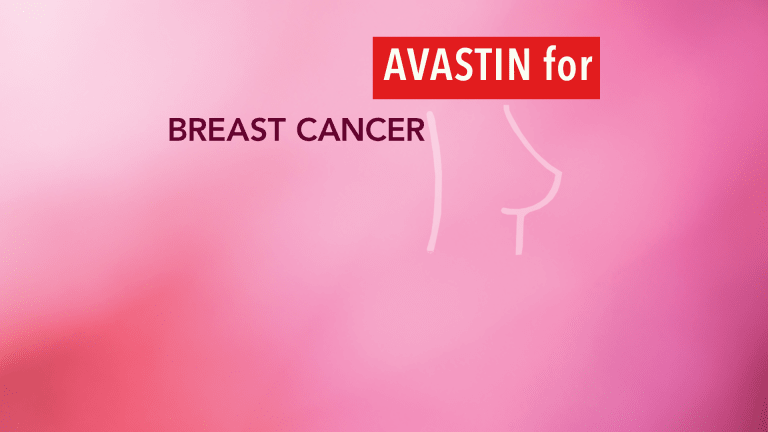 Avastin Fails to Show Benefit in Early Breast Cancer
Avastin Fails to Show Benefit in Early Breast Cancer
The addition of the targeted drug Avastin® (bevacizumab) to chemotherapy did not improve outcomes among women with early breast cancer. The results of this Phase III clinical trial were presented at the 2010 San Antonio Breast Cancer Symposium.
Avastin is a targeted therapy that blocks a protein known as VEGF. VEGF plays a key role in the development of new blood vessels. By blocking VEGF, Avastin deprives the cancer of nutrients and oxygen and inhibits its growth. Avastin has been approved for the treatment of selected patients with breast cancer, lung cancer, colorectal cancer, kidney cancer, or glioblastoma.
In the case of breast cancer, Avastin was approved in combination with paclitaxel for women with HER2-negative, metastatic breast cancer who have not yet received chemotherapy for their advanced disease. In July 2010, however, an FDA advisory committee recommended that Avastin no longer be approved for this purpose. Recent studies of Avastin have reported a smaller breast cancer benefit than earlier studies, and there is still no clear evidence that Avastin improves overall survival among women with breast cancer. A decision from the FDA is expected soon.
To evaluate Avastin among women with early-stage breast cancer, researchers conducted a Phase III clinical trial (the GeparQuinto trial) among 1,948 patients with HER2-negative breast cancer. Patients received neoadjuvant (before surgery) treatment with chemotherapy alone or in combination with Avastin.
Overall, these results do not support the use of Avastin among women with early breast cancer. It's possible that certain subgroups of breast cancer patients will benefit from Avastin, and researchers will continue to explore this question.
Reference: von Minckwitz G, Eidtmann H, Rezai M et al. Neoadjuvant chemotherapy with or without Bevacizumab: Primary efficacy endpoint analysis of the GEPARQUINTO Study (GBG 44). Presented at the 33rd annual San Antonio Breast Cancer Symposium, December 8-12, 2010. Abstract S4-6.