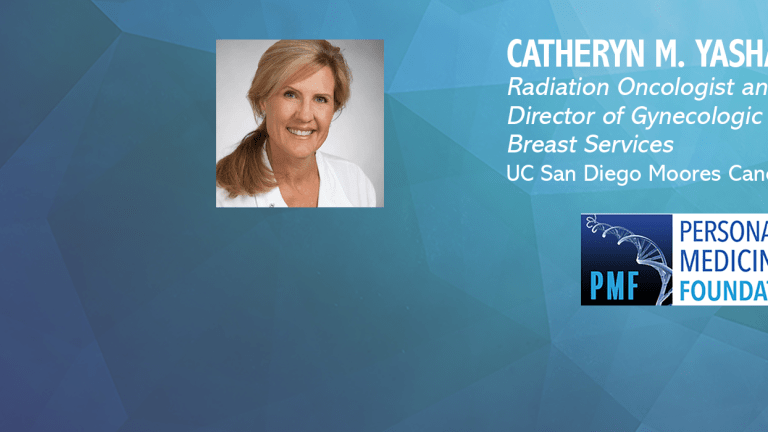 Ask the Early-Stage Breast Cancer Expert: Now Available
Rethink Pink: From Awareness to Knowledge, Advice for women newly diagnosed with early stage breast cancer
Live Web Chat with Dr. Yashar: Recorded 10/23
Awareness of breast cancer risk and appreciation of the need for screening is important, but at this point we need to go beyond that and explore relevant treatment options. UC San Diego Moores Cancer Center expert Catheryn M. Yashar, MD, discusses and answers participants' questions about treatment decision making for newly diagnosed early stage breast cancer. Dr. Yashar also discusses the factors fueling women's decisions and provides insight into the latest studies on behaviors, influencers and outcomes.
Dr. Yashar's presentation also includes the following topics:
Lesser known options like brachytherapy,
Resources available via the BC5 Project for empowering women to discuss breast cancer treatment options,
Questions to ask, and
Advice on how to proceed post-diagnosis.
Dr. Yashar is a radiation oncologist and Director of Gynecologic and Breast Services within the UC San Diego Health System and a BC5 Project advocate. Dr. Yashar's clinical and research focus has centered on breast and gynecologic cancers, especially IMRT, IGRT and brachytherapy techniques. Her surgical training can be invaluable for surgical issues, brachytherapy systems, implantation, and clinical correlation of imaging. Her clinical interest is in the field of women's health care. Click here to learn more about Dr. Yashar.
The Ask The Expert Series is made possible by support fromThe Personalized Medicine Foundation, Incyte Oncology, Abbvie, and CancerConnect. The "Ask The Expert" series is not medical advice nor is it a substitute for your doctor. It should serve as a guide to facilitate access to additional information and enhancement of a shared decision making process with your treating physician.