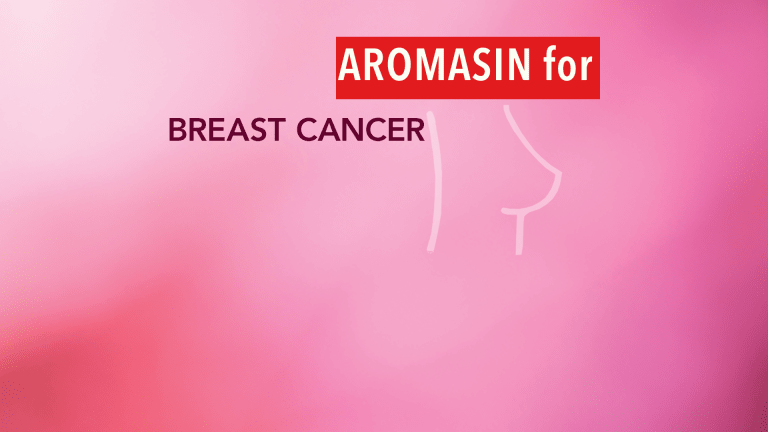 Aromasin® Treatment for Breast Cancer
Aromasin® is an anti-aromatase medication used for the treatment and prevention of breast cancer.
by Dr. C.H. Weaver M.D. updated 10/2020
A large portion of women have hormone receptor-positive (HR+) breast cancers that are stimulated to grow by the circulating female hormones estrogen and/or progesterone. Hormone therapy is used to treat HR+ breast cancer utilizing medications that reduce or prevent the ability of estrogen to stimulate the growth of cancer cells.
In all women, estrogen is initially produced by the ovaries and adrenal glands in an inactive form. Through a series of biochemical conversions, the inactive form is ultimately converted to the final form of estrogen, which is the growth stimulant for cancer. The initial conversion step of estrogen is facilitated by a protein called aromatase. The anti-aromatase drugs, often referred to collectively as aromatase inhibitors (AI) have been developed to prevent this conversion resulting in decreased levels of estrogen.
Aromasin (exemestane) is the only AI medication that works by irreversibly binding to the protein aromatase, which ultimately blocks the entire conversion process that is responsible for creating the active form of estrogen. This reduces levels of the active form of estrogen in the body, so that cancer cells are depleted of necessary growth stimulant.
Tamoxifen (Nolvadex®), which binds to estrogen receptors in a cell, inhibiting production of estrogen's growth-stimulatory effects, was historically the most commonly used agent for treating HR+ breast cancer. Tamoxifen has largely been replaced by aromatase inhibitors (AI) and Faslodex (fulvestrant), used alone or combined with cyclin-dependent kinases (CDK) inhibitors because they are better at delaying cancer progression and prolonging survival in women who can benefit from anti-estrogen therapy. (1,2)
Aromasin in Women with Post-menopausal HR+ Early Stage Breast Cancer
Breast cancer patients who switch to Aromasin® after 2–3 years of Nolvadex® are less likely to experience cancer recurrence, develop cancer in the opposite breast, and have better overall survival, than women who remain on Nolvadex. The Intergroup Exemestane Study (IES) included 4,724 postmenopausal women with HR+ early breast cancer who were treated with either tamoxifen for 5 years, or tamoxifen for 2 to 3 years, followed by Aromasin following surgical removal of their cancer. (2)
Patients who switched Aromasin had a 31% reduced risk of developing a cancer recurrence compared to those who remained on Nolvadex.
Compared to women who remained on Nolvadex, women who switched to Aromasin had a 25% lower risk of cancer recurrence or development of a new cancer.
Women who switched to Aromasin had a 17% lower risk of death compared to women who remained on Nolvadex.
Treatment with Aromasin was well tolerated with hot flashes and fatigue being the most common side effects.
Women who switched to Aromasin were less likely to experience blood clots or gynecologic problems (such as uterine cancer), but more likely to experience a bone fracture.
These results suggest Aromasin is superior to Nolvadex and that switching even after 2–3 years of Nolvadex improves both overall and cancer-free survival among postmenopausal women with HR+ early breast cancer.
Comparison of Aromatase Inhibitors Yields Similar Outcomes in Breast Cancer
According to an Italian research team the three aromatase inhibitors approved for the treatment of postmenopausal HR+ early stage breast cancer; Arimidex (anastrozole), *Aromasin (*exemestane), Femara (letrozole) have no significant differences in effectiveness or safety. For the study, 3697 post surgical patients with invasive HR+ breast cancer were enrolled from 76 Italian public healthcare institutions between March 9, 2007, and July 31, 2012. Participants were randomly assigned to one of six treatment groups and directly compared. (3)
Aromasin in High-risk Premenopausal HT+ Early Breast Cancer
The growth of HR+ breast cancer cells is prevented or slowed by reducing the exposure to estrogen. This is the goal of the hormonal drug tamoxifen and the newer aromatase inhibitors; Femara® (letrozole), Arimidex® (anastrazole), and Aromasin. In premenopausal women, surgical removal of the ovaries or suppression of ovarian activity may also be used to reduce estrogen exposure. Ovarian suppression combined with the anti-estrogen drug Aromasin® appears to greatly reduce the risk of breast cancer recurrence in younger women according to the results of the Suppression of Ovarian Function Trial (SOFT) and Tamoxifen and Exemestane Trial (TEXT) trials presented at the 2014 American Society of Clinical Oncology Annual Meeting and also published in The New England Journal of Medicine.
The combined results of the TEXT and SOFT studies demonstrated that Aromasin is more effective than tamoxifen in preventing breast cancer recurrence in young premenopausal women who also receive post-surgical treatment to suppress ovarian function. (6-8)
In a joint analysis of two clinical trials reported at the American Society of Clinical Oncologists meeting in Chicago, researchers found that premenopausal women undergoing hormone suppression and who were treated with Aromasin® had reduced breast cancer recurrence relative to those treated with tamoxifen. There was not, however, a difference in overall survival after 68 months of follow up.
The SOFT clinical trial enrolled 3,066 young women with HR+ breast cancer to receive treatment with either tamoxifen, tamoxifen plus ovarian suppression, or Aromasin plus ovarian suppression for 5 years. Ovarian function suppression was achieved by use of monthly injections of the GnRH agonist Trelstar® (triptorelin), surgical removal of both ovaries, or radiation therapy to the ovaries. Women could also receive chemotherapy as part of their overall treatment plan if they were at higher risk of recurrence.
Overall, women who did not require chemotherapy did well. Five-year survival without cancer recurrence was 95.8% if treated with tamoxifen alone, 95.1% with tamoxifen plus ovarian suppression, and 97.1% with Aromasin plus ovarian suppression.
Premenopausal women treated with chemotherapy and ovarian suppression added to tamoxifen achieved a 22% reduction in the risk of recurrence compared to tamoxifen alone and the combination of Aromasin plus ovarian function suppression was even better. The Aromasin treated women experienced a 35% risk reduction for recurrence versus tamoxifen alone. The proportion of women surviving 5 years without cancer recurrence was 78% for tamoxifen alone, 82.5% for tamoxifen plus ovarian suppression, and 85.7% for Aromasin plus ovarian function suppression.
In women 35 years and younger treated with chemotherapy, the 5-year breast-cancer-free rate was 67.7% in those on tamoxifen alone, 78.9% in those on tamoxifen plus ovarian suppression, and 83.4% in those on Aromasin plus ovarian suppression.
The results of this trial have changed the treatment paradigm; women who are at low risk, have smaller tumors, negative nodes, are older, and have not received chemotherapy but are still premenopausal can be reasonably and well treated with tamoxifen alone.
For women who are clearly at high risk, particularly those who are under 35 years of age, ovarian suppression appears to provide a clinically meaningful reduction in breast cancer recurrence. The reduction is significantly greater when the ovarian suppression is added onto Aromasin.
For the remaining women at intermediate risk, such as those with small tumors but positive nodes or larger tumors but low grade, women have a choice whether to use ovarian suppression with endocrine therapy or tamoxifen alone, and need to make this decision with their doctor.
The trial confirms that Aromasin combined with ovarian suppression is effective treatment for premenopausal women and superior to tamoxifen. These results are consistent with earlier studies evaluating ovarian suppression combined with Aromasin and provide a new treatment option for young women with hormone-sensitive breast cancer.
Among premenopausal women with hormone-positive, early breast cancer who are considered to have a high risk of a cancer recurrence, the use of Aromasin® versus tamoxifen improves cancer-free survival at 5 years.
In the two treatments studied, the patient-reported quality of life results were similar overall, as was the frequency of severe side effects
Aromasin for Women with Advanced or Recurrent HR+ Breast Cancer
Aromasin is beneficial as initial therapy for patients with metastatic breast cancer. In a multi-center clinical trial over 120 post-menopausal women with advanced breast cancer were treated with either tamoxifen or Aromasin as initial therapy and compared. Complete or partial responses to treatment were achieved in 41% of patients receiving Aromasin compared to only 13.6% of patients receiving tamoxifen. The overall anti-cancer response rates were nearly 56% for patients receiving exemestane compared with 42.4% of patients receiving tamoxifen. (9-12)
Aromasin also prolongs survival and causes fewer side effects compared to megestrol acetate in the treatment of post-menopausal breast cancer patients who are no longer responding to tamoxifen. (1-7) In a clinical trial directly comparing Aromasin to megestrol acetate in the treatment of women who have stopped responding to tamoxifen the overall survival time for patients treated with Aromasin was superior to that achieved with megestrol acetate confirming previous clinical trial. (10)
Aromasin for Women at High Risk of Developing Breast Cancer
Women with a strong family history of breast cancer and women who carry the BRCA1 and BRCA2 genes are at an increased risk of developing breast cancer and may opt to take more aggressive preventive measures, including the use of "chemoprevention", or drugs that block the effects of estrogen—because estrogen causes some cancers to grow. There are two types of drugs used to block estrogen. Selective estrogen receptor modulators (SERMs) are drugs that block estrogen receptors within the breast cells, thereby reducing estrogen-stimulated growth. Tamoxifen and Evista® (raloxifene) are examples of SERMs. Aromatase inhibitors suppress the production of estrogen in postmenopausal women. Aromasin is an aromatase inhibitor. Each of these drugs has been shown to reduce the risk of breast cancer in women at high risk of the disease.
To evaluate Aromasin for breast cancer prevention in high-risk women, researchers conducted a Phase III trial among 4,560 postmenopausal women. The women had at least one of these breast cancer risk factors:
age greater than 60
five-year risk of breast cancer of more than 1.66% based on the Gail score
prior atypical ductal or lobular hyperplasia, lobular carcinoma in situ, or ductal carcinoma in situ with mastectomy. Study participants received either Aromasin or a placebo.
Risk of invasive breast cancer was 65% lower among women in the Aromasin group than among women in the placebo group. There were 11 invasive breast cancers in the Aromasin group and 32 invasive breast cancers in the placebo group.
Symptoms such as hot flashes, fatigue, sweating, insomnia, and joint pain were common among all study participants, but slightly more so among women treated with Aromasin.
These results suggest that Aromasin may be safe and effective when used to reduce the risk of breast cancer in high-risk women.(13)
Recommendation guidelines from ASCO are as follows:
For premenopausal women:
The use of tamoxifen (20 mg per day orally for 5 years) should be discussed as an option to reduce the risk of invasive, estrogen receptor (ER)-positive breast cancer
For postmenopausal women:
There are now three options. ASCO strongly recommends that one of the following be considered in order to reduce the risk of invasive, estrogen receptor (ER)-positive breast cancer: Tamoxifen (20 mg per day orally for 5 years) Evista (60 mg per day orally for 5 years) Aromasin (25 mg per day orally for 5 years). (Note: This is a new recommendation, which was based on data from a clinical trial that showed up to a 70 percent reduction in overall and ER-positive invasive breast cancer incidence compared to placebo.)
What's more, the recommendations state that all three agents should be discussed with women aged 35 or older without a personal history of breast cancer who are at increased risk of developing invasive breast cancer, based on risk factors such as age, race, and medical and reproductive history.
Not all women will benefit from the use of these preventive agents. It is important that doctors and women discuss the risks and benefits of each drug in order to determine the best approach. That said, only a small percentage of eligible women have this discussion with their doctors or even consider these medications. As such, the guidelines also stress the need for ongoing research to determine approaches to increase the use of these drugs in women who will benefit from them. (14)
References:
Pfizer. FDA Approves Pfizer's Aromasin® for Adjuvant Treatment of Early Breast Cancer in Postmenopausal Women. Available at: pfizer.com/pfizer/are/news_releases/2005pr/mn_2005_1005.jsp. Accessed October 2005.
Burstein HJ, Temin S, Anderson H, et al. Adjuvant Endocrine Therapy for Women With Hormone Receptor–Positive Breast Cancer: American Society of Clinical Oncology Clinical Practice Guideline Focused Update.Journal of Clinical Oncology [early online publication]. May 27, 2014.
Lancet Oncol. Published online on February 23, 2018. [Abstract](http://www.thelancet.com/journals/lanonc/article/PIIS1470-2045(18%2930116-5/abstract)
Coombes RC, Paridaens R, Jassem J et al. First Mature Analysis of the Intergroup Exemestane Study: a Randomized Trial in Disease-free, Postmenopausal Patients with Early Breast Cancer Randomized to Continue Tamoxifen to to Switch to Exemestane Following an Initial 2-3 Years of Adjuvant Tamoxifen. Presented at the 2006 ASCO Annual Meeting.
Pagani O, et al. Adjuvant exemestane with ovarian suppression in premenopausal breast cancer. N Engl J Med 2014; DOI: 10.1056/NEMJoa1404037.
Regan M, Francis P, Pagani O, et al. Absolute benefit of adjuvant endocrine therapies for premenopausal women with hormone receptor-positive, human epidermal growth factor receptor 2-negative early breast cancer: TEXT and SOFT trials. Journal of Clinical Oncology. Published online before print April 4, 2016, doi: 10.1200/JCO.2015.64.3171. Available here. Accessed April 19, 2016.
Aromatase inhibitor plus ovarian suppression yields benefit in high-risk premenopausal breast cancer patients
Franics P, Regan M, Fleming G, et al. Adjuvant Ovarian Suppression In Premenopausal Breast Cacer. New England Journal of Medicine. Early Online Publication December 11, 2014.
Proceedings from the 37th Annual Meeting of the American Society of Clinical Oncology, Abstract 114, San Francisco, CA, May, 2001
Journal of Clinical Oncology, Vol 18, No 7, pp 1399-1411, 2000
Dombernowsky et al,Journal of Clinical Oncology, Vol 16, pp 453-461, 1998
Buzdar et al,Journal of Clinical Oncology, Vol 14, pp 2000-2011, 1996.
Goss PE, Ingle JN, Ales-Martinez J et al. NCIC CTG MAP.3: A Phase III placebo-controlled Breast Cancer Prevention Trial of exemestane in postmenopausal women at risk for breast cancer. Paper presented at: 2011 Annual Meeting of the American Society of Clinical Oncology; June 3-7, 2011; Chicago, IL. Abstract LBA504.
Visvanathan K, Hurley P, Bantug E, et al. Use of pharmacologic interventions for breast cancer risk reduction: American Society of Clinical Oncology Clinical Practice Guideline. Journal of Clinical Oncology. Published early online July 8, 2013. doi: 10.1200/JCO.2013.49.3122