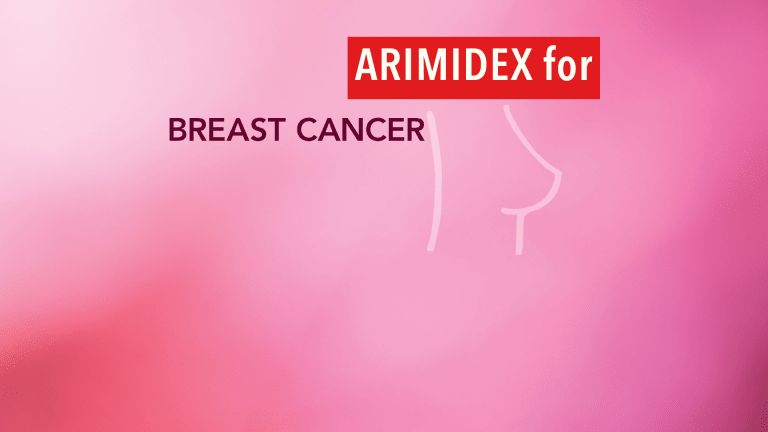 Arimidex® for Treatment of Breast Cancer
Arimidex® Granted Full Approval for Early Breast Cancer.
by Dr. C.H. Weaver M.D. updated 10/2020
Breast cancer is diagnosed in over 200,000 women annually in the US alone. If breast cancer is caught and treated in early stages (prior to spread), cure rates are high with standard treatments. A large portion of patients have hormone receptor-positive (HR+) breast cancer-cancer that is stimulated to grow by the circulating female hormones estrogen and/or progesterone. Hormone therapy, often used to treat hormone-positive breast cancer, utilizes agents that reduce or prevent the ability of estrogen to stimulate the growth of cancer cells.
Tamoxifen (Nolvadex®) was historically the most commonly used treatment for HR+ breast cancer, however it has largely been replaced by anti-aromatase drugs or inhibitors (AI) used alone or in combination with other medications. Tamoxifen binds to estrogen receptors in a cell, inhibiting production of estrogen's growth-stimulatory effects. Anit-aromatase medications actually prevent or reduce the production of estrogen in the body.
Arimidex® (anastrozole) is one anti-aromatase drug approved by the US Food and Drug Administration (FDA) for the treatment of HR+ breast cancers
in place of tamoxifen as initial hormone therapy
as extended hormonal therapy, after a woman has completed tamoxifen treatment
after a brief (two- to three-year) period of tamoxifen therapy.
Arimidex as Initial Therapy for Early Stage Breast Cancer
Results from a large clinical trial (the ATAC trial) prompted led to the FDA approval for Arimidex to be used immediately following surgery for the treatment of HR+ early stage breast cancer in postmenopausal women. The ATAC trial, one of the world's largest breast cancer treatment trials, included a comparison of Arimidex to tamoxifen in postmenopausal women with early HR+ breast cancer. At 5 years, patients who were treated with Arimidex experienced a 17%-reduced risk of a cancer recurrence compared to those treated with tamoxifen. Furthermore, treatment with Arimidex was well tolerated. (1)
Study participants in both groups received five years of hormonal therapy. Median follow-up is now more than eight years.
Women treated with Arimidex continue to experience a lower risk of breast cancer recurrence, including a lower risk of distant recurrence than women treated with tamoxifen.
Women treated with Arimidex were less likely to develop cancer in the opposite breast than women treated with tamoxifen.
There is still no difference in overall survival between the two study groups.
Although women treated with Arimidex were more likely than women treated with tamoxifen to develop a bone fracture during treatment, fracture risk was similar in the two groups during the years following treatment. Women who were treated with Arimidex® for 5 had a 6%-7% loss of bone mineral density and a fracture rate of 11%. The risk of bone fractures declined once women stopped taking Arimidex.
These results indicate that, even with longer follow-up, postmenopausal breast cancer patients who were treated with Arimidex have a lower risk of cancer recurrence than patients who were treated with tamoxifen.
Individuals Currently Taking Tamoxifen Should Consider Switching to Arimidex
A combined analysis of three large clinical trials has confirmed that switching to the AI Arimidex after 2-3 years of adjuvant treatment with tamoxifen improves survival among hormone receptor-positive, postmenopausal women with breast cancer.
Researchers performed a combined analysis of three clinical trials to determine if benefits achieved in the single trials remained significant in a pooled population of patients. All three studies in the combined analysis enrolled postmenopausal hormone receptor-positive breast cancer patients who were randomly assigned to receive either five years of tamoxifen or 2-3 years of tamoxifen followed by Arimidex. The three trials enrolled a total of 4006 women. Nearly all patients (93%) had 0-3 positive lymph nodes. Patients had undergone either breast-conserving therapy or mastectomy, and 7% of patients had received prior chemotherapy. (4)
After a median of 30 months of follow-up, patients who switched to Arimidex had better outcomes:
Risk of recurrence was reduced by 24%.
Survival was improved by 29%.
Survival without cancer recurrence was improved by 41%.
The researchers concluded that switching to Arimidex after 2-3 years of tamoxifen appears to
Arimidex for Prevention of Breast Cancer in Women at High Risk​
Arimidex® (anastrozole) reduced the risk of breast cancer by 53% in high-risk post-menopausal women, according to the results of a study presented at the 2013 San Antonio Breast Cancer Symposium and published simultaneously online in The Lancet.
The International Breast cancer Intervention Study II (IBIS-II) included 3,864 postmenopausal women at high risk of breast cancer. (High risk was defined by family history or prior diagnosis of ductal carcinoma in situ, lobular carcinoma in situ, or atypical ductal hyperplasia.) The women were randomly assigned to take 1 mg of Arimidex or placebo daily for five years. The women underwent breast exam and mammogram at baseline and every two years thereafter during the study.
After a median follow-up of five years, 40 women in the Arimidex group (2%) and 85 women in the placebo group (4%) had developed breast cancer. The predicted cumulative incidence of all breast cancers after seven years was 5.6 percent in the placebo group and 2.8 percent in the Arimidex group. The number needed to treat was 36 to prevent one breast cancer in seven years of follow-up. Side effects associated with estrogen deprivation, were only slightly more frequent in the Arimidex group than in the placebo group.
The researchers concluded that Arimidex effectively reduces the incidence of breast cancer in high-risk postmenopausal women. In fact, they found that the primary prevention effect was larger than that reported for another aromatase inhibitor, Armosain® (exemestane) and two other drugs known as selective estrogen receptor modulators (SERMs), tamoxifen and Evista® (raloxifene). (2)
Arimidex in Advanced Breast Cancer
The combination of Arimidex® (anastrozole) and Faslodex® (fulvestrant) prolongs overall survival and progression-free survival in postmenopausal women with previously untreated HR+ metastatic breast cancer compared to Arimidex alone, according to the results of a study published in the New England Journal of Medicine.
Arimidex works by suppressing the production of estrogen in postmenopausal women. Faslodex is another type of hormonal therapy known as an estrogen receptor antagonist and works by binding to estrogen receptors and degrading them. Both drugs are approved for the treatment of postmenopausal women with metastatic breast cancer
To evaluate the drugs in combination, researchers conducted a trial involving 694 women who were randomly assigned to receive Arimidex alone or Arimidex and Faslodex. All women in the study had cancer that was hormone-receptor positive and none of them had been previously treated with chemotherapy, immunotherapy, or hormone therapy to stop the spread of disease.
The results indicated that the combination was superior to the single agent therapy. The median progression-free survival was 15 months in the combination group, compared to 13.5 months in the Arimidex alone group. Overall survival was also longer in the combination group—47.7 months compared to 41.3 months in the single agent group. Both groups had mild to moderate side effects such as joint pain and hot flashes. Although the rate was higher in the combination group, it was not statistically significant.
The researchers concluded that the combination of Arimidex and Faslodex was superior to Arimidex alone for the treatment of hormone-receptor positive metastatic breast cancer—even though the dose of Faslodex was below the current standard dose. (3)
References:
Coleman R, et al. Effect of anastrazole on bone mineral density: 5-year results form Arimidex, Tamoxifen, Alone or in Combination (ATAC) trial. Proceedings from the 42nd annual meeting of the American Society of Clinical Oncology. June 2006. Atlanta, GA. Abstract 511.
Cuzick J, Sestak I, Forbes JF, et al. Anastrozole for prevention of breast cancer in high-risk postmenopausal women (IBIS-II): an international, double-blind, randomised placebo-controlled trial. The Lancet. Published early online December 12, 2013. doi:10.1016/S0140-6736(13)62292-8.
Mehta RS, Barlow WE, Albain KS, et al. Combination anastrozole and fulvestrant in metastatic breast cancer. New England Journal of Medicine. 2012; 367:435-444.
Conat W, Gnant M, Boccardo F, Kaufmann M, Rubagotti A, Jakesz R. Switching from adjuvant tamoxifen to anastrozole in postmenopausal women with hormone-responsive early breast cancer: a meta-analysis of the ARNO 95 Trial, ABCSG Trial 8, and the ITA Trial. Program and abstracts of the 28th Annual San Antonio Breast Cancer Symposium; December 8-11, 2005; San Antonio, Texas. Abstract 18.