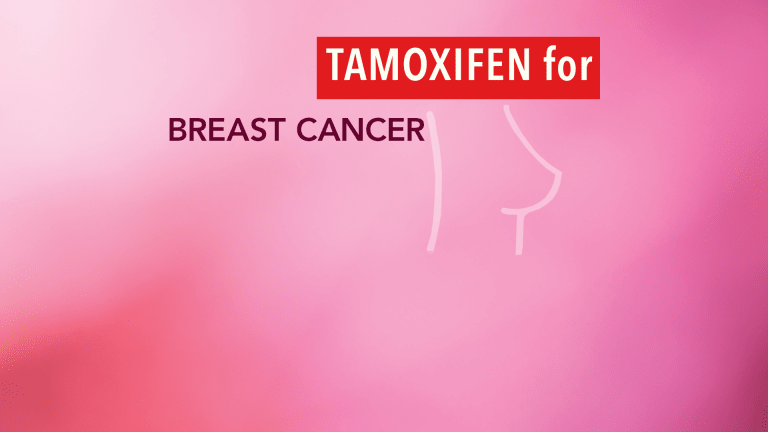 Adjuvant Tamoxifen Does Not Prevent Recurrence in Hormone-Negative Breast Cancer
Adjuvant Tamoxifen Does Not Prevent Recurrences in Hormone-Negative Breast Cancer
According to results recently published in the Journal of Clinical Oncology, use of the anti-estrogen agent tamoxifen (Nolvadex®) does not reduce recurrences or improve survival in women with early breast cancer that is hormone-receptor negative.
The majority of breast cancers are hormone-positive; in this type of cancer, cancer cells are stimulated to grow by exposure to the female hormones, estrogen and/or progesterone. These hormones circulate throughout a woman's body via the bloodstream.
A significant treatment for hormone-positive breast cancer is referred to as hormone therapy. Hormone therapy reduces or prevents exposure of estrogen and progesterone to cancer cells and thus slows or prevents growth of the cancer. Historically, tamoxifen was the most commonly used agent in hormone therapy for hormone-positive breast cancer. It has demonstrated a reduction in cancer recurrences and improved survival in women with hormone-positive breast cancer.
Evidence has suggested that tamoxifen does not provide benefit for women with hormone-negative breast cancer; however, it's been difficult to establish a definitive conclusion since nearly all trials have included women with hormone-positive and hormone status unknown as well as hormone-negative breast cancers.
Researchers from Germany conducted a clinical trial involving only women with hormone-negative early breast cancer to evaluate the potential effects of tamoxifen in these patients. Eight-hundred-two postmenopausal women with early breast cancer participated. All patients were initially treated with surgery and radiation with or without chemotherapy. Approximately half of the patients were treated with subsequent tamoxifen for 5 years or no further therapy (control group).
Tamoxifen provided no benefit for these patients at a median follow-up of 5.3 years:
Event-free survival (no recurrences, second cancers or death) was 70.3% for patients treated with tamoxifen and 72.8% for the control group.
Overall survival was approximately 82% for patients in either group.
The researchers concluded that tamoxifen does not benefit patients with early, hormone-negative breast cancer. The rate of cancer recurrences and overall survival were not improved in women treated with 5 years of tamoxifen. Women with hormone-negative breast cancer may wish to discuss their individual risks and benefits of treatment with tamoxifen with their physician.
Reference: Kaufmann M, Graf E, Jonat W, et al. Tamoxifen vrsus control after adjuvant, risk-adapted chemotherapy in postmenopausal, receptor-negative patients with breast cancer: A randomized trial (GABG-IV) – The German Adjuvant Breast Cancer Group. Journal of Clinical Oncology. 2005;31:7842-7848.