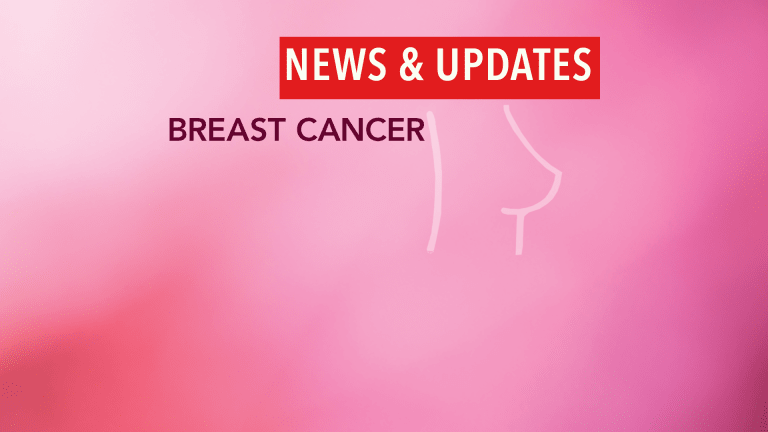 Additional Breast Screening Methods May Benefit High-Risk Women
Additional Breast Screening Methods May Benefit High-Risk Women
The use of MRI for detection of breast cancer has been rising steadily.1,2 Screening high-risk women with ultrasound or MRI in addition to mammography results in a higher rate of cancer detection, but also increased false-positive results, according to the results of a study published in the Journal of the American Medical Association.3
A mammogram is an X-ray of the breast. A screening mammogram is a mammogram that is performed in a woman without breast symptoms. The goal of screening mammography is to detect breast cancer at an early stage when it is most easily treated.
Different groups of experts have reached different conclusions about the optimal way to screen for breast cancer. Women at high risk of breast cancer may benefit from shorter screening intervals as well as supplemental screening with ultrasound and/or magnetic resonance imaging (MRI). MRI uses radio waves and a magnet to create detailed images of the inside of the body. For the detection of breast cancer, MRI tends to be more sensitive than mammography. The American Cancer Society recommends breast cancer screening for high-risk women include MRI and mammography.
To evaluate the benefit of supplemental screening, researchers conducted a multi-center study that included 2,662 women at an elevated risk for breast cancer. The women underwent annual mammography and ultrasound screening at 0, 12, and 24 months. In order to be eligible for the MRI sub-study, women had to have completed the third round of annual ultrasound/mammography screenings and agreed to undergo contrast-enhanced breast MRI within 8 weeks of the 24-month screening mammogram.
During the 3-year study, a total of 110 women were diagnosed with breast cancer. One woman was diagnosed with two separate breast cancers in the first and third year, resulting in a total of 111 breast cancer events. Of these, 33 were detected by mammography only, 32 by ultrasound only, 26 by both, and 9 by MRI after mammography plus ultrasound; 11 were not detected by any of the imaging tests.
The MRI sub-study included 612 women, 16 of whom were diagnosed with breast cancer. Nine of these 16 cancers were seen only on MRI after negative mammography and ultrasound results. Two invasive cancers that were detected by ultrasound but not mammography were also detected by MRI.
The results indicated that MRI significantly increased detection of early breast cancer compared to mammography alone or mammography plus ultrasound. There was a 56 percent absolute increase in cancer detection in the MRI sub-study compared to a 34 percent absolute increase in cancer detection with the addition of ultrasound to mammography.
The researchers concluded that the addition of screening ultrasound or MRI to mammography in high-risk women may result in a higher cancer detection rate; however, because these supplemental screening tests come with higher false-positive rates and a higher cost, they may not be appropriate for everyone. It's always important to discuss optimal screening protocol with your physician. Depending on your risk for breast cancer, supplemental screening could provide some benefit.
Reference:
Stout NK, Nekhlyudov L, Li L, et al. Rapid increase in breast magnetic resonance imaging use: Trends from 2000 to 2011. JAMA Internal Medicine. Published early online November 18, 2013. doi:10.1001/jamainternmed.2013.11958.
Wernli KJ, DeMartini WB, Ichikawa L, et al. Patterns of breast magnetic resonance imaging use in community practice. JAMA Internal Medicine. Published early online November 18, 2013. doi:10.1001/jamainternmed.2013.11963
Berg, WA, Zhang Z, Lehrer D, et al. Detection of breast cancer with addition of annual screening ultrasound or a single screening MRI to mammography in women with elevated breast cancer risk. JAMA. 2012; 307(13):1394-1404.
Knowledge is power. Are you facing a new diagnosis, recurrence, living with metastatic disease, or supporting a loved one through their cancer journey?