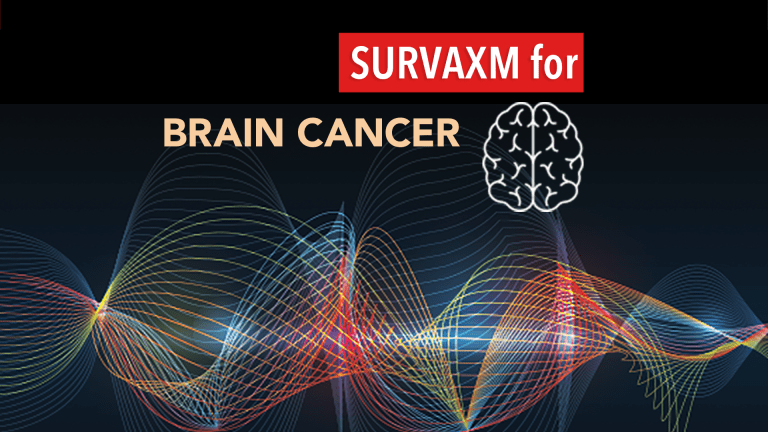 SurvaxM May Prolong Survival in Glioblastoma
Clinical Trial of Immunotherapy for Glioblastoma Show Significant Clinical Benefit - Now Enrolling Patients
by Dr. C.H. Weaver M.D. updated 2/2022
Glioblastoma is the most common and aggressive form of primary brain cancer in adults. With standard therapy — surgery followed by chemoradiation and then adjuvant chemotherapy — the median overall survival is 15 months, with only 3-5% of patients living 5 years or more.
Researchers are exploring whether adding SurVaxM to standard therapy improves outcomes for patients with newly diagnosed glioblastoma. Analyzing results to date for 63 patients treated with this combination, the team found that 91% of patients receiving SurVaxM as part of this combination therapy were still living 12 months after initiating treatment, compared to 61% in a historical analysis of patients treated with standard therapy alone, and that 96% achieved six-month progression-free survival, compared to 54% among the historical comparison group. Moreover, 13 of 63 patients continue to be without progression a year or longer into their participation in the study.
Roswell Park - First center to treat newly diagnosed glioblastoma patients as part of late-stage trial with SurVaxM
SurVaxM is a peptide mimic immunotherapy discovered at Roswell Park
In earlier studies, the immunotherapy significantly extended patients' lives
Multi-center trial to be offered at 15 sites in the U.S. and China
Roswell Park Comprehensive Cancer Center is the first center to treat patients in a newly opened advanced-stage clinical trial utilizing the brain cancer vaccine SurVaxM, offering a new treatment option for patients with newly diagnosed adult glioblastoma. 
Learn more at www.roswellpark.org, or contact us at 1-800-ROSWELL (1-800-767-9355) or ASKRoswell@RoswellPark.org.
"These interim phase II trial results in newly diagnosed glioblastoma patients are very promising and offer the potential for longer-term survival in this group where there is great unmet medical need," says the study's senior author, SurVaxM who is Chair of Neurosurgery at Roswell Park and Chief Medical Officer at MimiVax. "We believe this drug has the potential to change the glioblastoma treatment paradigm."
SurVaxM, which was invented at Roswell Park, targets a cell-survival protein called survivin that is present in 95% of patients with glioblastomas, and also in patients with many other cancers. Awarded orphan drug designation by the U.S. Food and Drug Administration (FDA) in 2017, the vaccine has dual mechanisms of action to stimulate a patient's T-cell immunity and also employs antibody-directed inhibition of the survivin pathway to control tumor growth and prevent or delay tumor recurrence.
https://www.roswellpark.org/newsroom/201906-phase-ii-trial-shows-favorable-response-patients-receiving-combination-therapy-survaxm
For more information about the phase II clinical trial, call 1-800-ROSWELL (1-800-767-9355)