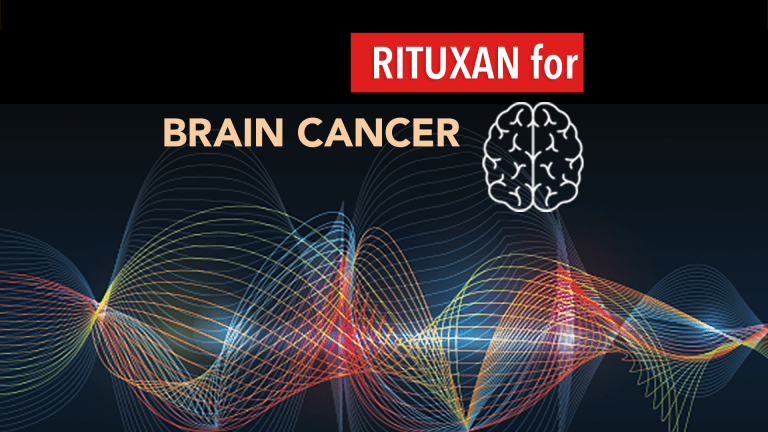 Rituxan® May Be Effective in Central Nervous System Lymphomas
Rituxan® May Be Effective in Central Nervous System Lymphomas
Rituxan® (rituximab) may be effective in the treatment of lymphoma that affects the brain and spinal cord (central nervous system). These results were recently presented at the 2008 annual meeting of the American Society of Clinical Oncology.
Lymphoma is a type of cancer that affects the body's immune cells. Some lymphomas can originate in the central nervous system (CNS), although this is not common. These lymphomas are referred to as primary central nervous system lymphoma (PCNSL). As well, lymphomas can spread (metastasize) from the body's lymph organs to the CNS. Treatment of lymphomas affecting the CNS is difficult because the CNS is surrounded by a membrane referred to as the blood-brain barrier that only permits select molecules to touch the brain or spinal cord. The blood-brain barrier selectively blocks the majority of chemotherapy or targeted agents from entering the CNS.
B-cells are the most common type of immune cells to become cancerous in lymphoma. Rituxan is an agent that is targeted against a specific component on a type of B-cell and is widely used in the treatment of several types of lymphoma. Although Rituxan has been well-established as an effective and well-tolerated therapy for lymphoma, its effectiveness in PCNSL and CNS metastases has not been well studied.
To further explore the effectiveness of Rituxan in CNS lymphomas, researchers affiliated with the New Approaches to Brain Tumor Therapy (NABTT) consortium initiated a clinical trial to evaluate Rituxan in patients with PCNSL that has stopped responding to standard therapies. Enrollment for the trial is ongoing; however, results from the first nine patients are available.
Cancer has regressed in one-third (three) of patients, with one patient achieving a complete disappearance of detectable cancer.
Anticancer responses lasted for 174 days and 228 days, respectively, for two of the patients who achieved responses. One of the patients continues to experience an anticancer response at more than 324 days following therapy.
Severe side effects occurred in four patients and included allergic reaction, fatigue, anxiety, and pain.
The researchers concluded that Rituxan used alone for patients with PCNSL that does not respond to standard therapies may provide effective treatment for some patients, as regression of cancer was achieved in one-third of patients. The authors state that treatment with Rituxan warrants further study in combination with other chemotherapy agents; they add, "Maintenance [Rituxan] is well tolerated and may improve disease control in this patient population." Further enrollment and follow-up for this trial are ongoing.
Patients with PCNSL that has stopped responding to prior therapies may wish to speak with their physician regarding their individual risks and benefits of treatment with Rituxan alone as well as the participation in clinical trials evaluating this or other novel therapeutic options. Sources of information regarding ongoing clinical trials include the National Cancer Institute (www.cancer.gov).
Reference: Batchelor T, Lesser G, Grossman S, et al. Rituximab monotherapy for relapsed or refractory primary central nervous system lymphoma. Proceedings from the 2008 annual meeting of the American Society of Clinical Oncology. Abstract #2043.