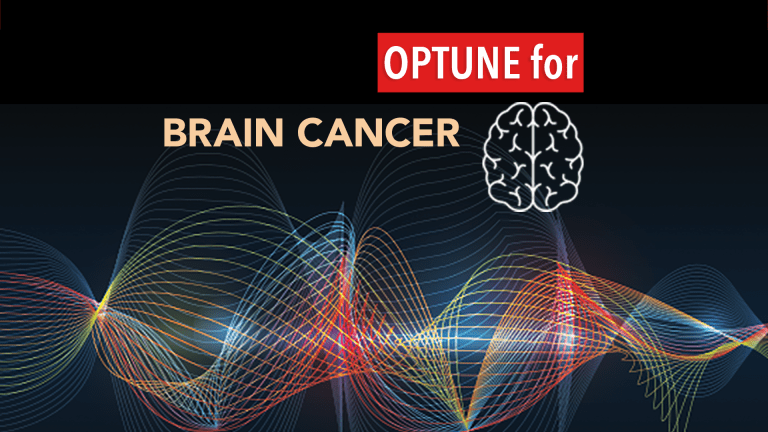 Optune Approved for Newly Diagnosed Glioblastoma Multiforme
Optune moderately improves the outcomes of patients with Glioblastoma Multiforme.
by Dr. C.H. Weaver M.D. updated 6/2019
The United States Food and Drug Administration has expanded the approval of the Optune device for the treatment of patients with newly diagnosed glioblastoma multiforme (GBM) because it delays GBM progression and improves survival on average from 32% with chemotherapy to 43% with Optune.1,2 Although a clinical trial has not been performed comparing Optune use during initial treatment to use at time of recurrence studies suggest Optune is no better than chemotherapy at time of recurrence.3
Glioblastoma multiforme is an extremely aggressive form of brain cancer. Average survival of patients with GBM is less than 15 months because the cancer tends to be resistant to standard therapies. Research is ongoing in order to identify treatment that provides lasting anti-cancer responses for patients with this disease.
Optune is a medical device that is already approved for patients with GBM whose disease recurs following prior therapy. The device is to be used in conjunction with treatment consisting of the chemotherapy agent, temozolomide (TMZ) and/or other standard therapies.
Optune is a device in which electrodes are placed on the surface of the patients scalp. These electrodes deliver low-intensity, alternating electrical fields referred to as "tumor treatment fields" (TTFields). The cancer cells, which have a unique shape and divide much more rapidly compared to healthy cells, are more susceptible to damage to TTFields. In turn, the damaged cancer cells stop growing.
Optune is a portable device that can be powered with batteries or plugged into an electrical circuit, allowing patients to continue their normal activities.
Newly Diagnosed GBM
The trial prompting approval of Optune for newly diagnosed GBM included 695 patients who had not received prior therapy for their disease. One group of patients received standard therapy with the chemotherapy agent temozolomide, while the other group of patients received treatment with temozolomide plus Optune.
The average survival was initially reported as 19.4 months for patients treated with Optune plus temozolomide, compared with only 16.6 months for patients treated with temozolomide only. Longer follow up shows that Optune maintained its survival benefit: 43% vs 31% for temozolamide at 2 years and 13% vs 5% at 5 years.
Average survival with no disease progression was 7 months for patients who received treatment with Optune/temozolomide, compared with only 4 months for patients who received temozlomide only.
Compliance Matters
Studies have shown that individuals who wear the device more than 70% of the time further improve their overall survival.
The most common side effect associated with Optune was skin irritation.
Recurrent GBM
Optune was also compared to chemotherapy used at the time of initial relapse and there we no improvement in overall survival with Optune compared to chemotherapy.3
References:
William Maisel, M.D., M.P.H., acting director of the Office of Device Evaluation in the FDA's Center for Devices and Radiological Health stated that "while the treatment is not a cure, it can increase survival by several months."
United States Food and Drug Administration. FDA News Release. FDA approves expanded indication for medical device to treat a form of brain cancer. Available at: http://www.fda.gov/NewsEvents/Newsroom/PressAnnouncements/ucm465744.htm. Accessed October 12, 2015.