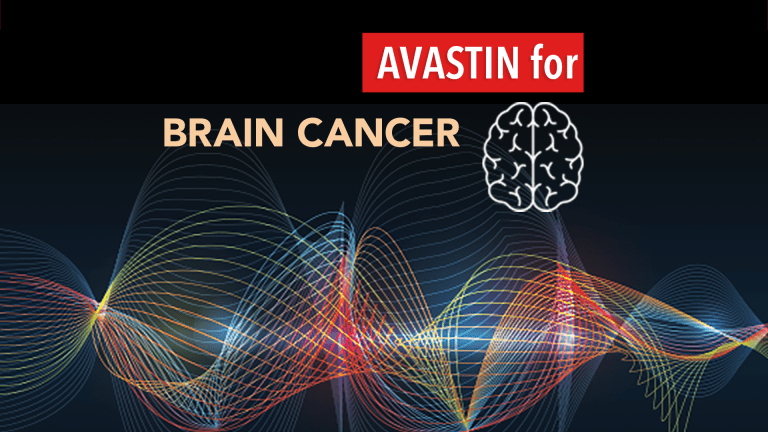 No Added Toxicity with Avastin in Glioblastoma
No Added Toxicity with Avastin in Glioblastoma
The addition of Avastin® (bevacizumab) to standard chemoradiation significantly slowed the progression of glioblastoma without added toxicity, according to the results of a study presented at the annual meeting of the American Society of Radiation Oncology.
Glioblastoma is a aggressive type of type of brain tumor that occurs mainly in adults. Treatment often involves surgery followed by radiation and chemotherapy with Temodar® (temozolomide). Because survival tends to be poor even with aggressive treatment, researchers continue to evaluate new ways of treating this disease.
Avastin is a targeted therapy that blocks a protein—VEGF—that plays a key role in the development of new blood vessels. This deprives the cancer of nutrients and oxygen and inhibits its growth. Avastin is used for the treatment of selected patients with lung cancer, colorectal cancer, kidney cancer, or glioblastoma. In the case of glioblastoma, it's used after other treatments have failed.
Researchers performed a phase III randomized trial that included 921 patients with newly diagnosed glioblastoma. Patients were randomized to receive standard chemoradiation with Avastin or placebo. After a 4-week treatment break, the randomized groups began maintenance therapy with Temodar plus Avastin or placebo, followed by monotherapy with Avastin or placebo until disease progression.
The trial had co-primary endpoints of overall survival and progression-free survival (PFS). Avastin did not appear to improve overall survival, as patients who received Avastin had a median overall survival of 16.8 months compared to 16.7 months for patients who received placebo. It did, however, appear to improve PFS—median PFS for those receiving Avastin was 10.6 months, compared with 6.2 months for those receiving placebo.

What's more, Avastin did not adversely affect quality of life or functional independence and was associated with a reduction in corticosteroid use. The researchers found that adverse events were generally comparable between the two treatment arms—the rate of adverse events was 88.9 percent with placebo and 91.1 percent with Avastin. Serious adverse events occurred in 12.0 percent of the placebo group and 15.4 percent of the Avastin group and grade 3 to 5 adverse events occurred in 29.1 percent of the placebo group and 31.5 percent of the Avastin group. Adverse events leading to treatment interruption or discontinuation occurred in 4 percent of the placebo group and 6.3 percent of the Avastin group.
The most common adverse events of special interest for Avastin were hemorrhage (16.3% versus 8% for the placebo group), hypertension (10.4% versus 4.4%), venous thromboembolism (VTE, 3.7% versus 3.6%), wound-healing complications (3.3% versus 1.1%), and proteinuria (2% in both groups).
The researchers concluded that the addition of Avastin to Temodar and radiation therapy significantly improved PFS without adding to the toxicity profile of the treatment regimen.
Reference:
Saran F, Henriksson R, Mason W, et al. The addition of bevacizumab to temozolomide and radiotherapy in newly diagnosed glioblastoma multiforme improves progression-free survival without adding to radiotherapy toxicity. Proceedings of the 55th Annual Meeting of the American Society of Radiation Oncology. International Journal of Radiation Oncology Biology Physics.
2013; 87(2): Supplement page S16, Abstract 37.