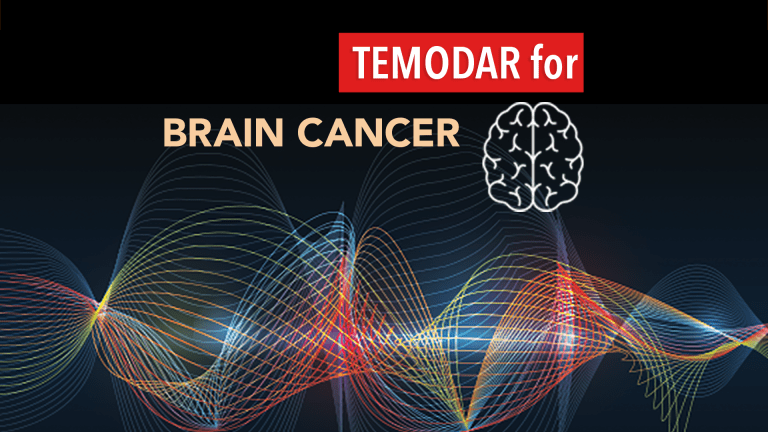 Continuous Temodar Shows Promise Against Recurrent Glioma
Continuous Temodar Shows Promise Against Recurrent Glioma
Among patients with recurrent malignant glioma, treatment with continuous dose-intense Temodar® (temozolomide) shows promising safety and efficacy. The results of this Phase II clinical trial were published in the Journal of Clinical Oncology.
Primary brain cancer is cancer that originates in the brain. Glioblastoma is one of the most common and fatal types of primary brain cancer. It develops from the glial cells, which are the most abundant cells in the nervous system. Glial cells provide supportive functions that facilitate the work of neurons (cells that transmit impulses between the brain, spinal column, and nerves).
Initial treatment of glioblastoma often involves surgery followed by radiation and chemotherapy with Temodar. Although this approach has improved outcomes, many patients eventually experience cancer progression or recurrence. Treatment options for recurrent glioblastoma remain limited, and research in this area continues.
To evaluate the effect of continuous Temodar among patients with recurrent high-grade glioma (either glioblastoma or anaplastic glioma), researchers conducted a Phase II clinical trial among 120 patients. All patients had received Temodar as part of their initial treatment.
Study participants received Temodar continuously (every day) at a dose of 50 mg/m2/day for a maximum of 12 months or until disease progression.
Six-month progression-free survival was 24% for patients with glioblastoma and 36% for patients with anaplastic glioma.
Among patients with glioblastoma, outcomes appeared to be best among those who had experienced progression during the first six months of conventional adjuvant Temodar or after a treatment-free interval.
The dose and schedule of Temodar evaluated in this study was generally well tolerated.
These results suggest that continuous, dose-intense Temodar is active and well tolerated among patients with recurrent malignant glioma. Whether this regimen is better than other Temodar regimens currently being evaluated remains uncertain.
Reference: Perry JR, Belanger K, Mason WP et al. Phase II trial of continuous dose-intense temozolomide in recurrent malignant glioma: RESCUE study. Journal of Clinical Oncology [early online publication]. March 22, 2010.