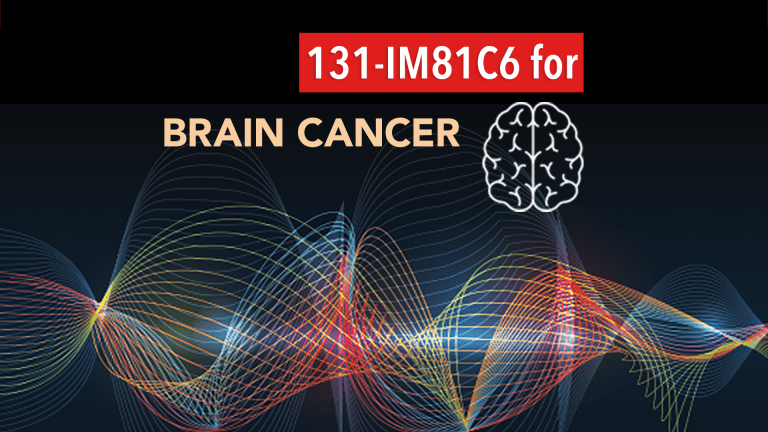 131-Im81C6 Promising for Recurrent Brain Tumors
131-Im81C6 Promising for Recurrent Brain Tumors
According to a recent article published in the Journal of Clinical Oncology, the placement of a novel agent (131-Im81C6) into the cavity in the brain from which the cancer was surgically removed may improve outcomes in patients with recurrent brain cancer.
Approximately 20,000 individuals are diagnosed annually in the U.S. with cancer that originates in the brain. There are several different types of brain cancer; they are distinguished by the cells in the brain where the cancer originates, the extent of spread, aggressiveness of the cancer, and characteristics of the cancer.
Initial therapy for brain cancer may include the surgical removal of the cancer, radiation to the brain, and/or chemotherapy. Unfortunately, a large portion of patients with brain cancer experience a recurrence or progression of their cancer following initial therapy. Survival for these patients remains poor, and researchers continue to evaluate novel methods to improve survival with recurrent brain cancer.
Often, brain cancer recurs at or near the area of the initial cancer; this demonstrates a need to kill additional cancer cells that may be undetectable near the site of cancer.
131-Im81C6 is an agent that is still in clinical trials. It consists of a monoclonal antibody (m81C6) that is attached to a radioisotope (131-I).The monoclonal antibody portion has been developed to bind specifically to brain cancer cells, while not binding to surrounding healthy cells. Once bound, the radioisotope spontaneously emits radiation to the surrounding area, killing any cancer cells in the targeted location. It is placed in the cavity in the brain created by the surgical removal of the cancer.
Researchers from Duke University Medical Center recently conducted a clinical trial evaluating 81C (131I-m81C6) for the treatment of recurrent brain cancer. This trial included 43 patients with recurrent brain cancer (glioblastoma multiforme (33 patients), anaplastic astrocytoma (6 patients), anaplastic oligodendroglioma (2 patients), and gliosarcoma (1 patient). Sixty percent of patients received subsequent chemotherapy. Median follow-up of these patients has been 172 weeks.
At one year, 60% of all patients were alive.
At one year, 63% of patients with glioblastoma multiform (GBM) and gliosarcoma (GS) were alive.
At one year, 59% of patients with anaplastic astrocytoma (AA) and anaplastic oligodendroglioma (AO) were alive.
Median overall survival was 64 weeks for patients with GBM/GS.
Median overall survival was 99 weeks for patients with AA/AO.
The most common severe side effects included low levels of blood cells (23%), neurotoxicity (headache, weakness, language impairment, paralysis); both were reversible.
The researchers concluded that the placement of 131I-m81C6 into the brain appears to provide improvements in outcomes when compared to historical data for patients with recurrent brain cancer. This agent will continue to be studied; a phase III trial has been planned.
Patients with recurrent brain cancer may wish to speak with their physician regarding their individual risks and benefits of participation in a clinical trial further evaluating 131Im-81C6 or other novel therapeutic treatment regimens.
Reference: Reardon D, Akabani G, Coleman R, et al. Salvage Radioimmunotherapy With Murine Iodine-131–Labeled Antitenascin Monoclonal Antibody 81C6 for Patients With Recurrent Primary and Metastatic Malignant Brain Tumors: Phase II Study Results. Journal of Clinical Oncology. 2006; 24: 115-122.