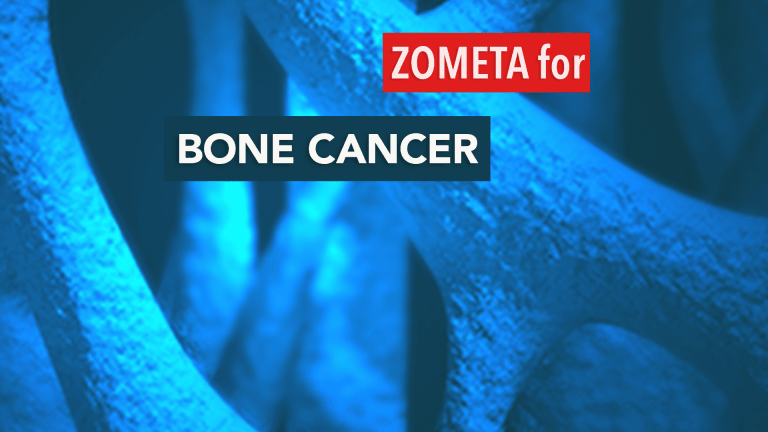 Zometa® Reduces Skeletal Complications Compared to Placebo
Zometa® Reduces Skeletal Complications Compared to Placebo
In the first trial comparing Zometa® (zoledronic acid) to placebo (inactive substitute), Zometa® produced a significant clinical benefit in patients with bone metastases from breast cancer.[1] These results were presented by Japanese researchers at the 29th Congress of the European Society of Medical Oncology (ESMO) held in Vienna Austria, October 29-November 2, 2004.
Breast cancer is the most common cancer diagnosed in women in the United States, claiming the lives of approximately 40,000 women annually. Although treatment for patients with early-stage breast cancer, or cancer that has not spread from its site of origin, results in high cure rates, some patients ultimately experience a recurrence and spread of their cancer. Metastatic breast cancer refers to cancer that has spread from the breast to distant sites in the body, often invading vital organs.
Many patients with advanced breast cancer experience bone metastases, or spread of cancer to the bones. Through complex biological pathways, bone metastases severely reduce the quality of life of a patient and may ultimately cause debilitating bone pain, bone fractures, spinal compression (a life-threatening condition) and/or abnormalities in calcium levels in the blood. Treatment for bone metastases is aimed primarily at reducing pain, delaying the time to fractures or reversing hypercalcemia (high levels of calcium in the blood).
Bisphosphonates are a class of drugs used for the treatment of cancer-related hypercalcemia (high levels of calcium in the blood) and treatment of bone metastases in patients with advanced cancers. Bisphosphonates decrease the rate of bone destruction in patients with bone metastases and clinical studies have demonstrated that bisphosphonates can significantly decrease the pain and number of fractures occurring from bone metastases. Research involving bisphosphonates is ongoing, as physicians are trying to determine the optimal timing of treatment with bisphosphonates in the course of cancer.
Zometa® (zoledronic acid) is a new generation bisphosphonate that inhibits osteoclast bone resorption. A meta-analysis of 30 randomized studies that evaluated bisphosphonates in patients with bone metastasis completed by researchers from the UK has shown that bisphosphonates decrease skeletal complications in patients with bone metastasis, but the drugs do not improve survival.[2] Zometa® is approved by the FDA for the treatment of bone metastases.
This recent, placebo-controlled trial of Zometa® was conducted to produce evidence for approval of the drug in Japan. The Japanese study involved 455 patients with bone metastases as a result of breast cancer. Median age was 53 years. Half of the patients received Zometa® as a 15-minute IV infusion every 4 weeks for 12 months and the other half received placebo (inactive substitute). Zometa® significantly reduced the number of patients who experienced at least one skeletal related complication or event (SRE). For those that experienced skeletal complications, Zometa® increased the time before the first SRE occurred
Table 1: Incidence of Skeletal Related Events with Zometa® versus Placebo
The researchers determined that Zometa® reduced the risk of skeletal complications by approximately 40% compared to placebo; however, the risk of hypercalcemia of malignancy was not changed. Zometa® also appeared to reduce bone pain, as determined by patient-reported scores to a bone pain inventory.
References:
[1] Minami H, Kohno N, Aogi K, et al. Zoledronic Acid Significantly Reduces Skeletal Complications Compared with Placebo in Japanese Women with Bone Metastases From Breast Cancer: A Randomized, Placebo-Controlled Trial. Proceedings from the 29th ESMO Congress, Vienna Austria, 10.29-11.2.2004; (Abstract #194).
[2] Ross JR, Saunders Y, Edmonds PM, et al. Systematic Review of Role of Bisphosphonates on Skeletal Morbidity in Metastatic Cancer. British Medical Journal . 2003;327:469-471.