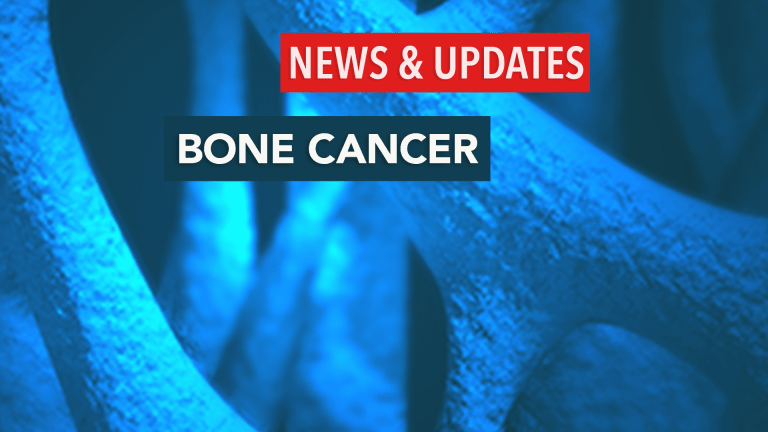 Shortened Chemotherapy Cycles Do Not Improve Survival with Osteosarcoma
Shortened Interval Between Chemotherapy Cycles Does Not Improve Survival with Osteosarcoma
According to the results of a study published in the Journal of the National Cancer Institute, osteosarcoma patients treated with the chemotherapy drugs cisplatin and doxorubicin every two weeks did not have better survival than patients who received the same drugs every three weeks.
Osteosarcoma is a type of cancer that originates in the bone. Patients with osteosarcoma are often young; the disease most commonly affects individuals between 10 and 25 years of age.
Dose-dense chemotherapy generally refers to chemotherapy administered with a shortened interval between cycles; for example, chemotherapy that is usually given every three weeks may be given every two weeks. These dose-dense regimens may kill more cancer cells, but they also allow less time for bone marrow recovery and are associated with anemia (low red blood cell level) and neutropenia (low white blood cell level).
To compare dose-dense chemotherapy to conventional chemotherapy in patients with nonmetastatic, high-grade osteosarcoma of an extremity, researchers in Europe conducted a Phase III clinical trial among 497 patients.
All study participants received six cycles of cisplatin and doxorubicin. Half the patients received chemotherapy every three weeks (conventional chemotherapy group), and half the patients received chemotherapy every two weeks (dose-dense group). To reduce the risk of neutropenia (below normal levels of neutrophils, a type of white blood cell), patients in the dose-dense group also received treatment with a white blood cell booster. Patients in both study groups had surgery during the sixth week of treatment.
78% of patients in the conventional chemotherapy group and 80% of patients in the dose-dense chemotherapy group completed six cycles of chemotherapy.
Patients in the dose-dense group were less likely to experience very low white blood cell levels and more likely to experience thrombocytopenia (low platelet levels) and mucositis (inflammation of the lining of the mouth or gastrointestinal tract).
There was no significant difference between study groups in overall or progression-free survival.
This study suggests that among patients with high-grade osteosarcoma treated with cisplatin and doxorubicin, shortening the interval between chemotherapy cycles from three weeks to two weeks does not improve survival.
Reference: Lewis IJ, Nooij MA, Whelan J et al. Improvement in histologic response but not survival in osteosarcoma patients treated with intensified chemotherapy: a randomized Phase III trial of the European Osteosarcoma Intergroup. Journal of the National Cancer Institute. 2007;99:112-28.