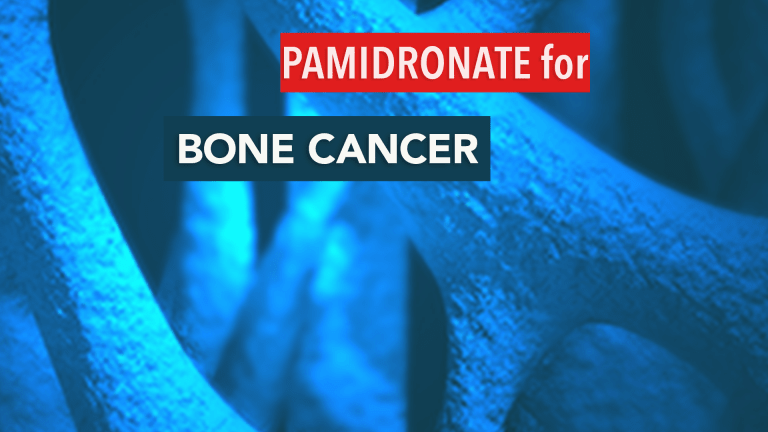 Pamidronate Prevents Bone Destruction in Women with Breast Cancer
Pamidronate Prevents Bone Destruction in Women with Breast Cancer that Has Spread to the Bone
A drug called pamidronate, combined with chemotherapy, appears to be effective in preventing or delaying bone destruction and related pain in women with breast cancer that has spread to the bone, say researchers. This news comes as the result of 2 long-term studies conducted in several medical centers.
Breast cancer is characterized by the presence of cancer cells in the tissue or ducts of the breast. Depending on the stage of disease, treatment options may include surgery, chemotherapy, radiation therapy, and/or hormone therapy. For women with advanced disease that has spread to other parts of the body, the goal of treatment is usually to relieve the symptoms of disease and to prolong survival time. Sometimes cancer cells can spread to the bone marrow and bone, producing hormones that stimulate cells in the bone marrow, called
osteoclasts. These osteoclasts can then dissolve parts of the bone. Palmidronate inhibits this osteoclast function and promotes bone healing. Previously conducted short-term studies of palmidronate have shown promise in this agent's ability to prevent or delay bone destruction in cancers of the bone marrow and breast. Now, 2 long-term studies confirm these findings.

A total of 751 women breast cancer that had spread to the bone were treated with chemotherapy. Then, some were assigned to receive either monthly 90-mg infusions of pamidronate or placebo. The women were followed for at least 2 years. The results showed that 64% of women who received the placebo had significant bone damage, compared with only 51% of those who received pamidronate. The average time to the occurrence of the first bone complication was 13 months in the pamidronate group, and only 7 months in the placebo group. Furthermore, women who did not receive the pamidronate had significantly more pain and received more pain medications.
These researchers concluded that 90-mg infusions of pamidronate every 3 to 4 weeks, in addition to chemotherapy, appears to prevent or delay bone complications and should be a standard treatment for women who have breast cancer that has spread to the bone. Persons with this type of breast cancer may wish to talk with their doctor about the risks and benefits of pamidronate, or of participating in a clinical trial in which other new treatments are being studied.
Cancer, Vol 88, No 5, pp 1082-1090, 2000)