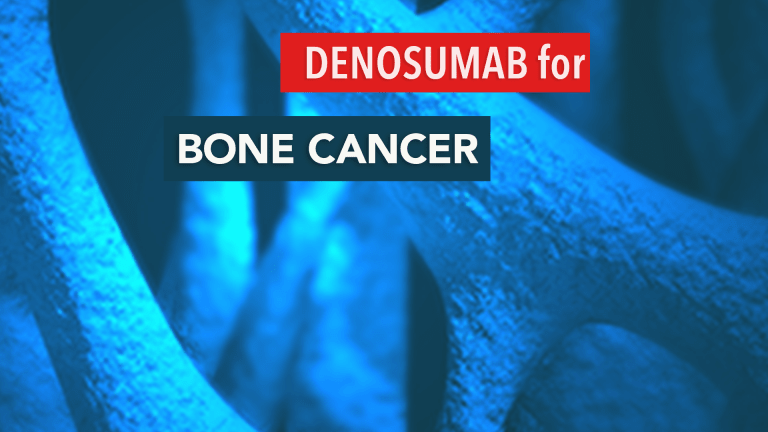 Denosumab More Effective than Zometa® in Patients with Bone Metastases
Denosumab More Effective than Zometa® in Patients with Bone Metastases
Among women with bone metastases from breast cancer, the investigational drug denosumab was more effective than Zometa® (zoledronic acid) at reducing the risk of bone complications such as fracture. The results of this Phase III clinical trial were made available in a press release from Amgen.
Metastatic cancer refers to cancer that has spread to distant sites in the body. Several types of cancer—including breast cancer—have a tendency to spread to the bone. Bone metastases can lead to serious problems such as fracture and spinal cord compression, and may require treatment with surgery or radiation therapy.
Bisphosphonate drugs such as Zometa are commonly used to reduce the risk of complications from bone metastases. Researchers continue, however, to explore new approaches to treatment.
Denosumab is an investigational drug that targets a protein known as the RANK ligand. This protein regulates the activity of osteoclasts (cells that break down bone). Denosumab has shown promising results in the management of patients with bone metastases as well as the management of bone loss due to cancer treatment.
To directly compare denosumab to Zometa among breast cancer patients with bone metastases, researchers conducted a Phase III clinical trial. The study enrolled more than 2,000 patients. Study participants were assigned to receive either denosumab or Zometa.
The objective of the study was to determine whether the occurrence of bone complications ("skeletal related events") differed between the two study groups. The bone complications that were evaluated were fracture, radiation to the bone, surgery to the bone, and spinal cord compression.
Patients treated with denosumab remained free of bone complications longer than patients treated with Zometa.
The results of this study suggest that denosumab may be more effective than Zometa in the management of patients with bone metastases. Full results are expected to be presented at an upcoming medical meeting.
Reference: Amgen press release. Denosumab demonstrates superiority over Zometa in pivotal phase 3 head-to-head trial in breast cancer patients with bone metastases. Available here Accessed July 8, 2009.