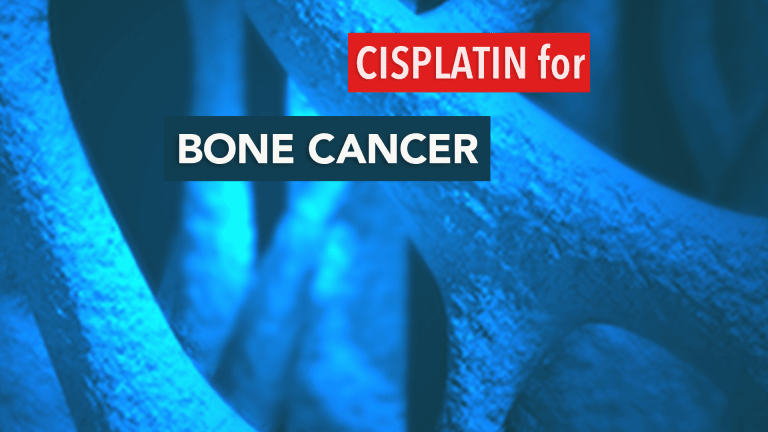 Cisplatin Benefits Patients with Metastatic Osteosarcoma
Cisplatin Benefits Patients with Metastatic Osteosarcoma
A comparison of two clinical trials suggests that the chemotherapy drug cisplatin is more effective against metastatic osteosarcoma than the chemotherapy drug carboplatin. These results were published in the journal Cancer.
Osteosarcoma is a type of cancer that originates in the bone. Patients with osteosarcoma are often young; the disease most commonly affects individuals between 10 and 25 years of age. Metastatic osteosarcoma refers to osteosarcoma that has spread to other parts of the body. Osteosarcoma most often spreads to other bone or to the lungs. Because the prognosis for metastatic osteosarcoma is poor, researchers continue to evaluate new treatment approaches.
Between 1986 and 1997, researchers at St. Jude Children's Hospital in Memphis, Tennessee, conducted two clinical trials of different chemotherapy regimens among patients with metastatic osteosarcoma. In both trials, patients received neoadjuvant chemotherapy (chemotherapy given before the primary treatment), followed by surgery, which was followed by adjuvant chemotherapy (chemotherapy given after the primary treatment).
The first trial assessed the chemotherapy drugs ifosfamide, cisplatin, doxorubicin, and high-dose methotrexate. The second trial used carboplatin in place of cisplatin. Comparison of these two trials enabled the researchers compare the effectiveness of carboplatin to the effectiveness of cisplatin.
Carboplatin is known to be less toxic than cisplatin, and if it also proved to be as or more effective than cisplatin, it could offer improved treatment for patients with osteosarcoma. Results among patients with localized osteosarcoma suggested that the two drugs produced similar benefits, but the effect among patients with metastatic osteosarcoma was uncertain.
The first trial included 12 patients with metastatic osteosarcoma and the second trial included 17 patients with metastatic osteosarcoma. Median age at diagnosis was 15 years in both studies, and the most common site of metastasis was the lung.
Across the two studies, five-year overall survival was 24%.
Overall, five of the 29 patients survived. Four of the 12 patients in the first trial (the trial that used cisplatin) survived, compared to only one of the 17 patients in the second trial (the trial that used carboplatin).
Because of the better survival in the trial that used cisplatin, the researchers conclude that use of cisplatin is warranted-in spite of its greater toxicity-in the treatment of patients with metastatic osteosarcoma. Given the poor survival in both trials, however, new treatment approaches must continue to be evaluated.
Reference: Daw NC, Billups CA, Rodriguez-Galindo C et al. Metastatic Osteosarcoma: Results of Two Consecutive Therapeutic Trials at St. Jude Children's Research Hospital. Cancer. 2006;106:403-12.