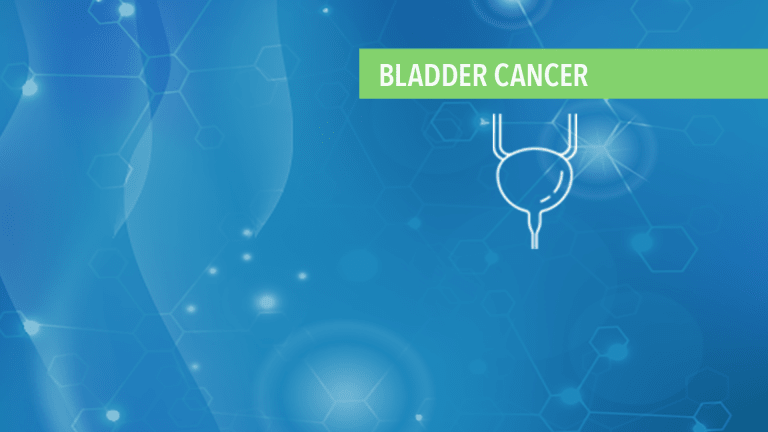 Treatment of Stage II and III Bladder Cancer
The role of surgery, radiation and systemic treatment for state II and III bladder caner.
The role of surgery, radiation and systemic treatment for state II and III bladder caner.
by Dr. C.H. Weaver M.D. updated 1/2021
Patients with Stage II (T2) bladder cancer have cancer that invades through the connective tissue into the muscle wall, but has not spread outside the bladder wall or to local lymph nodes. Patients with stage II bladder cancer invading the inner half of the muscle of the bladder wall have a better outcome than patients with invasion into the deep muscle (outer half of the muscle of the bladder wall).
Patients with Stage III bladder cancer have cancer that invades through the connective tissue and muscle and into the immediate tissue outside the bladder and/or invades the prostate gland in males or the uterus and/or vagina in females. With Stage III bladder cancer, there is no spread to lymph nodes or distant sites. Stage III bladder cancer is classified as a "deep" or "invasive" bladder cancer.
There are essentially two ways to treat stage II -III bladder cancers: primary surgical treatment consisting of radical cystectomy with some form of urinary diversion or combined modality treatment consisting of administration of chemotherapy and/or radiation therapy, followed by radical cystectomy only for those patients who do not achieve a complete response. Patients who achieve a complete response following chemotherapy and/or radiation are followed closely and are treated with a radical cystectomy if cancer returns. It is important to realize that several physicians, including a urologist, a medical oncologist, and a radiation oncologist may be required to assist you in making the appropriate decision concerning the initial choice of treatment for stage II - III bladder cancer.
The general health condition of the patient may help determine which approach to treatment is most appropriate. It is important to consider whether the patient is well enough to undergo radical cystectomy and creation of an artificial bladder. It is the general health condition, rather than age, that can be the limiting factor for this type of surgery. For patients in good condition, the choice will depend on the extent of cancer and the preferences of the patient and treating physicians.
Surgery as Primary Treatment
Radical cystectomy is a standard treatment for invasive bladder cancer. A radical cystectomy involves removal of the bladder, tissue around the bladder, the prostate, and seminal vesicles in men and the uterus, fallopian tubes, ovaries, anterior vaginal wall, and urethra in women. In addition, a radical cystectomy may or may not be accompanied by pelvic lymph node dissection. Radical cystectomy was once considered a procedure that seriously affected a patient's quality of life. With the creation of artificial bladders, referred to as continent reservoirs or "neobladders," that preserve voiding function, a radical cystectomy is now a far more acceptable procedure.
Segmental cystectomy (partial removal of the bladder) may be appropriate therapy in some patients with smaller cancers. In some cases, stage II bladder cancer may also be controlled by transurethral resection (TUR) if the cancer is small enough and does not extend far into the bladder wall. A TUR is an operation that is performed for both the diagnosis and management of bladder cancer. During a TUR, a urologist inserts a thin, lighted tube called a cystoscope into the bladder through the urethra to examine the lining of the bladder. The urologist can remove samples of tissue through this tube or can remove some or all of the cancer in the bladder.
Approximately 50-80% of patients with stage II - III bladder cancer are cured after undergoing a radical cystectomy.
To learn more about TUR and cystectomy, go to Surgery for Bladder Cancer
Systemic Therapy Prior to Cystectomy (Neoadjuvant Therapy)
Following a radical cystectomy, local recurrence of cancer is uncommon because the cancer and bladder are removed. Some patients however will still develop distant recurrences because undetected cancer cells called micrometastases spread to other locations in the body before the bladder was removed. Treatment with a systemic (whole-body) therapy such as chemotherapy or immunotherapy may reduce or eliminate these micrometastases and reduce the risk of cancer recurrence.
Neoadjuvant therapy refers to systemic therapy that is given before surgery. The rationale behind neoadjuvant therapy for bladder cancer is twofold. First, pre-operative treatment can shrink some bladder cancers and therefore, may allow more complete surgical removal of the cancer. Second, because systemic therapy kills undetectable cancer cells in the body, it may help prevent the spread of cancer when used initially rather than waiting for patient recovery following the surgical procedure.
A study published in the New England Journal of Medicine reported that patients with muscle-invasive bladder cancer who received chemotherapy prior to cystectomy had better survival than patients treated with cystectomy alone. (1)
Adjuvant Therapy After Surgery
Adjuvant therapy is a systemic treatment that follows surgical cystectomy. Clinical trials have compared adjuvant chemotherapy to no additional treatment in advanced bladder cancer and found that cystectomy plus adjuvant chemotherapy improves survival compared to treatment with cystectomy alone. (2) One study also suggests that adjuvant therapy should not be delayed. The study found that immediate treatment (< 90 days) from cystectomy delayed cancer progression and improved survival. (3)
Opdivo immunotherapy treatment was reported to significantly delayed the time to cancer recurrence following surgerey. Opdivo treated patients survived on average 21 months without cancer recurrence compared to 10.9 months for those receiving placebo. Overall therapy was well tolerated, and the most common treatment-related side effects were diarrhea, colitis, and pneumonitis. (9)
Chemotherapy and Radiation Therapy for Primary Treatment
Over the past decade, there have been many clinical trials in the United States and Europe evaluating the combination of radiation and chemotherapy for initial treatment of patients with Stage II-III bladder cancer for the purpose of preserving the bladder. Bladder-preserving therapy is appealing because patients who achieve a complete response to treatment can often avoid additional treatment with a radical cystectomy unless they experience recurrence of their cancer.
In some clinical trials, approximately half or more of patients who were treated with bladder-preserving therapy (initial TUR of as much cancer as possible, plus chemotherapy and radiation therapy) survived cancer-free for three to four years after treatment. These results appear as good as those observed with radical cystectomy, but there have been no direct comparisons between bladder-preserving therapy and radical cystectomy. While bladder-preserving therapy has been widely adopted for the treatment of Stage II bladder cancer, some physicians still think it should be limited to clinical trials and not adopted as standard therapy.
Chemotherapy Alone as Primary Treatment
Treatment with chemotherapy alone is less effective than combined approaches to treatment. (4)
Radiation Therapy Alone as Primary Treatment
Currently, the use of radiation therapy alone has been replaced by the use of radiation therapy and chemotherapy. However, there may be some patients who cannot tolerate chemotherapy, and radiation alone could be beneficial.
To learn more, go to Radiation Therapy for Bladder Cancer.
Questions to Ask Your Physician About the Treatment of Stage II Bladder Cancer
What are the long-term results of treatment with radical cystectomy at the treating institution?
What is the quality of life with the type of artificial bladder constructed at the treating institution?
What are the long-term results of bladder-sparing treatments at the treating institution?
How will systemic therapy improve my outcome compared to treatment with surgery alone?
Strategies to Improve Treatment
Most new treatments are developed in clinical trials. Clinical trials are studies that evaluate the effectiveness of new treatment strategies. The development of more effective cancer treatment for bladder cancer requires that new and innovative therapies be evaluated in patients. Participation in a clinical trial may offer access to better treatments and advance the existing knowledge about treatment of bladder cancer. Patients who are interested in participating in a clinical trial should discuss the risks and benefits with their physician.
Adjuvant Treatment After Surgery: Clinical trials have compared adjuvant chemotherapy to no additional treatment in advanced bladder cancer and found that cystectomy plus adjuvant chemotherapy improves survival compared to treatment with cystectomy alone. Additional trials are ongoing to determine the optimal combination of medications to achieve the best outcomes with adjuvant chemotherapy and whether newer immunologic therapies can provide additional benefit either alone or in combination with chemotherapy.
Precision Cancer Medicines & Immunotherapy utilizes molecular diagnostic testing, including DNA sequencing, to identify cancer-driving abnormalities in a cancer's genome. Once a genetic abnormality is identified, a specific targeted therapy can be designed to attack a specific mutation or other cancer-related change in the DNA programming of the cancer cells. Precision cancer medicine uses targeted drugs and immunotherapies engineered to directly attack the cancer cells with specific abnormalities, leaving normal cells largely unharmed. Researchers are currently evaluating whether precision cancer immunotherapy that helps to restore the body's immune system can improve outcomes for bladder cancer when administered alone or in combination with chemotherapy in all settings.
There are several PD-1 and PD-L1 inhibitors that work in bladder cancer and they are collectively referred to as "checkpoint inhibitors". Checkpoint inhibitors create their anti-cancer effect by blocking a specific proteins used by cancer cells called PD-1 and PD-L1, to escape an attack by the immune system. Once PD-L1 is blocked, cells of the immune system are able to identify cancer cells as a threat, and initiate an attack to destroy the cancer. (5-8)
Keytruda (pembrolizumab)
Imfinzi (durvalumab)
Tecentriq (atezolizumab)
Bavencio (avelumab)
Opdivo (nivolumab)
Maintenance Bavencio Prolongs Survival: In 2017, the FDA approved Bavencio for the treatment of patients with locally advanced or metastatic bladder carcinoma who have disease progression during or following platinum-containing chemotherapy, or who have disease progression within 12 months of neoadjuvant or adjuvant treatment with platinum-containing chemotherapy. The JAVELIN Bladder 100 (NCT02603432) clinical trial compared maintenance Bavencio plus best supportive care (BSC) to BSC alone in patients with locally advanced or metastatic bladder cancer whose disease did not progress after completion of first-line platinum-containing chemotherapy. A total of 700 patients whose disease had not progressed after induction chemotherapy were treated with either Bavencio plus BSC or BSC alone.
Preliminary trial results suggest that first-line maintenance therapy with Bavencio prolonged survival duration compared to BSC alone. Full trail results will be released at an upcoming medical meeting.
References:
Grossman HB, Natale RB, Tangen CM et al. Neoadjuvant Chemotherapy Plus Cystectomy Compared with Cystectomy Alone for Locally Advanced Bladder Cancer. New England Journal of Medicine 2003.239:859-66.
Galsky MD, Stensland K, Moshier EL, et al. Comparative Effectiveness of Adjuvant Chemotherapy (AC) versus Observation in Patients with ? Pt3 and/or Pn+ Bladder Cancer (BCa). Presented at the 2015 Genitourinary Cancers Symposium. Journal of Clinical Oncology. 2015; 33 (supplement 7; abstract 292).
Sternberg CN, Skoneczna IA, Kerst JM, et al. Final results of EORTC intergroup randomized phase III trial comparing immediate versus deferred chemotherapy after radical cystectomy in patients with pT3T4 and/or N+ M0 transitional cell carcinoma (TCC) of the bladder. Journal of Clinical Oncology. 32:5s, 2014 (suppl; abstr 4500).
National Comprehensive Cancer Network. NCCN Clinical Practice Guidelines in Oncology.™ Bladder Cancer. V.2.2008. © National Comprehensive Cancer Network, Inc. 2008. NCCN and NATIONAL COMPREHENSIVE CANCER NETWORK are registered trademarks of National Comprehensive Cancer Network, Inc.
Merck's KEYNOTE-045 Studying KEYTRUDA® (pembrolizumab) in Advanced Bladder Cancer (Urothelial Cancer) Meets Primary Endpoint and Stops Early
United States Food and Drug Administration. (2016.) News Release. FDA approves new, targeted treatment for bladder cancer.