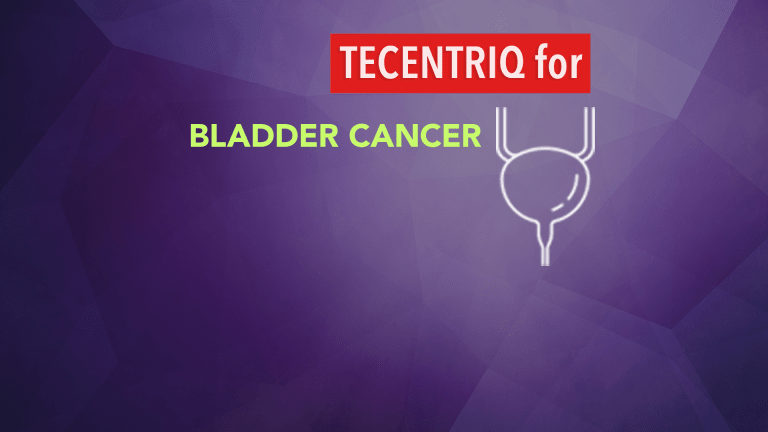 Tecentriq Immunotherapy Provides Benefit in Advanced Bladder Cancer
The checkpoint inhibitor Tecentiq (atezolizumab) improves the outcomes of treatment for bladder cancer.
by Dr. C. H. Weaver M.D. updated 11/2020
The precision immunotherapy drug Tecentriq (atezolizumab) has demonstrated high rates of anti-cancer responses and prolongs survival when used in the management of advanced bladder cancer leading to FDA approval.1-3
Urothelial carcinoma (formerly known as transitional cell carcinoma) is a cancer involving parts of the kidney, bladder, and ureter (the tube that connects the kidney to the bladder). Urothelial carcinomas begin in the cells that line the particular organ in which the cancer develops.
Urothelial carcinoma is the most common type of bladder cancer. If bladder cancer is detected and treated early, cure rates are high. However, once bladder cancer has spread outside of the bladder to distant sites in the body, effective treatment options remain limited, particularly if a patient experiences a cancer recurrence following prior therapies.
About Tecentriq (atezolizumab)
Tecentriq is a monoclonal antibody designed to target and bind to a protein called PD-L1 (programmed death-ligand 1), which is expressed on cancer cells and cancer-infiltrating immune cells. PD-L1 interacts with PD-1 and B7.1, both found on the surface of T cells, causing inhibition of T cells. Once PD-L1 is blocked, cells of the immune system are able to identify cancer cells as a threat, and initiate an attack to destroy the cancer.
Atezolizumab-chemotherapy combination prolongs PFS in advanced bladder cancer
The phase 3 IMvigor130 clinical trial evaluated platinum-based chemotherapy — consisting of Gemzar (gemcitabine) with either carboplatin or cisplatin — plus Tecentriq or placebo in 1,213 patients with previously untreated locally advanced or metastatic urothelial cancer and found that the addition of Tecentriq delays cancer recurrence and prolongs survival.2
Researchers had initially conducted the IMvigor 210 clinical trial to evaluate Tecentriq in the treatment of patients with advanced bladder cancer that had recurred following prior therapy. Among this group of patients in the study, 41% had received at least 2 prior therapies.
Median overall survival was 11.4 months in patients with high levels of PD-L1, and 7.9 months overall among all patients.
At nearly one-year, 84% of patients who achieved an anti-cancer response with Tecentriq, continued to respond to the treatment, regardless of PD-L1 levels.
The median duration of anti-cancer responses has not yet been achieved.
At 6 months, survival without progression of cancer was achieved in 30% of patients with moderate to high levels of PD-L1, and in 23% of patients with lower levels of PD-L1.
Tecentriq was generally very well tolerated.
Tecentriq appears to provide long-lasting anti-cancer responses among patients with advanced bladder cancer and can be incorporated into the overall management of the disease.
References:
Hoffman-Censits J., et al. IMvigor 210, a phase 2 trial of atezolizumab (MPDL3280A) in platinum-treated locally-advanced or metastatic urothelial carcinoma (mUC). Proceedings from the 2016 Genitourinary Cancers Symposium of the American Society of Clinical Oncology (ASCO GU). Presented Friday, 8 January 2016, [0755–0930], San Francisco, CA, USA. Abstract #355.