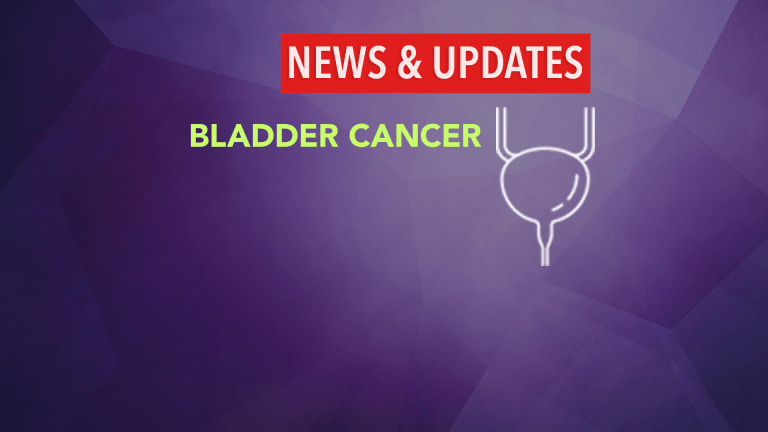 Survival Benefit with Immediate Adjuvant Chemotherapy in Invasive Bladder Cancer
Immediate Adjuvant Chemotherapy Superior to Delayed for Treatment of Invasive Bladder Cancer
by Dr. C.H. Weaver M.D. (5/2018)
Results from a recent Phase III clinical trial suggest that patients with invasive bladder cancer may benefit from treatment with immediate adjuvant chemotherapy. These finding were presented at the 2014 American Society of Clinical Oncology (ASCO) meeting held in Chicago, May 31–June 3.
Patients with Stage III, or invasive, bladder cancer have cancer that invades through the connective tissue and muscle and into the immediate tissue outside the bladder; it can also invade the prostate gland in males or the uterus and/or vagina in females. With Stage III bladder cancer, there is no spread to lymph nodes or distant sites. Bladder cancer is considered Stage IV, or metastatic, if it has done all or one of the following: extended through the bladder wall and invaded the pelvic and/or abdominal wall, has lymph node involvement, or spread to distant sites.
Patients with bladder cancer may be treated with a radical cystectomy, which is surgery to remove the bladder and some nearby organs. These patients may also receive adjuvant chemotherapy—additional treatment administered after cystectomy. The goal is to eliminate any cancer that remains after surgery, thereby reducing the risk of cancer recurrence. Ongoing research is evaluating the benefits of beginning adjuvant chemotherapy immediately following cystectomy or waiting until signs of relapse (deferred chemotherapy).

To determine if immediate adjuvant chemotherapy could improve survival over deferred treatment in patients with invasive bladder cancer, researchers compared two groups of patients (a total of 284 people) who had undergone cystectomy: an immediate-treatment group received four rounds of Platinol® (cisplatin)-based chemotherapy immediately (within 90 days) after surgery; a deferred-treatment group received six rounds of chemotherapy at signs of relapse. The researchers evaluated both groups primarily for overall survival as well as progression-free survival. Patients were enrolled between 2002 and 2008, and follow-up continued until 2013.
Patients who received immediate chemotherapy survived longer than patients on deferred treatment:
Overall survival at five years was higher for patients given immediate treatment: 54% versus 48%.
Progression-free survival at five years was also higher in the immediate-treatment group: three years versus one year—with 47% and 30% of patients, respectively, reaching this endpoint.
Both survival points combined (overall and progression free) were 20% better in the immediate treatment group: of the 176 patients who died or progressed during the study, fewer were on immediate treatment—73 (52%) versus 103 (72%).
Adverse events overall included fewer red blood cells, white blood cells, and platelets (myelosuppression); lower-than-normal number of neutrophils, a type of white blood cell (neutropenia); lower than normal platelet numbers (thrombocytopenia); and one patient death due to toxicity in the immediate-treatment group.
The improvement in progression-free survival with immediate chemotherapy in this trial is considered statistically significant (greater than what might be expected to happen by chance alone); the improvement in overall survival, however, was not large enough to be considered significant. As well, the trial was smaller than planned, as researchers were unable to enroll their target of around 1,300 patients. While, based on these factors, researchers can't draw a definitive conclusion about the survival advantage of immediate adjuvant chemotherapy for treatment of bladder cancer, the evidence of a benefit may prove more useful when combined with data from similar studies.
Reference: Sternberg CN, Skoneczna IA, Kerst JM, et al. Final results of EORTC intergroup randomized phae III trial comparing immediate versus deferred chemotherapy after radical cystectomy in patients with pT3T4 and/or N+ M0 transitional cell carcinoma (TCC) of the bladder. Journal of Clinical Oncology. 32:5s, 2014 (suppl; abstr 4500).