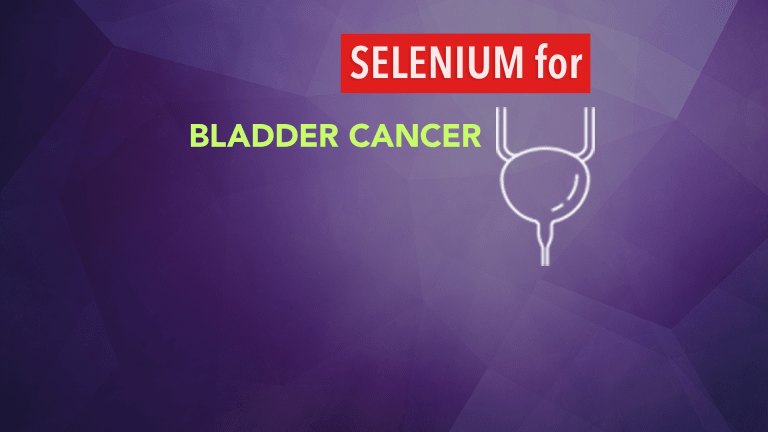 Data from a combined analysis of previous studies suggest that higher levels of selenium are associated with lower risk of bladder cancer. These findings were recently published in the journal Cancer Epidemiology, Biomarkers & Prevention.[1]
Each year in the United States, close to 53,000 men and 18,000 women are diagnosed with bladder cancer. Many bladder cancers are thought to be caused by exposure to cancer-causing agents that pass through the urine and come into contact with the bladder lining. The most important risk factor for bladder cancer is smoking, which increases risk by at least fourfold.
Dietary supplements such as multivitamins are used by many people in the hope of reducing the risk of cancer and other diseases. Evidence that dietary supplements reduce cancer risk is limited, however, and some studies have even suggested that certain types of dietary supplements may increase cancer risk. In a recent study, the researchers found no link between vitamin C, vitamin D, or vitamin E and risk of bladder cancer.[2]
Previous studies have suggested that supplementation with the antioxidant selenium may offer a preventive effect against lung cancer and prostate cancer. However, recent studies have not confirmed these data, and according to the results of two large randomized studies, selenium and vitamin E supplements did not reduce the risk of prostate cancer.
To further explore the relationship between selenium supplementation and bladder cancer risk, researchers conducted a combined analysis of previous studies exploring levels of selenium in blood and toenails and bladder cancer risk. The data from seven previously published epidemiologic studies indicated that higher levels of selenium were associated with a lower risk of bladder cancer, particularly in women.
The researchers concluded that "although these results suggest a protective effect of selenium for bladder cancer risk, additional large studies are warranted to support [this] preliminary evidence." There is still much to be learned about the role of nutrients in the prevention of cancer. People who are considering the use of dietary supplements such as vitamins or antioxidants are advised to discuss the risks and benefits with their physician.
Reference:
[1] Amaral AFS, Cantor KP, Silverman DT and Malats N. Selenium and Bladder Cancer Risk: a Meta-analysis. Cancer Epidemiology, Biomarkers & Prevention [early online publication]. August 31, 2010.
[2] Hotaling J, Wright J, Pocobelli G, Porter M, White E. Risk of urothelial cell carcinoma of the bladder in the VITamins And Lifestyle study. Presented at the 2010 annual meeting of the American Urological Association. May 29-June 3, 2010. San Francisco, CA. Abstract 1162.