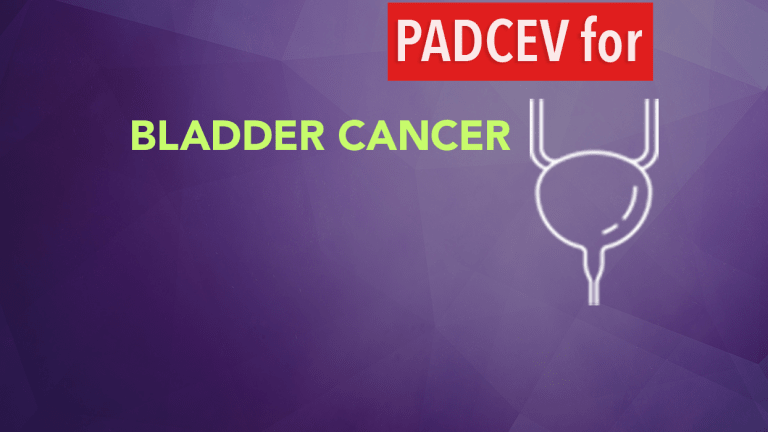 Padcev (enfortumab vedotin) Treatment for Bladder Cancer
FDA approves Padcev - a novel antibody drug conjugate precision medicine for treatment of advanced bladder cancer.
by Dr. C.H. Weaver M.D. updated 7/2022
Padcev is the first approved treatment options for patients with advanced bladder cancer failing standard chemotherapy and immune treatments. Recent trial results further suggest tha Padcev (enfortumab vedotin) combined with immunotherapy may be an effective first line treatment for patients with locally advanced or metastatic urothelial (bladder) cancer.
About Padcev (Enfortumab Vedotin)
Padcev is a novel precision cancer medicine known as an antibody drug conjugate, a type of therapy that combines an antibody that targets a specific protein on the surface of tumor cells with a payload of powerful chemotherapy. It is composed of an anti-Nectin-4 monoclonal antibody attached to a microtubule-disrupting agent, MMAE. Enfortumab vedotin targets Nectin-4, a cell adhesion molecule identified as an ADC target which is expressed on many solid tumors. This antibody is chemically linked with an agent that penetrates the tumor cell and destroys its structure.
Padcev was approved by the U.S. Food and Drug Administration in December 2019 and is indicated for the treatment of adult patients with locally advanced or metastatic urothelial cancer who have previously received a programmed death receptor-1 (PD-1) or programmed death-ligand 1 (PD-L1) inhibitor and a platinum-containing chemotherapy before (neoadjuvant) or after (adjuvant) surgery or in a locally advanced or metastatic setting.
What does the data show?
In the original multi-institutional clinical trial Padcev produced responses in 44% of patients with locally advanced or metastatic urothelial cancer who had been previously treated with chemotherapy and checkpoint inhibitors. Among 125 patients who had received both standard chemotherapy plus a checkpoint inhibitor 12% had a complete response with no detectable sign of cancer and the median overall survival was 11.7 months. Notably, 38% of people whose cancer had spread to the liver responded to the treatment.
Padcev Superior to Chemotherapy in advanced Urothelial Cancers
Padcev also outperformed chemotherapy on key survival metrics in a phase 3 clinical trial, extending the life of patients with previously treated advanced urothelial cancer by nearly four months, compared with standard of care.
Platinum-containing chemotherapy sequenced with programmed cell death protein-1/programmed death ligand 1 (PD-1/L1) inhibitors is the standard of care for patients with locally advanced or metastatic urothelial carcinoma.
The EV-301 Trial - EV-301 was a phase 3 clinical trial designed to evaluate Padcev versus physician's choice of chemotherapy (docetaxel, paclitaxel or vinflunine) in approximately 600 patients with locally advanced or metastatic urothelial cancer who were previously treated with a PD-1 or PD-L1 inhibitor and platinum-based therapies. In September 2020 the phase 3 trial met its primary endpoint of improving overall survival compared to chemotherapy. Padcev significantly delayed cancer progression and improved overall survival with a 30 percent reduction in risk of death.4
Padcev treated patients more likely to respond to treatment and experience delayed cancer progression-free survival. Most importantly overall survival improved with Enfortumab; 12.9 months, which as 3.9 months longer than what was seen in patients treated with chemotherapy.
The most common side effects for patients taking Padcev were fatigue, peripheral neuropathy decreased appetite, rash, hair loss, nausea, altered taste, diarrhea, dry eye, itching and dry skin.
Padcev® combined with Keyturda® (pembrolizumab) as First-Line Treatment also promising.
The EV-103 trial (NCT03288545) is an ongoing open-label, multicenter phase 1b/2 trial of Padcev administered alone or in combination with Keytruda and/or chemotherapy in first- or second-line settings in patients with locally advanced or metastatic urothelial cancer (la/mUC) and in patients with muscle-invasive bladder cancer.
Preliminary results suggest the combination has a 65% confirmed objective response rate and the median duration of response has not been reached.
References:
Seattle Genetics and Astellas Receive FDA Breakthrough Therapy Designation for Enfortumab Vedotin in Locally Advanced or Metastatic Urothelial Cancer
abstracts.asco.org/239/AbstView_239_265881.html