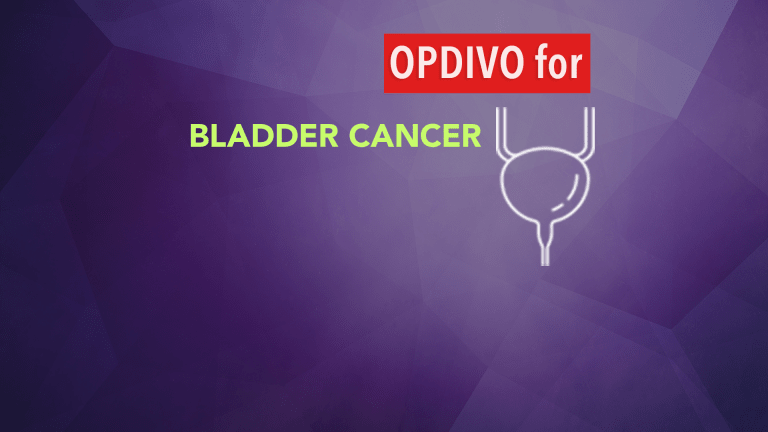 Opdivo Treatment of Bladder Cancer
The PD-1 Checkpoint Inhibitor Opdivo improves cancer free survival following surgical removal of bladder cancer
by Dr. C.H.Weaver M.D. updated 8/2021
The US Food and Drug Administration (FDA) has approved Opdivo, (nivolumab) for the treatment of patients with high risk early stage and locally advanced or metastatic urothelial carcinoma whose disease has progressed during a period of up to 1 year after first-line platinum-containing chemotherapy. Since approval clinical trials have demonstrated that Opdivo delays recurrence and improves outcomes when used in earlier stage disease and in the adjuvant setting.1,2
Bladder cancer will be diagnosed in approximately 77,000 people in the United States this year alone. The average age that patients are diagnosed with bladder cancer is 70 years, with 80% of these patients being former smokers. The most common type of bladder cancer is urothelial carcinoma, whereby cancer begins in the cells that line the bladder.
About Opdivo (nivolumab)
Opdivo is a type of immunotherapy called a Checkpoint inhibitor that helps to restore the body's immune system in fighting cancer by releasing checkpoints that cancer uses to shut down the immune system. PD-1 and PD -L1 are proteins that inhibit certain types of immune responses, allowing cancer cells to evade an attack by the body's immune cells. Checkpoint inhibitor drugs that block the PD-1 pathway enhance the ability of the immune system to fight cancer. By blocking the binding of the PD-L1 ligand these drugs restore an immune cells' ability to recognize and fight the lung cancer cells.
Opdivo Doubles Disease-Free Survival in High-Risk Urothelial Carcinoma
Treatment with Opdivo® (nivolumab)following surgery with or without cisplatin-based chemotherapy improve disease-free survival in patients with muscle-invasive urothelial carcinoma.
About the phase III CheckMate 274 clinical trial.
The trial evaluated the use of post-surgery (adjuvant) Opdivo in 709 patients with muscle-invasive urothelial carcinoma of the bladder, ureter, or renal pelvis who underwent radical surgery with or without pre-surgery (neoadjuvant) cisplatin-based chemotherapy. Patients with a high risk for recurrence based on the tumor stage at surgery were treated with either Opdivo or placebo every other week for 1 year and directly compared.
Opdivo treatment significantly delayed the time to cancer recurrence. Opdivo treated patients survived on average 21 months without cancer recurrence compared to only 11 months for those receiving placebo. The benefit from Opdivo treatment was irrespective of PD-L1 status. In patients whose tumors had a PD-L1 expression of 1% or higher Opdivo immunotherapy resulted in a 45% reduction in the risk of disease recurrence or death
Overall therapy was well tolerated, and the most common treatment-related side effects were diarrhea, colitis, and pneumonitis.
Opdivo is the first immune therapy to be used in the adjuvant setting that provides clinically meaningful improvement in disease-free survival for patients with high-risk muscle-invasive urothelial carcinoma after radical surgery with curative intent. This trial led to FDA approval of Opdivo for use as adjuvant treatment of patients with urothelial carcinoma who are at high risk of cancer recurrence after undergoing surgical removal of their cancer in August 2021.
Approval in Advanced Disease
Opdivo,, which is a programmed cell death receptor–1 inhibitor was the second immunotherapy approved to treat advanced bladder cancer. The FDA also approved Tecentriq (atezolizumab), which acts as a programmed cell death ligand–1 inhibitor, in May 2016.
The approval was based on a study in 270 patients with locally advanced or metastatic urothelial carcinoma who experienced disease progression during or following platinum-containing chemotherapy, or whose disease progressed within 12 months of neoadjuvant or adjuvant treatment with platinum-containing chemotherapy.
The objective response rate following Opdivo treatment was 19.6%; 7 patients had complete responses, and 46 had partial responses. The estimated median duration of response was 10.3 months. The FDA notes that some responses were ongoing at data cutoff.
For this Opdivo, application, the FDA granted a breakthrough therapy designation and priority review status. The application was approved about 1 month ahead of schedule.
Reference: