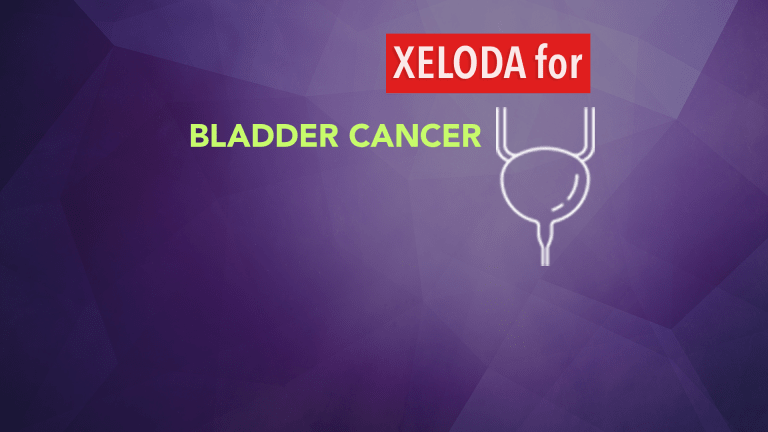 Older Patients Fare Well After Xeloda® and Radiation Therapy for Bladder Cancer
Older Patients Fare Well After Xeloda® and Radiation Therapy for Bladder Cancer
Patients with bladder cancer who are not candidates for surgery or cisplatin-based chemotherapy appear to do well after treatment with the chemotherapy drug Xeloda® (capecitabine) and radiation therapy, according to an article published in the International Journal of Radiation Oncology, Biology, Physics.
The bladder is an organ in the lower abdomen that stores urine after it is released from the kidneys until it is passed out of the body. Bladder cancer is the fifth most common type of cancer in the United States and causes approximately 13,000 deaths annually. Bladder cancer occurs predominantly in elderly men and less frequently in women and younger men. Current treatment options for advanced bladder cancer may include surgery, radiation, chemotherapy, or biologic therapy. Among patients who, for health reasons, are not candidates for surgery or certain types of chemotherapy, researchers are studying other treatment options; one such option is the oral chemotherapy drug Xeloda. Xeloda is FDA approved for the treatment of advanced breast and colorectal cancers, is conveniently administered by mouth, and known to have a favorable side-effect profile.
Researchers at Wayne State University in Detroit, Michigan, recently reported treatment results for 14 patients with bladder cancer treated with Xeloda and radiation therapy. Half of the patients were over the age of 80, and none of the patients were candidates for surgery or cisplatin-based chemotherapy. Nine patients had localized disease (cancer confined to the bladder) and five patients had advanced disease (cancer that has spread from the bladder to other sites in the body).
Treatment with Xeloda and radiation therapy resulted in a complete disappearance of detectable cancer in the majority of patients (11 out of 13). Of the 11 patients who had no detectable cancer after treatment, eight survived without cancer recurrence during the roughly 10 months of follow-up. The most common adverse effects of treatment were fatigue, diarrhea, and dehydration. Three patients had to be hospitalized because of adverse effects of treatment.

The researchers concluded that the combination of Xeloda and radiation therapy offers a promising treatment option for bladder cancer patients who, because of their advanced age or their health status, cannot tolerate surgery or cisplatin-based chemotherapy. Patients with bladder cancer may wish to speak with their physician regarding their individual risks and benefits of treatment with Xeloda chemotherapy or participation in a clinical trial further evaluating Xeloda or other promising therapeutic approaches. Sources of information regarding ongoing clinical trials include the National Cancer Institute (www.cancer.gov).
Reference: Patel B, Forman J, Fontana J et al. A single institution experience with concurrent capecitabine and radiation therapy in weak and/or elderly patients with urothelial cancer. International Journal of Radiation, Oncology, Physics. 2005;62:1332-1338.