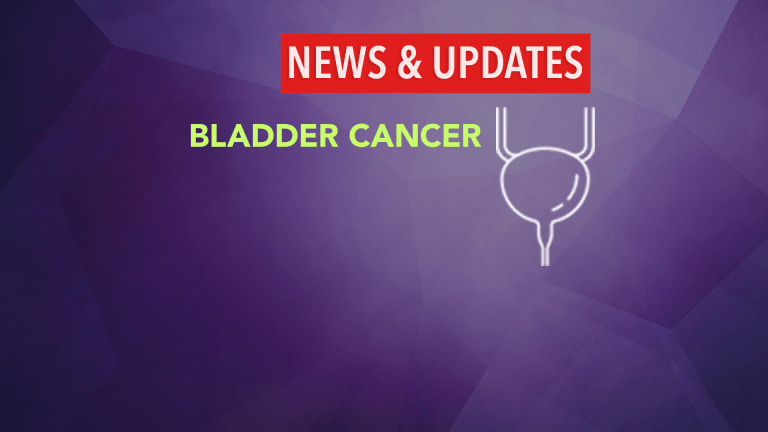 Publish date:
Neoadjuvant Chemotherapy Improves Survival for Bladder Cancer
Neoadjuvant Chemotherapy Improves Survival for Bladder Cancer
Neoadjuvant Chemotherapy Improves Survival for Bladder Cancer
Chemotherapy prior to surgery (neoadjuvant) may improve survival for patients with bladder cancer, according to results presented at the 37th Annual Meeting of the American Society of Clinical Oncology.
The bladder is a hollow organ in the lower abdomen. Its primary function is to store urine, the waste that is produced when the kidneys filter the blood. Transitional cell carcinoma refers to bladder cancer involving the cells that line the inside of the bladder. Treatment of locally advanced bladder cancer (cancer that has invaded the bladder wall, but cannot be detected elsewhere in the body) usually consists of the surgical removal of the bladder (cystectomy) and/or chemotherapy following surgery. Although most patients have no detectable cancer following initial therapy, 50% to 60% ultimately experience a cancer recurrence. In an attempt to improve long-term outcomes for these patients, researchers are investigating new combinations and strategies for the treatment of this disease.
Researchers have increasingly been evaluating neoadjuvant therapy in various cancers. The rationale behind neoadjuvant therapy for bladder cancer is two-fold. First, pre-operative treatment can shrink some bladder cancers, and therefore may allow more complete surgical removal of the cancer. Second, since chemotherapy kills undetectable cancer cells in the body, it may help prevent the spread of cancer when used initially rather than waiting for patient recovery following the surgical procedure.
Researchers from Cedars-Sinai Comprehensive Cancer Center recently presented the results of a trial comparing neoadjuvant chemotherapy followed by cystectomy to cystectomy alone in 306 patients with locally advanced bladder cancer. Neoadjuvant therapy consisted of methotrexate, vinblastine, doxorubicin, and cisplatin (MVAC). Five years following treatment, approximately 57% of patients who received neoadjuvant therapy survived compared with only 42% who were treated only with a cystectomy. The estimated average survival was doubled for patients who received neoadjuvant therapy – 6.2 years compared with 3.8 years for patients who received only a cystectomy. In this trial, there were no chemotherapy-associated deaths and MVAC did not effect the risk of surgery or surgical complications.

Although some previous clinical trials have not demonstrated a benefit of neoadjuvant therapy in locally advanced bladder cancer, results from this particular trial indicate that neoadjuvant therapy consisting of MVAC improves survival for patients with bladder cancer compared with cystectomy alone. Future clinical trials will evaluate different neoadjuvant combinations with newer chemotherapy agents in order to improve outcomes. Patients with bladder cancer may wish to speak with their physician about the risks and benefits of participating in a clinical trial further evaluating neoadjuvant therapy or other treatment strategies. Sources of ongoing information about clinical trials include comprehensive, easy-to-use listing services provided by the National Cancer Institute (cancer.gov). (Proceedings from the 37th Annual Meeting of the American Society of Clinical Oncology, plenary session, San Francisco, CA, May, 2001)