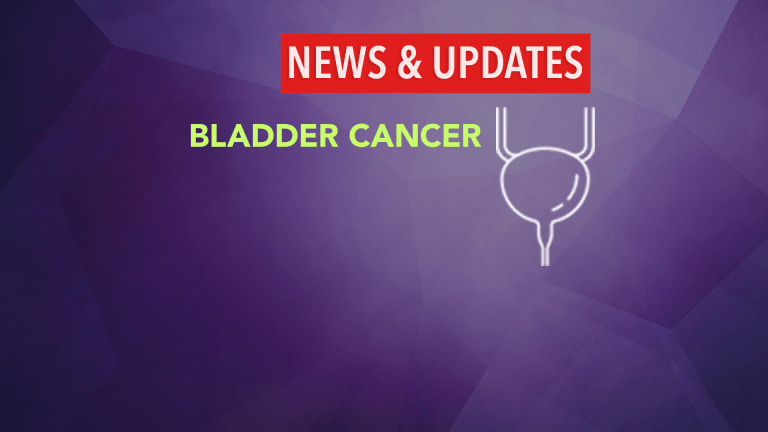 Less Toxic Adjuvant Chemotherapy Regimen for Patients with Bladder Cancer
Less Toxic Adjuvant Chemotherapy Regimen for Patients with Locally Advanced Bladder Cancer Evaluated
A recently published article in the Journal of Clinical Oncology reports that a combination of the drugs cisplatin (Platinol®) and methotrexate (CM) produce similar rates of progression-free survival and may be better tolerated than the "gold standard" regimen of MTX, vinblastine (Velbe®), epirubicin (Ellence®) and Platinol (M-VEC) for adjuvant therapy after surgery (cystectomy) for locally advanced bladder cancer.
The bladder is an organ in the abdomen that stores urine until it is passed out of the body. Bladder cancer is a malignancy of the bladder tissues. Current treatment options for bladder cancer include surgery, radiation, chemotherapy or biologic therapy. Other types of treatments, such as prevention of bladder cancer by prophylactic chemotherapy and photodynamic therapy, are being evaluated in clinical trials.
In locally advanced bladder cancer, cystectomy cures less than 50 percent of patients. Randomized clinical trials have demonstrated that adjuvant chemotherapy with M-VEC can improve the survival rate of patients with locally advanced bladder cancer. Adjuvant chemotherapy means chemotherapy administered after surgery. More recent studies have suggested that neoadjuvant chemotherapy (chemotherapy given before surgery) can result in preservation of bladder function in many patients.
This recent study was started in 1994 before most studies of neoadjuvant chemotherapy for bladder cancer were reported. These researchers compared two different combination chemotherapy regimens in patients with advanced bladder cancer who had undergone cystectomy. A total of 327 patients were randomly assigned to receive three cycles of chemotherapy with CM or M-VEC.
Results of the study found that the five-year progression-free survival rates were 46.3 percent among the CM group and slightly higher at 48.8 percent among the M-VEC treatment group. Overall survival rates were also similar: 46.1 percent for the CM treatment group and 45.1 percent for the M-VEC treatment group. The most serious side effect of both treatment groups was a low white blood count (leucopenia); moderate to severe leucopenia occurred in 7 percent of patients treated with CM, compared to 22 percent of patients treated with M-VEC.
Researchers concluded that the CM cannot be considered inferior to treatment with M-VEC in terms of progression-free survival and overall survival of patients with locally advanced bladder cancer. Additionally, patients receiving a CM chemotherapy experienced significantly less leucopenia than those treated with M-VEC.
The relevance of this study is that a less toxic regimen appeared to be as effective as a more complicated and more toxic regimen. However, it is not clear at the present time that adjuvant chemotherapy is the best choice for patients with locally advanced bladder cancer. This study was initiated in 1994 and since then more and more patients have been receiving neoadjuvant chemotherapy in an attempt to avoid total cystectomy. This study does suggest that less toxic regiments need to be evaluated in both the adjuvant and the neoadjuvant setting. Patients with locally advanced bladder cancer are encouraged to speak to their physician regarding treatment options.
Reference: Lehmann J, Retz M, Wiemers C, et al. Adjuvant Cisplatin Plus Methotrexate Versus Methotrexate, Vinblastine, Epirubicin, and Cisplatin in Locally Advanced Bladder Cancer: Results of a Randomized Multicenter Phase III Trial (AUO-AB 05/95). Journal of Clinical Oncology. 2005: published online ahead of print June 6, 2005.